The Ultimate WhatsApp Guide 🇬🇧
The Ultimate WhatsApp Guide 🇬🇧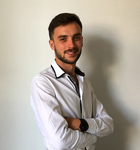 Updated by Xandro Lopez
You can check this same guide in a different language, by clicking on one of the following links:
Spanish 🇪🇸 : Pulse aquí para leer la Guía Optima para WhatsApp en español.
1. Introduction
Are you wondering how to apply for a WhatsApp Business API number?
Are you just trying to run some tests?
The fact is, you're probably not the only one. Many companies these days are looking to jump on the WhatsApp Business API bandwagon but the truth is, it's either hard to find the right information or the information is unclear.
Therefore, we have decided to create a step by step guide of how to test our WhatsApp integration and how to apply for an official WhatsApp Business API number with Landbot.
2. Getting Started
2.1 Creating an account
First things first, before you can do anything on the platform you'll have to create an account.
Its very simple! Just go to this sign up link and sign up with your favourite option out of those provided!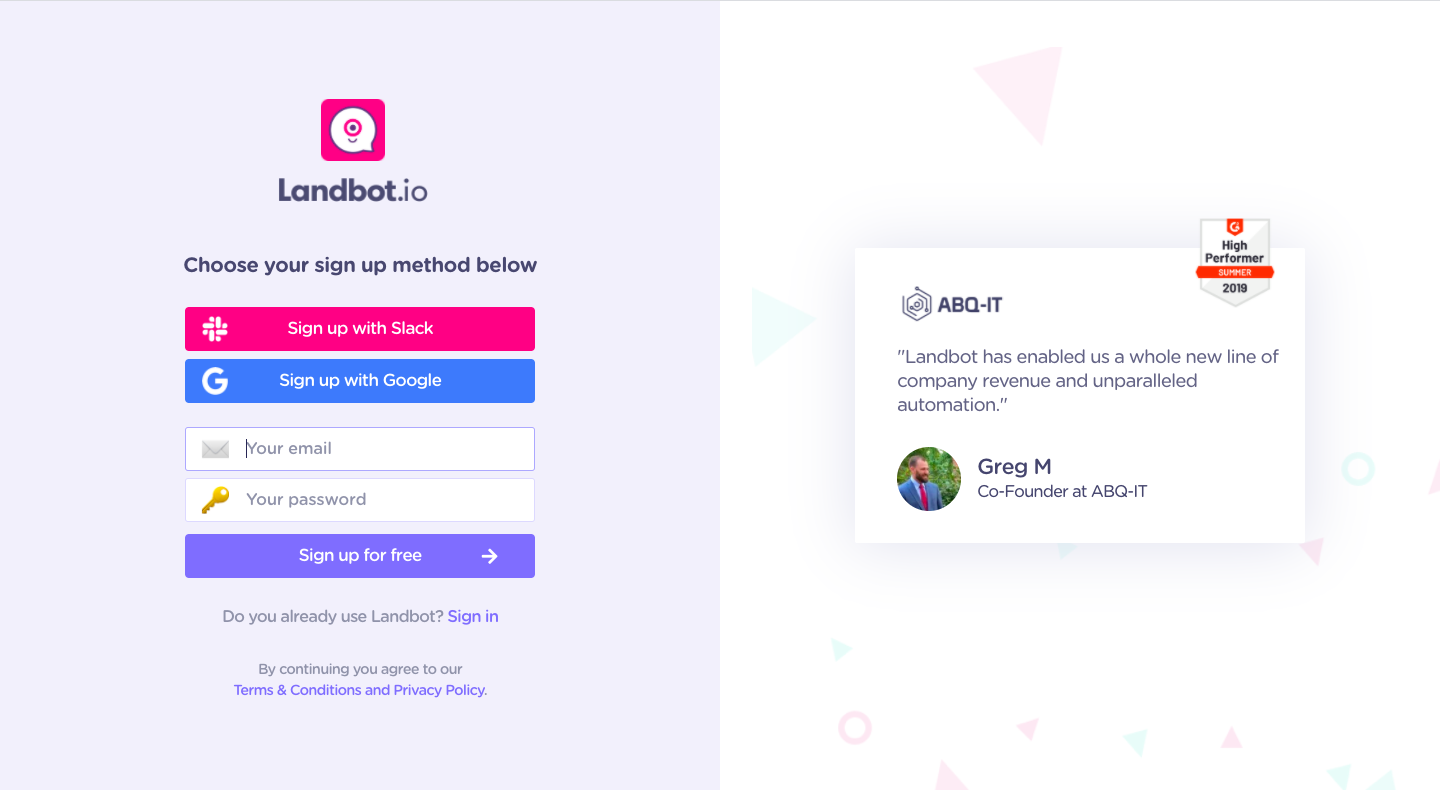 2.2 Building your Bot 🤖
From the moment you sign up, you have a 14 day free trial period where all premium bot building features are available fo testing, so we recommend building your bot within those 14 days.
However, if you feel like you need a little bit more time, do not hesitate to contact us on sales@landbot.io or on the chat in the bottom right corner of the app to find out if you are eligible for a trial extension!
To help you build your bot you can:
- Use our extensive Knowledge Base, and you can find here content specific for our WhatsApp integration.
- Join our Academy with video tutorials for different WhatsApp use cases 📹
2.3 WhatsApp Testing (former Playground)
Since our WhatsApp integration is a paid subscription, we have created a free testing environment called WhatsApp Testing. 🧪
It allows you to experience what the official API integration feels like from the final user perspective.
Testing channels work in one direction only, which means only the phone number you connect to it will be able to send and receive messages from the testing channel.
You will be able to add up to 10 phone numbers to the WhatsApp Testing channel! If you reach this limitation, you can just delete one of the numbers and add a new one.
Click here
to read the full article on how to set up a
WhatsApp Testing channel.
2.4 WhatsApp Testing vs WhatsApp Official Integration
There are a few features/actions that are only available for the WhatsApp Official Integration since they require brand and number approval by WhatsApp.
Below is a list of the features available ✅ and not available ❌ on WhatsApp Testing (former Playground).
Once you are happy with the bot you created (or if you are in a rush, while you are creating it) you can start applying for the official WhatsApp Integration.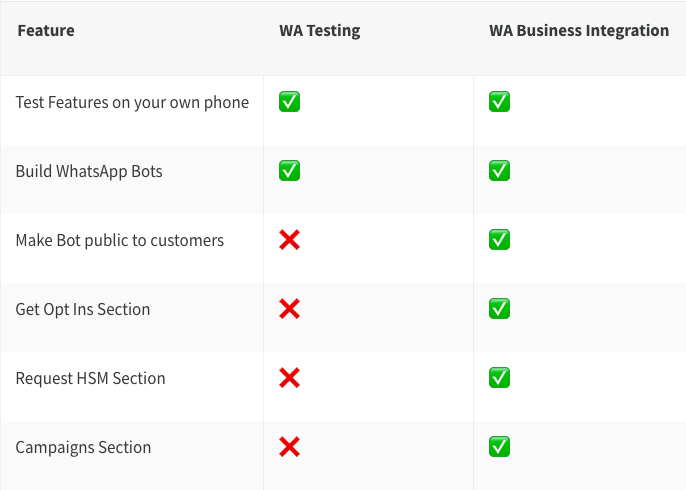 3. How to apply for the Official WhatsApp Integration
If your question is "How do I make my bot public?", then you're in the right place.
Below, you can find the details of the whole process!
Requesting WhatsApp approval has a cost of 50€ per number. Landbot does not guarantee that your request will be approved by WhatsApp. If your brand is not accepted by WhatsApp or cancel the process, you are entitled to request a refund for the plan price excluding the approval fee.
3.1 Choose your WhatsApp Plan
We have 2 plans that include the Whatsapp Official integration. The main criteria to choose one of those plans is usually the amount of WhatsApp contact numbers or the number of conversations you expect to have each month.
Professional Plan + WhatsApp add-on - for small/medium size companies with lower conversation volumes.
Customised Plan - for larger companies with high conversation volumes.
Please contact us at
sales@landbot.io
if you are interested in the Landbot WhatsApp integration, for more information on our
pricing and plans
, or for assistance to choose the best plan for your case.
3.2 Purchase your WhatsApp Plan
Customised plan:
If you decide that the customised plan would be the best fit for you, our Sales team will guide you through the purchase process.
WhatsApp add-on for Professional Plan:
If you decide to go for a Professional Plan + WhatsApp Add on, you should contact sales and they will unlock the WhatsApp add-on on your account. Once this step is completed you should:
1. Access the Subscription Section of your account.
2. Select WhatsApp Pro Add on and Upgrade to the Professional plan + WhatsApp add-on. You can find more information on how to upgrade in this article.
Please notice that WhatsApp Integration is an extra functionality that will be added to the Professional plan, and can't be purchased separately or combined with the Starter plan.
3. If the payment is processed correctly, you will now have access to all Professional Plan functionalities and can start the WhatsApp Brand and Number approval.
The WhatsApp Official integration depends exclusively on WhatsApp's approval, and will only be made available in your account after the number is approved.
3.3 Requesting WhatsApp Brand and Number Approval 📞
Once you have completed the previous steps you will be able to make a request for your brand and number to be approved.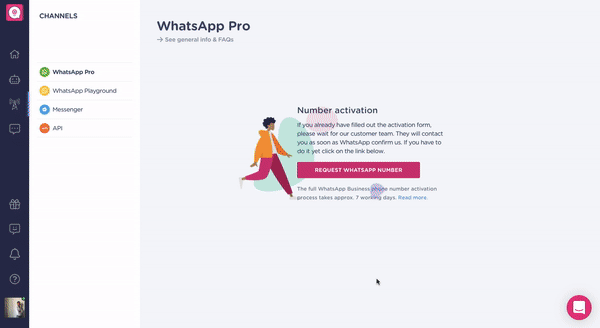 You can do this on the platform by going to your WhatsApp Pro section, clicking on the "Request WhatsApp number" and filling out the bot.
IMPORTANT:
please read the WhatsApp Business API document
before filling in your details.
You can also read it
here
🚀
Once you have read the document, the bot will ask you for the following information:
Company details: Full company name and address including country and postal code.
Facebook Business Manager ID: You can find it by following this guide.
Phone number: The number you want to activate a WhatsApp Business account for. It needs to be able to receive an SMS / phone call for the activation. Please, ready carefully WhatsApp policy about numbers. 
Once a phone number is registered on the WhatsApp Business API, it cannot be used for WhatsApp Business or the WhatsApp consumer app. A phone number can be upgraded to the WhatsApp Business API, but not downgraded.
Display Name: The name that shows to your customers when they haven't saved your number. 
All display names should have a relationship with your business, should not violate WhatsApp Commerce and Business policies, and be an accurate representation of your business.
Please, read with attention WhatsApp Display name policy here.
Once a number has an official business account, it is not possible to edit the display name easily. We would need to deactivate and re-register the number and the entire chat history would be lost.
Once the details have been filled out and your WhatsApp Business account created, someone from our Customer Success team will reach out to you with next steps 😉
You can also find them detailed below:
4. Approval Process
1. Facebook Business Verification
We recommend you apply for the FB Business Verification as soon as possible, as this is usually what takes up the most time to get your WhatsApp integration up and running.
Business verification is a process that verifies your:
Business as a legal entity: Your business should be properly registered with official local authorities and have an official business phone number or mailing address.
Proof of access to your business: You must be able to receive a verification code sent to your business's phone number or email address.
You can verify your business by following this Facebook Guide.
2. Signing the WhatsApp Business End-Client Addendum
At the end of the number request bot you'll see a message asking you to sign a document called WhatsApp Business End-Client Addendum and a link to said document.
In a nutshell, the document explains the Terms and Conditions you agree with in exchange for using the WhatsApp Business API solution.
Please make sure you sign it on the given link, since this is the only way it will be accepted by Sunshine Conversations will accept it.
3. Approving Facebook Notification
You will receive a notification on your Facebook Business Manager on behalf of Sunshine Conversations in order to accept the WhatsApp Business Account creation. Please approve it.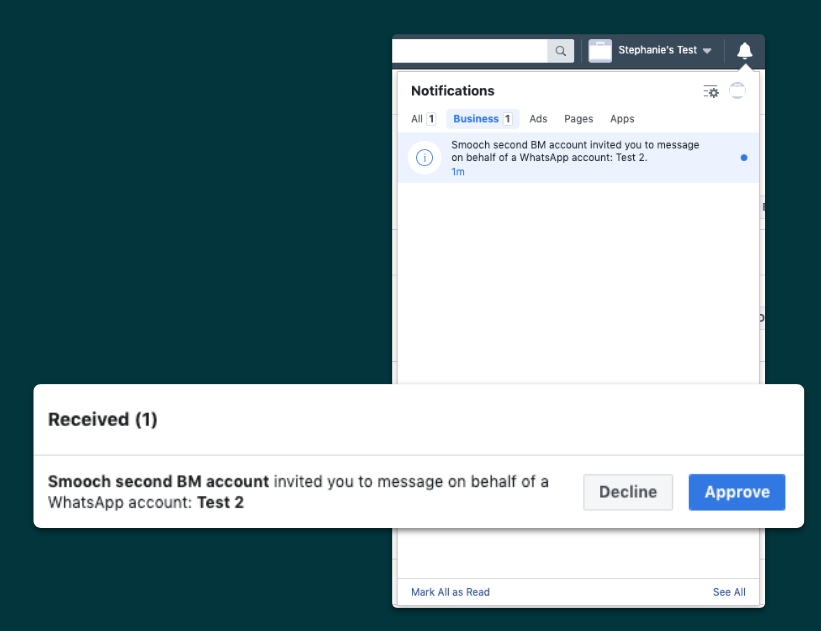 4. Account Review
Once step 1 and 2 are completed, please let us know in the email thread we have created to guide you through the integration.
WhatsApp will review the account and we'll let you know as soon as we receive an update on its approval status. Note that this process can take between 1-2 weeks.
If you are using the number provided for activation on the mobile consumer version or the WhatsApp Business app, you will have to migrate the number to the WhatsApp Business API platform.
You can do this directly on the WhatsApp app by following the steps described here.
5. Display Name Review
If the WhatsApp Business Account has been approved, the display name will then be reviewed 🔎
6. Pin Number Exchange
Once step 4 is approved, we are finally ready to complete the integration!
We will reach out to you to find a good time to launch an SMS to the number to integrate which will include a 6 digit pin code.
Once received you will need to send it back to us on the email thread.
Once we have received the pin we will activate your account and the integration will be complete and available on your Landbot account!
CONGRATULATIONS!! 🎉🥳
7. Green Tick (Optional) ✅
The Green Tick is given when WhatsApp has verified that an authentic, notable brand owns this account.
An Official Business Account has a green checkmark badge in its profile and chat thread headers. The name of the business is visible even if the user hasn't added the business to their address book.
Very few businesses will be official business accounts
and conditions to become one are not very clear to date.
More information
here
.
You are able to request the Green tick once your number is approved by WhatsApp and connected to Landbot.
All you need to do is let us know by sending the following information:
Phone number to verify: 
Website: 
Link to Facebook Page:
We'll let you know if you have been approved as soon as we receive an update from WhatsApp.
5. WhatsApp Business API Functionalities on Landbot
Once your number has been activated you will be able to use some functionalities you were not able to use on the WhatsApp Testing (former Playground):
5.1 Get Opt Ins
In order to reach out to your users, they need to become subscribers first by means of an Opt-in! 🤚
This is the place where we provide you with the tools you need to get them onboard. 🚀
You can find the full explanation here.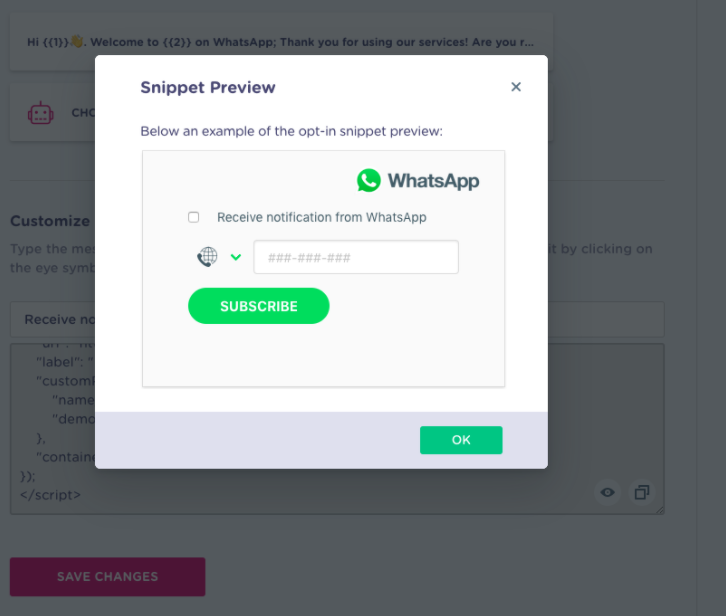 5.2 Request HSM Template
You can request an HSM template from the Channels section in Landbot!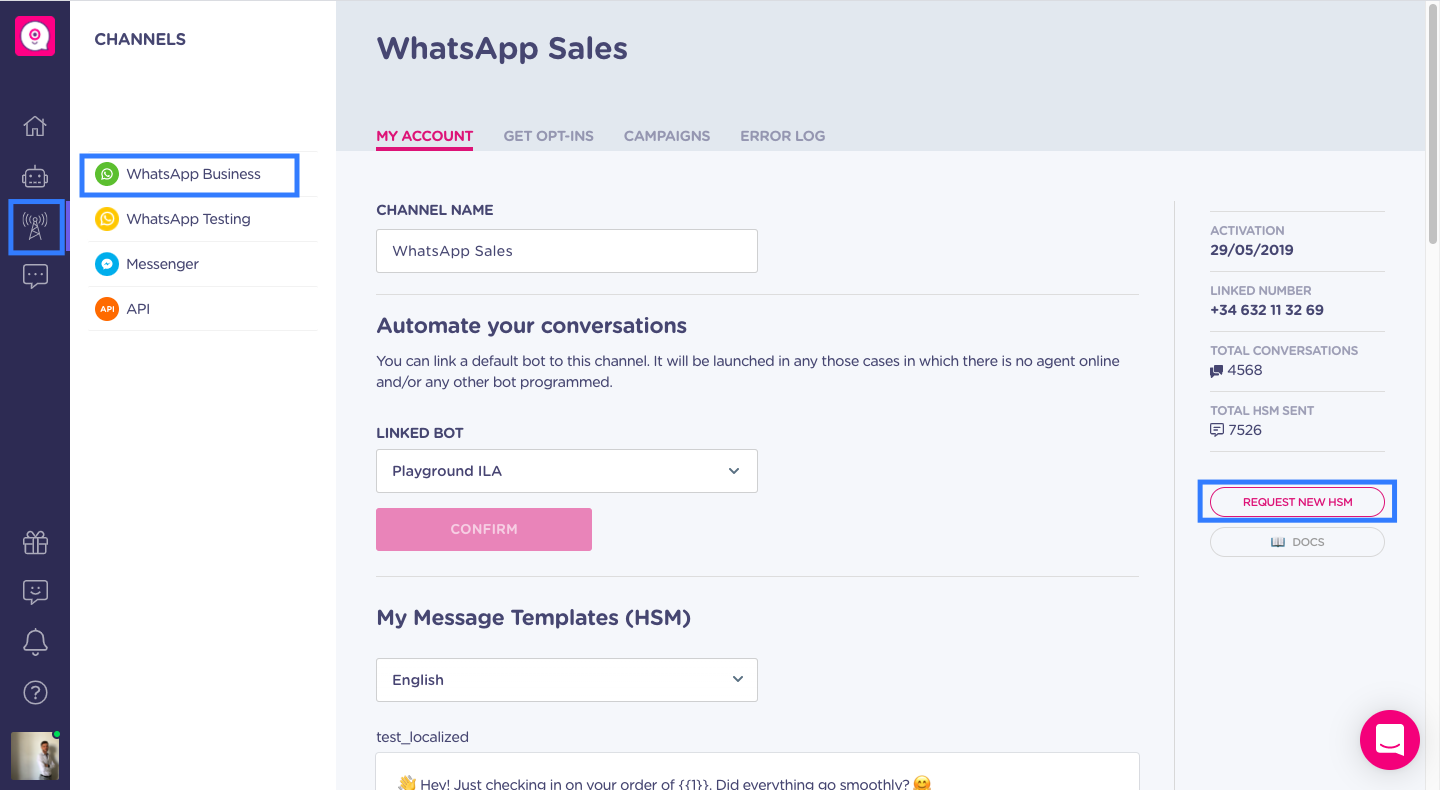 You will also be able to see all your approved Templates in this section. 👀
For more information on the full process, click here
5.3 Campaigns
By setting a Campaign you'll have full control on how you reach out to your subscribed users.
You can send pro-active messages (HSM Templates) to a defined segment of your subscribers, decide which message to send, when to send it, and if this message will trigger a WhatsApp bot.
Once you launched a campaign, you'll be able to know exactly how it has been received by checking the Metrics.
Check out the full article here
6. Definitions
Session Messages - Session messages are reactive messages written in response to a customer inquiry. WhatsApp labeled them as "session messages" since they can only be sent within 24H Customer Care Window.
HSM Templates - (Highly Structured Messages) are proactive messages that companies can send via WhatsApp to their subscribers after 24 hours from the subscriber's last contact. Read more about the different types of messages in our blog!
Opt-In - A user must first consent to receive messages in WhatsApp by opting into them via a third-party channel. This can be any channel your business uses to communicate with people today — your website, app, email, SMS, retail location or you can even create an Opt-in bot. Find out how to do it here.
Feel free to check the Facebook official documentation as well.
AUC/WAUC/Contacts - Any number of sent and/or received messages exchanged between a unique end-user and a WhatsApp channel during a billing cycle.
Team Member/Agent - a user that has access to the Landbot platform through their personal email
Once the integration is complete, if you want to update your company's WhatsApp account (Profile picture, description, address, etc.) you must reach out to us and we'll be more than happy to help you out with that.
7. FAQ
Read the full list of FAQ by clicking here