1: What is the Opt-in process? ✍️
1: What is the Opt-in process? ✍️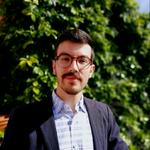 Updated by Alessandro Pinelli
What is the Opt-in process?
As in other channels, like Facebook Messenger, users need to first give you their consent to be reached via WhatsApp.
There are several ways in which businesses can get Opt-in, both on and off WhatsApp. Users must in any case confirm that they wish to receive future messages on WhatsApp: this can be done either through a simple Snippet added to your website, a specific Web Bot or simply getting their permission on WhatsApp itself.
For more information about the WhatsApp Terms of Services and the consequences of its violation, please click on this link!
When the user gives this consent we call it the Opt-in process. We have three options for the opt-in:
Snippet option
It can happen via Snippet, a sort of "Form to give consent" that you can embed into your website:
⚠️ The snippet has to be contextual and explicit about its purpose as WhatsApp Terms of Use indicates ⚠️
"In order to send a WhatsApp message to a person, you must receive opt-in permission in-line and contextually during the relevant user flows. For example, to receive a receipt via WhatsApp, a person must opt in during a purchase flow. Opt-in obtained without context and in any manner not related to an action the user is already taking, does not comply with this policy."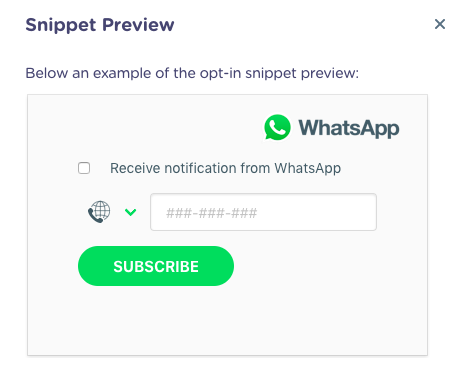 Click on this link to read more about Snippets and how to Get Subscribers!
Through WhatsApp
The most immediate and easy-to-use option: by following an initial flow to opt-in, users will be able to give their consent to receive future notifications through WhatsApp. From there, you can direct the user towards the same Bot's path or Jump to a different Bot.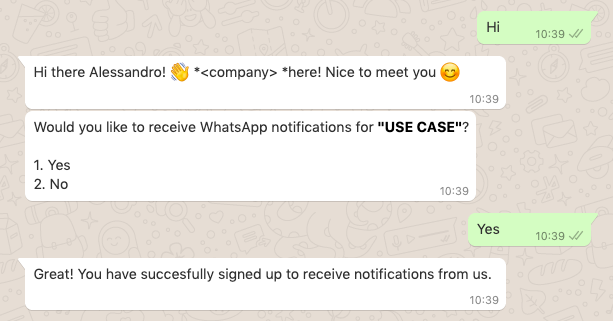 Learn how to create your Opt-in Bot (both for WhatsApp and Web)
Using a Web Bot
Of course, all you need is the user's consent and their phone number to be able to send them messages in WhatsApp. Once you have that, you can send a pro-active message or HSM Template to the user's WhatsApp. If you want, this pro-active message will trigger a WhatsApp bot.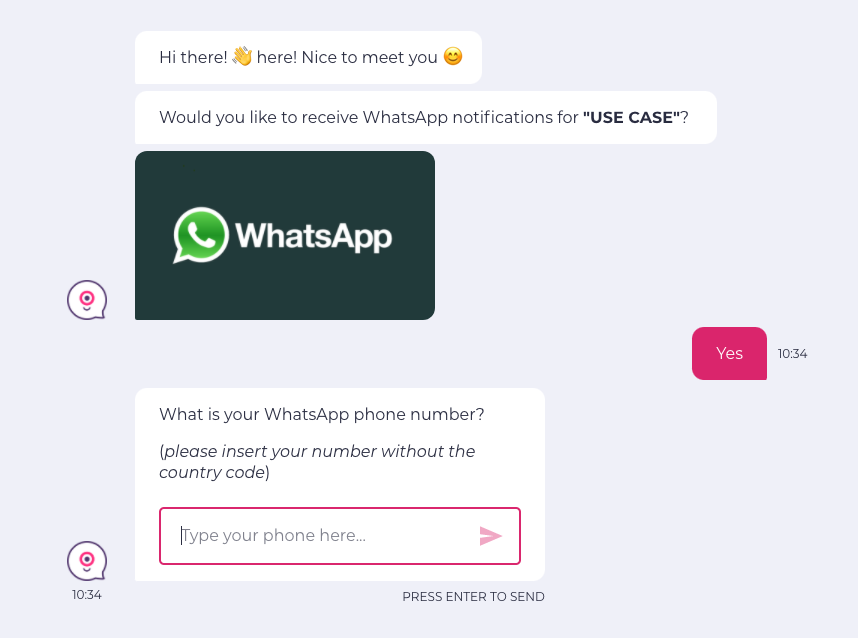 Read this article to know more about HSM templates and how to use them!