Classic Dashboard
Once you log into the app you'll see your dashboard. Let's discover what you can do from here: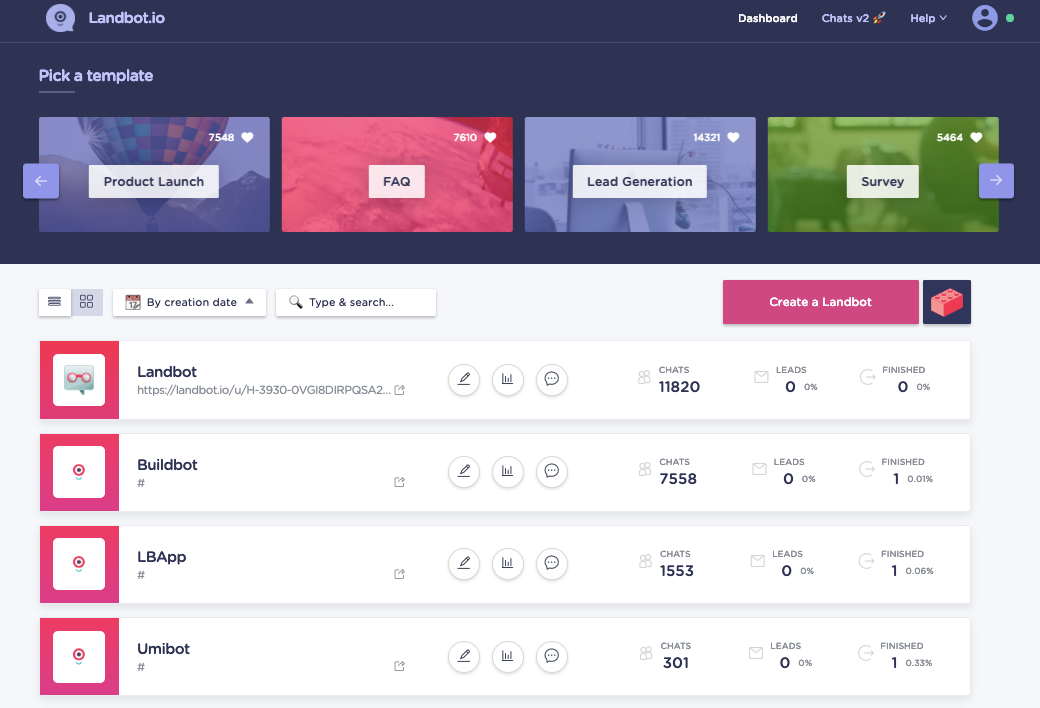 The menu on top shows you the main sections of the app:

Dashboard: The section we're in, with our landbots, the templates, and the possibility to create new ones. 
Chats: the section where we can see the conversations of every landbot, and jump into the chat as a human agent when needed. Learn more.
Help: direct access to our Knowledge Base and the Support Team. 
Avatar/User: use it to change your account settings, connection status or log out. Learn more.
In case you're in the Sandbox plan it will as well visible the number of remaining chats:

Next, you'll find the following three sections:
Pick a template: Landbot provides some templates so you don't have to start from scratch every time. Click on any of them and a copy will automatically appear in the "My landbots" section!
Your landbots: All the landbot's you've ever created with information on its name and number of chats. Click on any of them to edit it.

You can duplicate or delete any of them by clicking on the document and bin icons:

Click on the Create a Landbot to create a new bot at any time:

At the bottom the dashboard, you'll see a section called Other Chatbots that looks like this: 

From here you can:
Create a new WhatsApp Chatbot- You can click on the first green icon to integrate any WhatsApp  number and create a chatbot at the same time (only Business clients); Learn more. 
Create a new Messenger Chatbot. You can click on the second blue icon to integrate a Facebook page and create a chatbot. Learn more.
Create a new API chatbot. If you've integrated a third-party channel into Landbot's dashboard, you can click here to create a chatbot for it. Learn more.
---
---