Upgrade Plan
Want to boost up your experience using Landbot? Check out this article to learn how to Upgrade you plan.
End of Trial Period
We offer a 5 days trial to every new user, during this period you have access to all Landbot features. After this period your account will automatically downgraded to the Sandbox Plan, which is our free plan.
If your Trial period has expired and you loved your experience with Landbot, you can upgrade your plan to keep the awesome features you had access to 😊
If you want to see more information about our plans, check out our pricing and plans page.
Upgrade of Plan
Need to take you Landbot account to the next level? 🚀 If you want to see more information about our plans, check out our pricing and plans page.
How to Upgrade
It is possible to upgrade you plan in the Subscription section of your account 😉
When in your Dashboard, click on your Avatar in the lower left side of your screen, and select the option Subscription.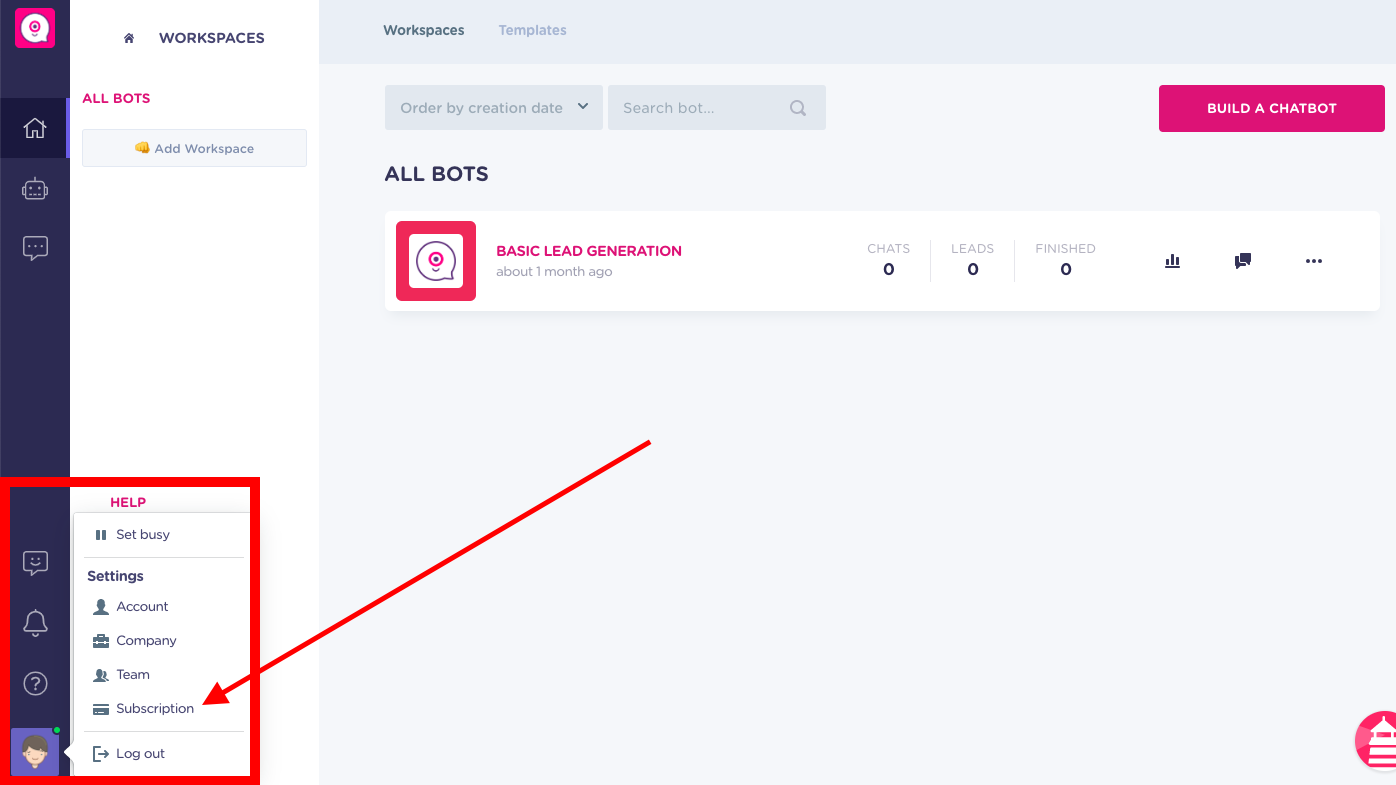 You will be taken to the Subscription section, where you can choose the plan you want to upgrade to: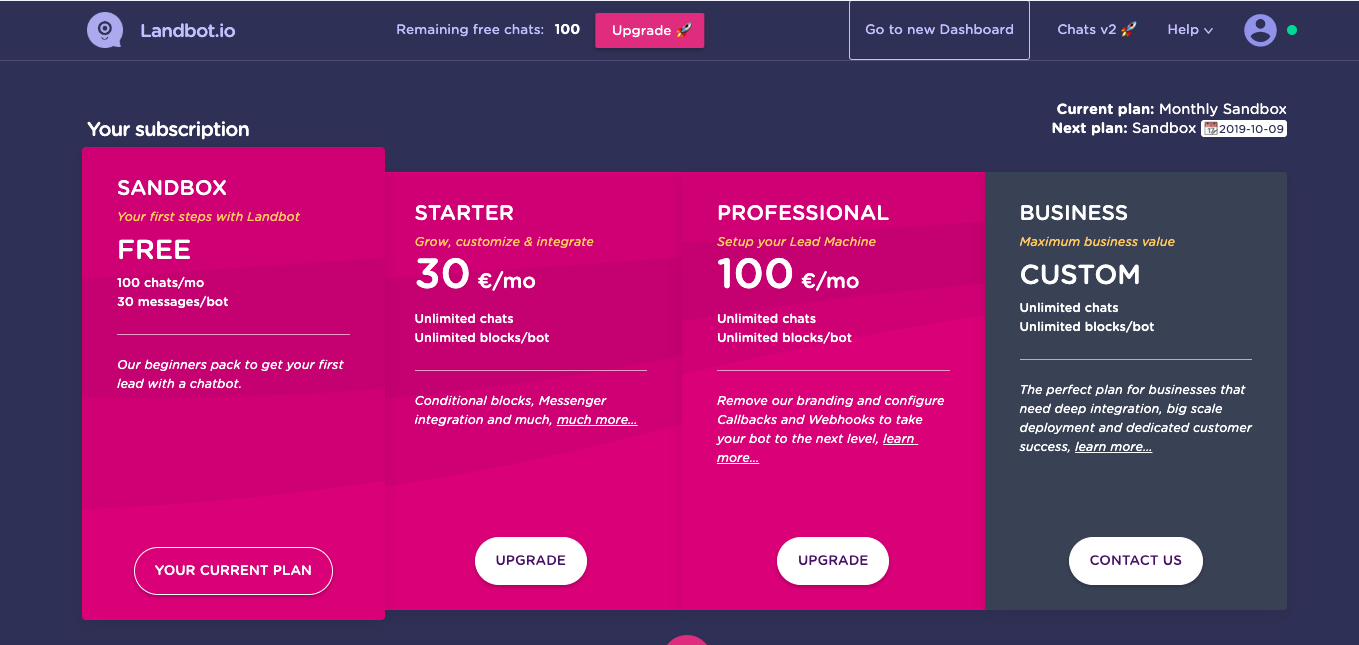 If you are interested in the Business plan, you can click on the
Contact us
button.
Once you have chosen the plan, you must fill in the details of the user. It is possible to register as a Company or as an End User.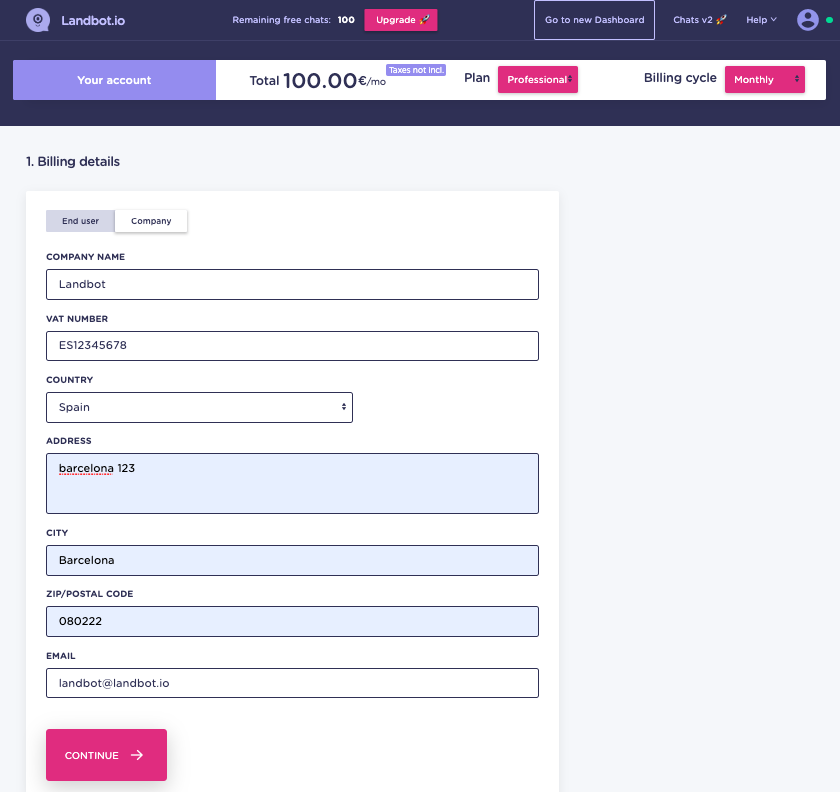 if you are having trouble validating your VAT number, you can verify it in this link.
Insert your Credit card details and click on Continue: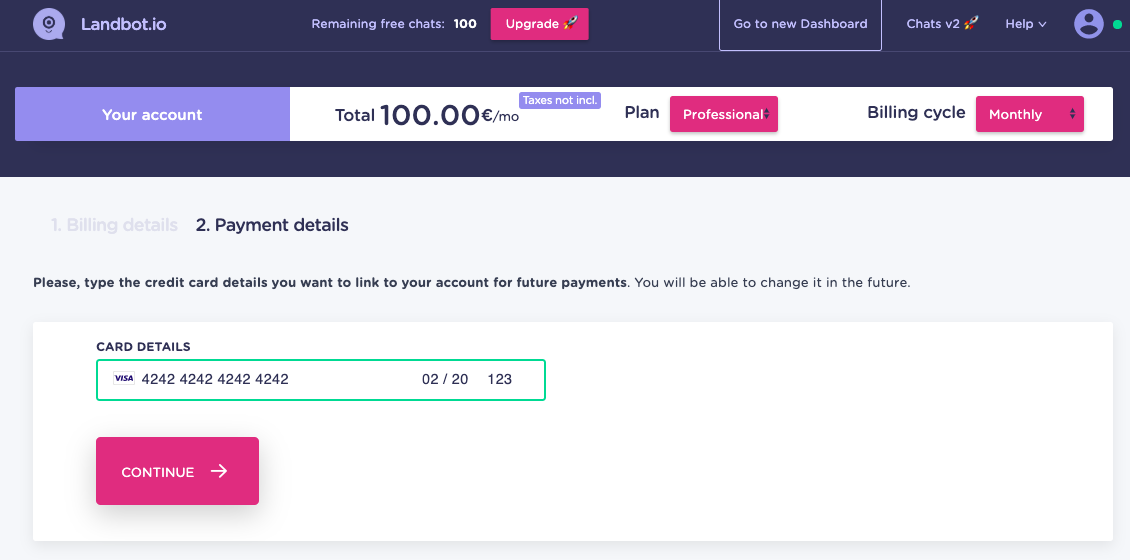 You will be taken to the final screen, that shows the billing information of the plan you will upgrade to. This final step will show how much you will be charged for the plan, for additional Seats (Teammates) and the final price.
This is where you should insert the promotional code, in case you have one 😎
Click on Finish and Pay to perform the payment.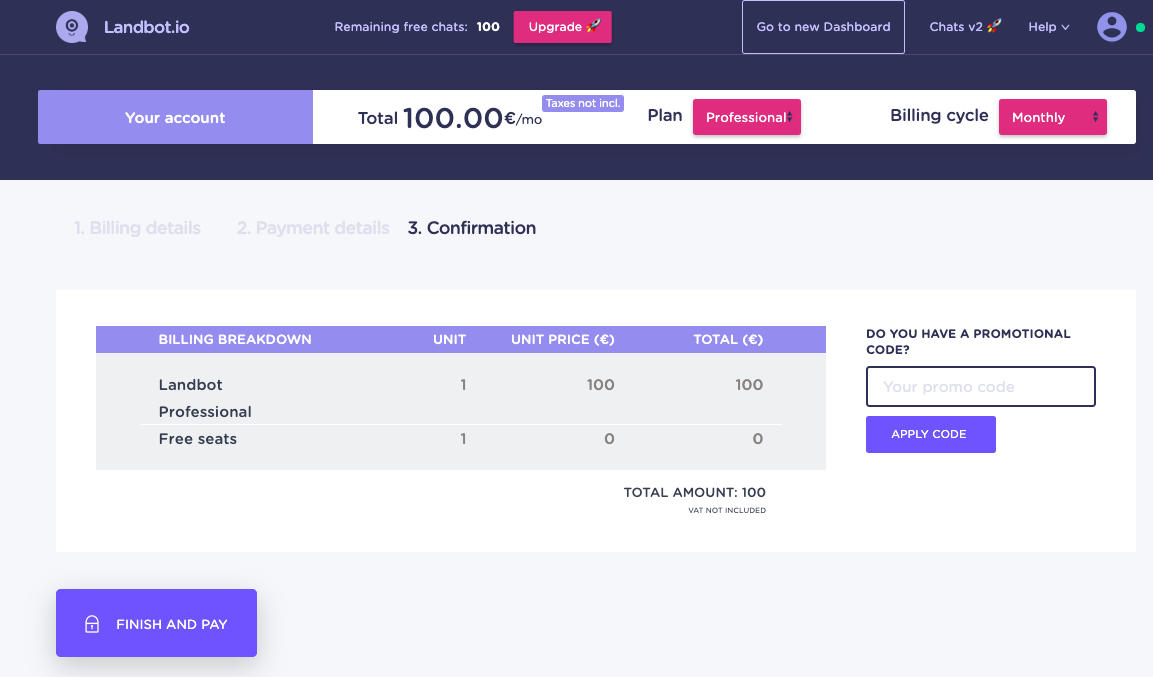 After the payment is performed, you will be invited to schedule a free Onboarding Call, a quick call with our Conversational Expert that will help you make the most out of Landbot.
Please choose a date and time, and confirm the request.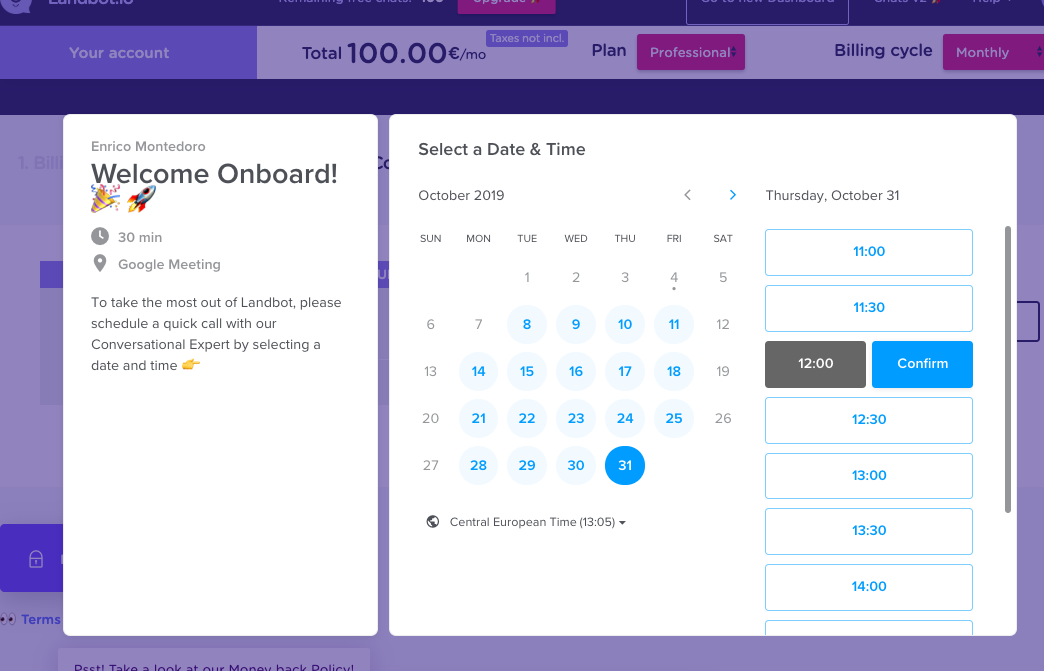 Provide a few details for the call, and even choose the language you prefer to talk in: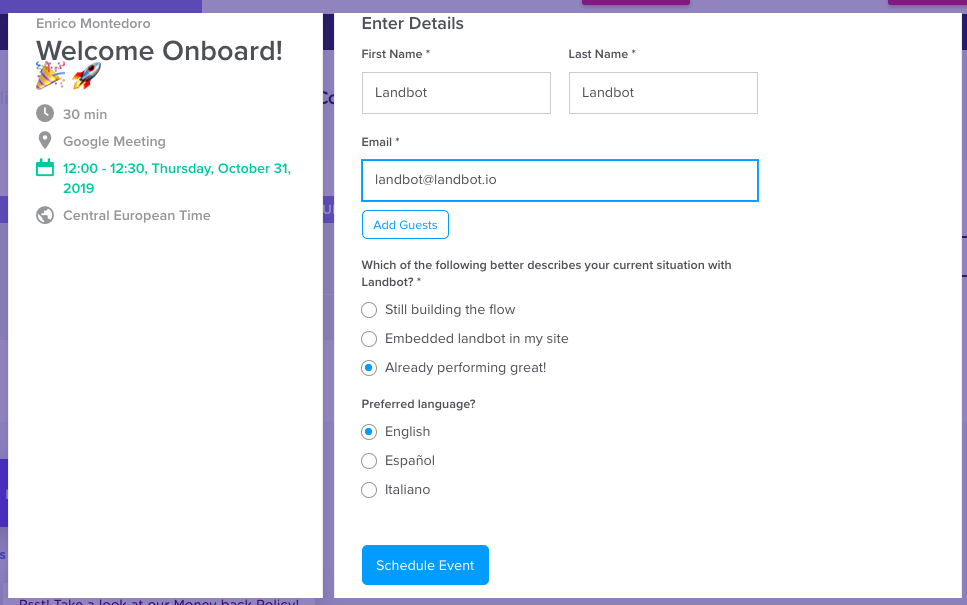 You will see the confirmation of your Onboarding call, and will receive a calendar invitation in your email.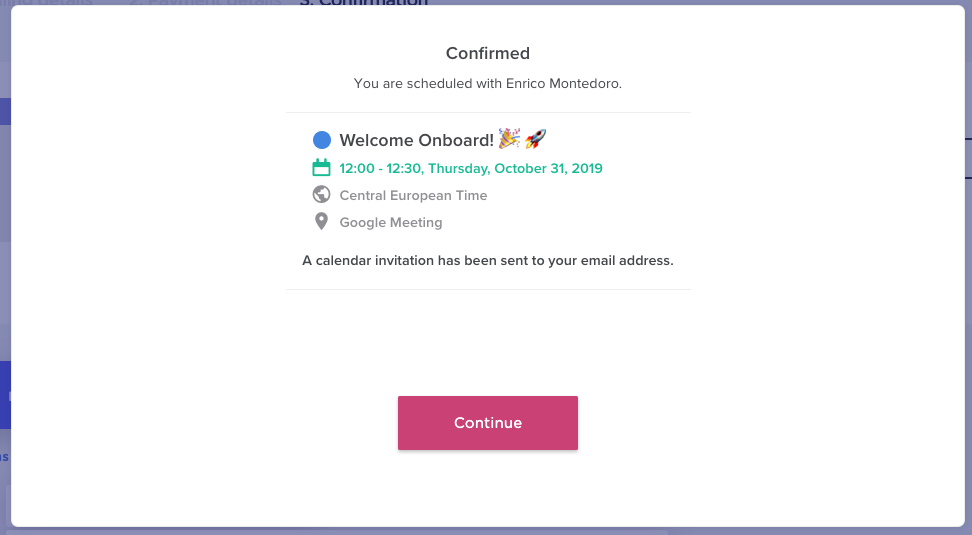 In the end you will see the new details of your subscription, and see the invoice of your payment.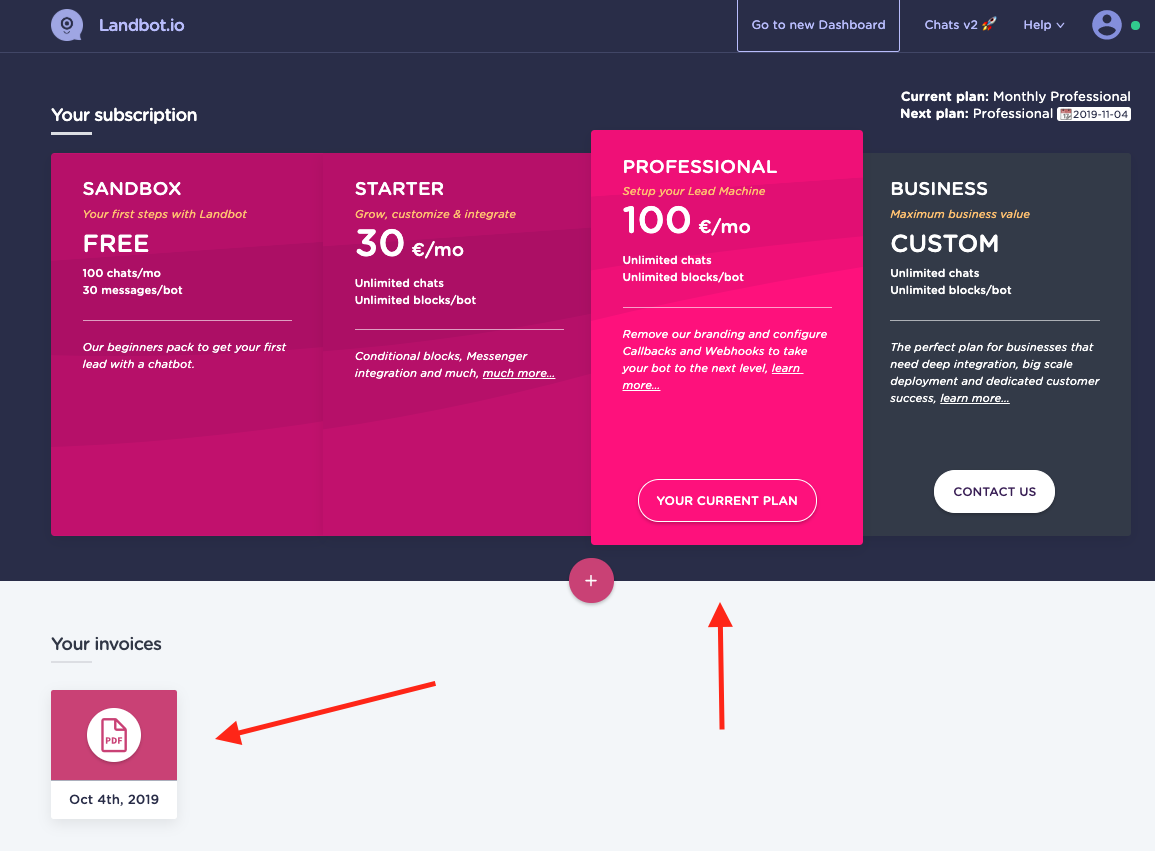 Payment FAQs
Do you have any doubts about payment that were not solved in this article? Please check our Payment FAQ 😉
---
---