OLD BUILDER - Facebook Messenger
You need a premium account to integrate a Facebook Messenger channel
Please follow the steps of this article and integrate the page BEFORE building the bot. If you skip this step and come back later, the bot will not work, and will have to be created again.
How to Set up a Messenger bot
Before we begin, please check the following:
You have at least one FB page
You are an admin of the page you want to integrate
There's no other bot active in that page
At the bottom of the dashboard you will see a section called Other Chatbots that looks like this: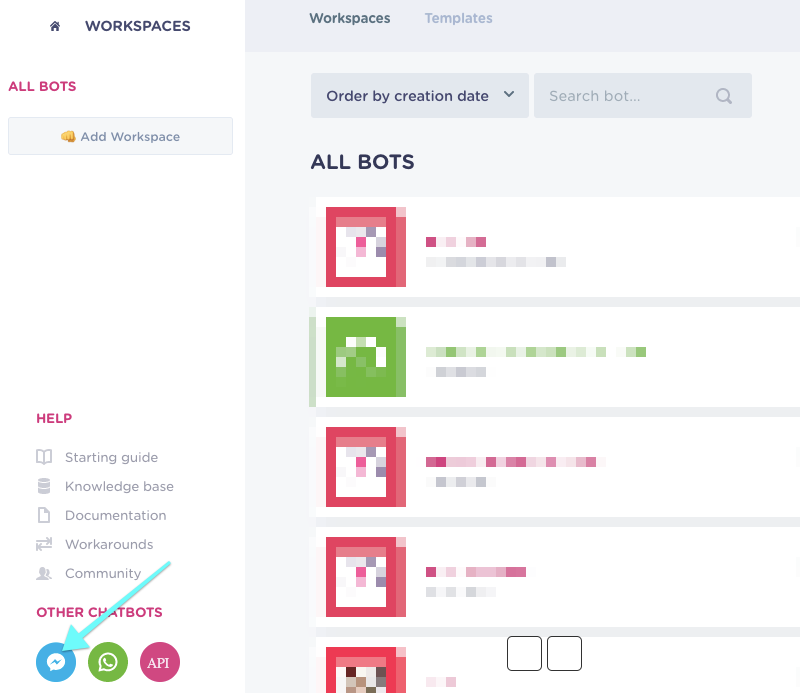 From here you can:
Create a new Messenger Chatbot. You can click on the first blue icon to integrate a Facebook page and create a chatbot.
Create a new WhatsApp Chatbot - You can click on the first green icon to integrate any WhatsApp number and create a chatbot at the same time.  Learn more. 
Create a new API chatbot. If you've integrated a third-party channel into Landbot's dashboard, you can click here to create a chatbot for it. Learn more.
If you click the Messenger Chatbot button, you will be prompted to add a Facebook page to integrate: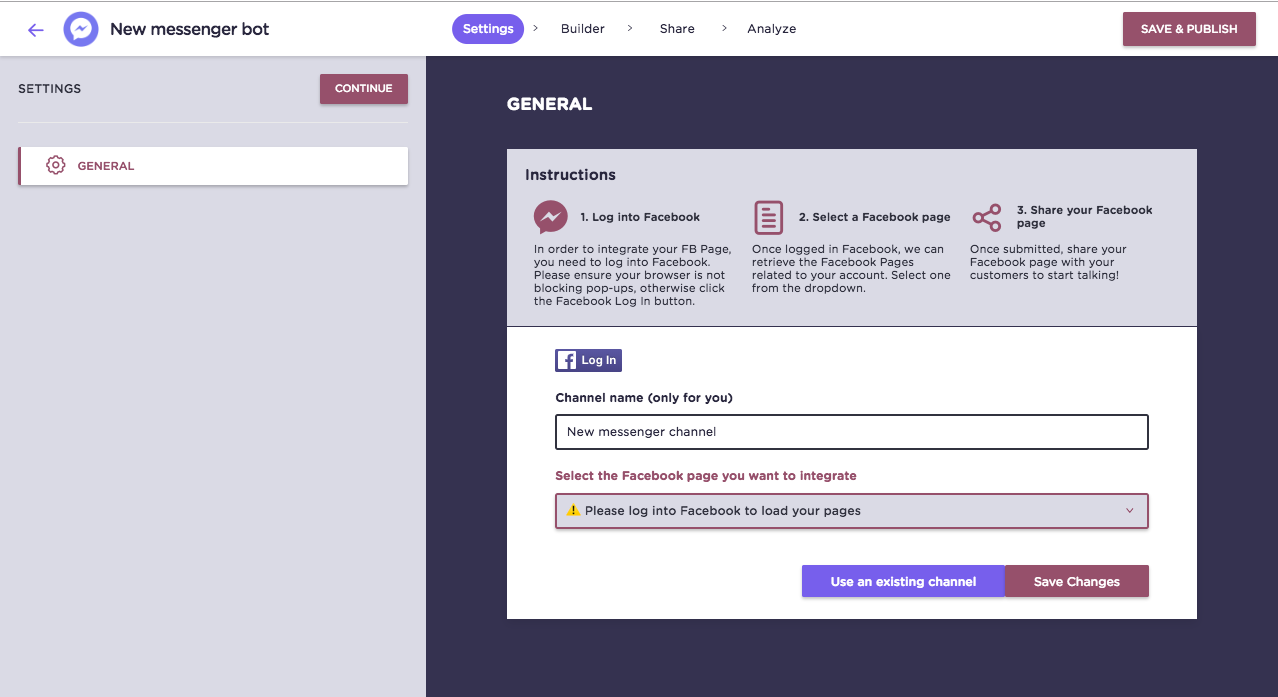 In this tab you can:
Select an existing channel previously integrated into Landbot
Integrate a new Facebook Page, for which you'll need to: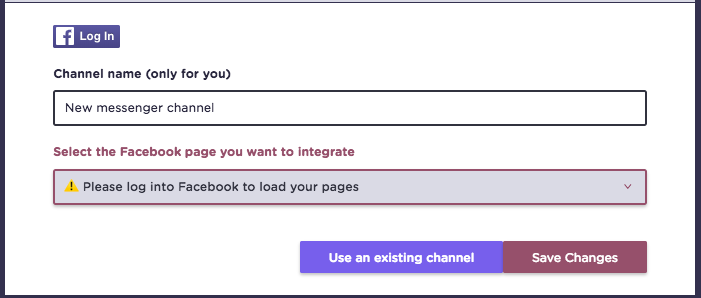 Click on the Log in button, which it will redirect you to a new window that will allow you to sign in: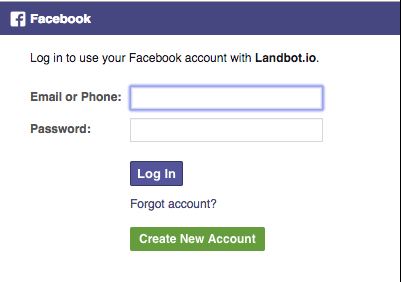 Once you have signed in, you can select the page you want to integrate and click on Save Changes. After that the option to disable or delete the chatbot will be enabled:

Click on Builder to begin your creation. You might notice fewer features that in landbot's chatbot builder and that's due to Facebook's limitations in terms of interface. That's why you can't create the same chatbot for both landbot and Facebook Messenger.
Please, note that at the moment not all the Landbot features are compatible with Messenger Bots - like Searchable options, multi-answer, external URLs in buttons, Jump to, and YouTube video integration.
Whenever you're done with your creation, click "Share" on top, where you'll find your Facebook Page's URL in order to share it, and the possibility to use other Social Media apps too.

If you click on the Embed into your website option, instead of the HTML snippet to embed your landbot, you will find the Facebook Messenger button code to add a button to your website. Visitors can click to start the conversations with your Facebook page: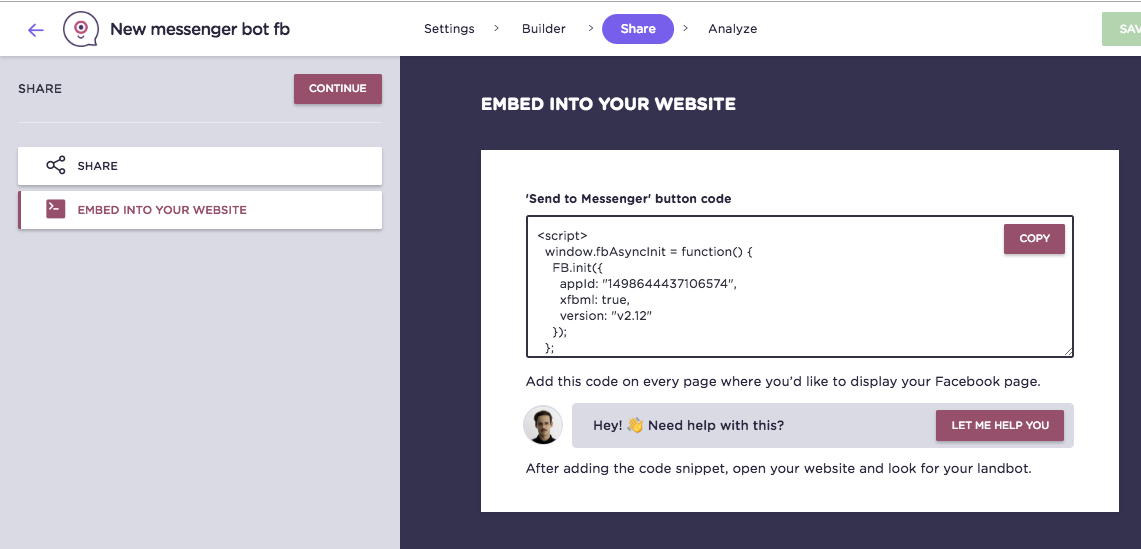 Feel free to test our Messenger Landbot!
Troubleshooting
Since the Messenger bots integrate with Facebook, there is some setup required in your own Facebook page. And sometimes it is necessary to update the information in Facebook, in order to have the Messenger bots working smoothly in Landbot.
This troubleshooting section will show you the most common integration issues you may face in Messenger bots, and how to solve them 😉
Renew Facebook Token
When it comes to FB Messenger integrations, FB requires you to update the token every couple of months. The tokens have to be manually updated. 

So to renew the token, in your Landbot account please proceed to:

1. Dashboard > Click on your Avatar in the Lower Left > then click on Subscription

2. In the Subscription section, click on your Avatar on the top right > click on Channels > click on the Facebook Messenger channel > Edit > Save Changes.

This process automatically renews the token, and it's always the first thing to try when the sending/reception fails! 
Update pages in Business Integrations setup in the Facebook account.
If you are not being able to see the facebook page you want to integrate with Landbot, Please access your Facebook Account and click on the Settings option on the upper right side.
After this, please click on the option Business integrations:
Click on the View and Edit option in the Landbot.io integration, and add the pages you want to display in Landbot.
Save your changes, refresh the page in Facebook and Landbot, and you should be able to see all pages in Landbot 🚀
---
---