...❶, 🔟, 💯 ways to analyze your data 📈
...❶, 🔟, 💯 ways to analyze your data 📈
Updated by Enrico
If you are here and have decided to read this article, in most of the cases it is because you have finally completed your bot and you are wondering what is the best way to analyse the data you have collected through Landbot.
Well, the answer it is not univocal and it really depends on the results you want to achieve. But, after all, what is the point if you cannot easily crunch the information and draw conclusions?
Lucky for you, we have thought in more than one solutions and we strongly believe that sharing them is a great way to add value to your business! 💰
Ready? Let´s review them together:
Landbot Metrics Section
This is the best way to analyze all data from your Channels and bots, find Agent reports, export data from your bots and much more!
Find more information about this section in this article 🚀
Landbot Analyze Section
The Analyze section is all about helping you make smarter decisions based on your Landbot's performance, so it's super important to understand it correctly. You can access to it from the upper menu of your builder:

This section is divided in three modules, namely:
Metrics: here you can find a basic overview of your conversations, you can apply filters, change data frames and most importantly go through the four different stages of the conversion funnel: Chats, Leads, Goal and Finished.
Further details about this module can be found here.

Users: this is where all the conversation data are stored, here you can find the details of every single user who talked with the bot. You can apply filter, download the data in a CSV, delete conversations and much more.
If a user has left you an information, you will find it under the corresponding variable.
Further details about this module can be found here.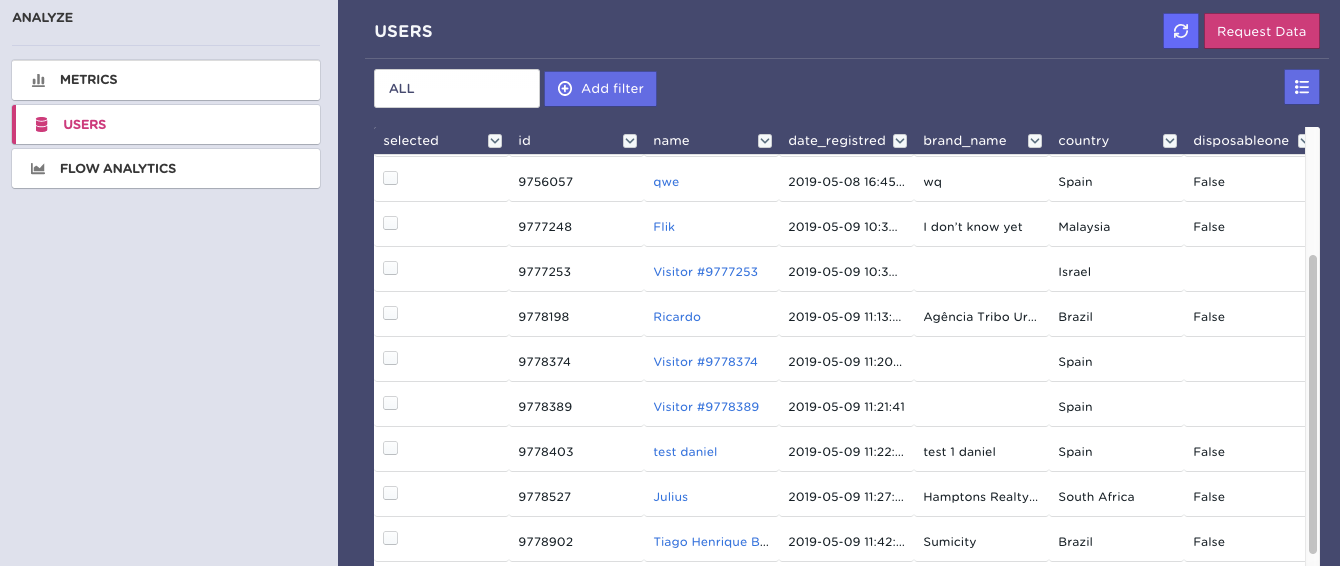 Flow Analytics: from here you have the possibility to track the block-by-block conversion and drop-off ratio on any landbot.
Further details about this module can be find here.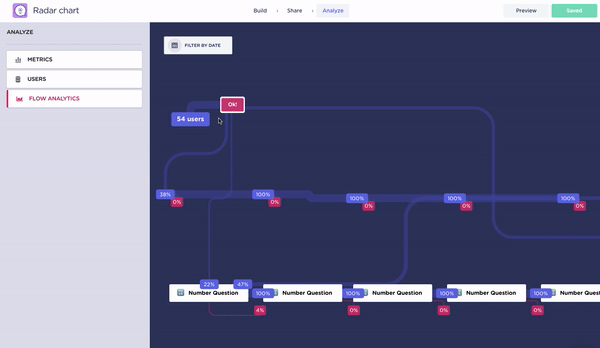 Google Analytics
Google Analytics can provide you with advanced metrics and data about your website traffic. At Landbot we know how valuable this information is and to help you yo keep full track of it we have developed a native integration that will allow you to integrate the two tools in no time.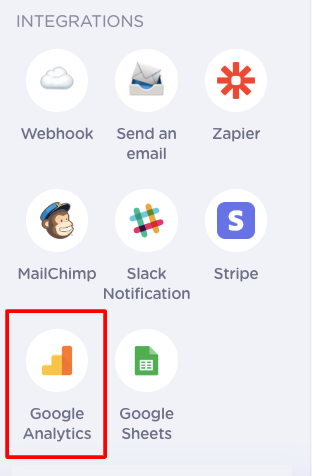 In a few click you can now add your Google Analytics ID straight in the chatbot flow and configure your Event Action and Event Category. If you have not yet an account in Google Analytics you can create one using this link.
If you want to learn how to use this integration, discover the step by step process here.
Google Sheet
Are you a data person? If yes, Google Sheet is the free tool you are looking for! Use it to crunch your data and build complex spreadsheet, create pivot tables and charts, make the most of math formulas and conditional formats.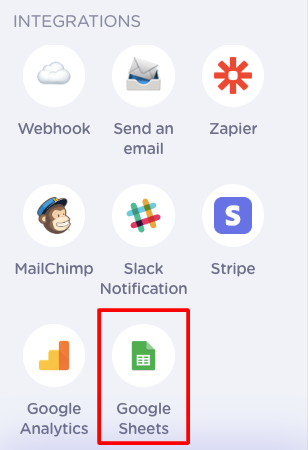 As we are a bit freaky about data as well, we have created also in this case a native integration that allows you to connect the two apps in few clicks. You are now able to send the data that you have collected through your bot to Google Sheet on real-time and share them with all your team. Obviously, without a single line of code.
Learn how to configure it here.
Webhook
Sometimes we need to send data collected in the bot to external apps or servers; sometimes we want to bring data from outside sources to the bot, from API's, CRM's... either way we can achieve this by using HTTP Methods like POST and GET.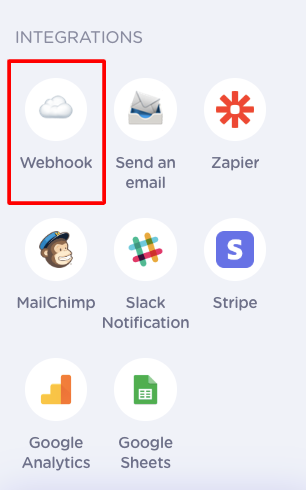 Do you have a database you want to utilize to pipe into the bot data? Are you already using a an external app and you want to put it in contact with Landbot? If this is the case, the feature you need is exactly this: the Webhook. Discover further details about this integration here.
Zapier
Zapier is a user-friendly web service that allows you to automate actions between different web apps. Landbot users often benefit from Zapier and here below you can find some of the most popular zaps: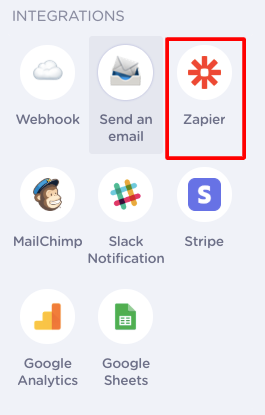 Learn more about our Zapier integration here.
Bricks Workarounds
Using the new Brick functionality we have prepared and make public some bricks ready to use; each brick cover a different use case but as you will discover some of them will help you to decide which is the best way to analyse, share and manage your data.
Here you can find a full list and obviously a step-by-step guide for each of them.
Goal Block
We promise you, this is the last one!! ⭐️
With the Goal block you can track if your users have passed through a certain path in your flow. This is particularly useful to validate if they meet specific criteria by asking relevant questions and then add a Goal block afterward. You can easily track multiple goals and check the results in the Analyze > Metrics section (see point nº1 of this list).