Overview & Design Templates
From the Design section we can customise our Landbot to the infinity and beyond with more than 20 variables to make it look unique.
To get access to this section all you need to do is clicking on the Design button on the top menu of the builder as below: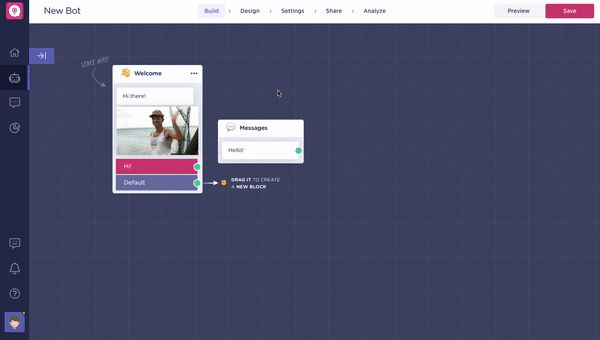 Overview
The section is divided into several sub-sections, which we'll cover in the other articles of this category but first, let's point out some important aspects of the main interface: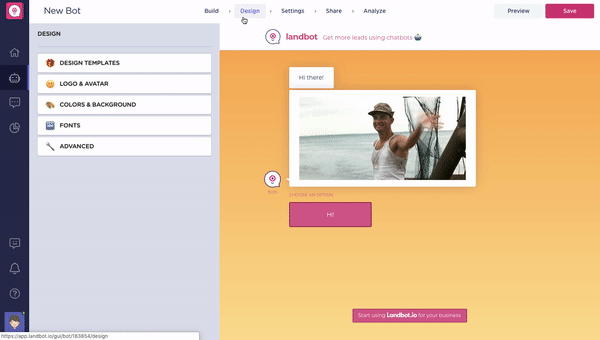 Real-time changes. Every change you make using the left menu will be shown in real time on the right side of the screen. So, if you're making some changes using, let's say, the Custom Style editor, and you notice no changes, something might be going wrong!
Saving. The app will auto-save your changes every time you move from one section to another to make sure you don't lose any edits, so keep that in mind.
Preview. The right side of the screen contains a fully interactive landbot so you don't need to click preview to test the flow along with the design edits.
Hexadecimal colors. All color-related options allow you to add your own hexadecimal color code to make sure you can fully replicate your brand image in your landbot. 
Design Templates
In this section you can select the template you like the most and use it in your bot: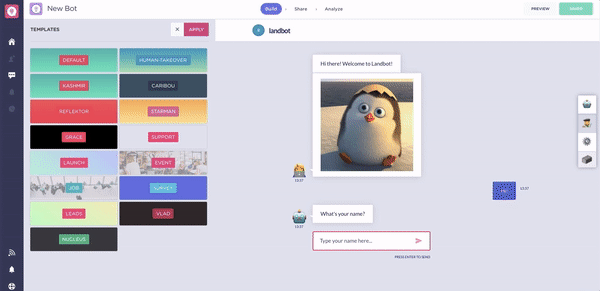 Take your time, see what template fits better your needs and once done go ahead to the next area of the Design Section!
---
---