OLD BUILDER - Other channels - WhatsApp
This article corresponds to the V2 (Classic) of the app. You can check the equivalent for the new version V3 (Bricks)
here
Learn how to easily configure Whatsapp integration with this step by step guide right from the dashboard.
Note: You need a Business account to integrate a WhatsApp channel.
At the bottom the dashboard, you'll see a section called Other Chatbots that looks like this:

From here you can:
Create a new WhatsApp Chatbot - You can click on the first green icon to integrate any WhatsApp number and create a chatbot at the same time;
Create a new Messenger Chatbot. You can click on the second blue icon to integrate a Facebook page and create a chatbot. Learn more.
Create a new API chatbot. If you've integrated a third-party channel into Landbot's dashboard, you can click here to create a chatbot for it. Learn more.
If you click the green WhatsApp icon, you'll be prompted to add a new WhatsApp bot to integrate: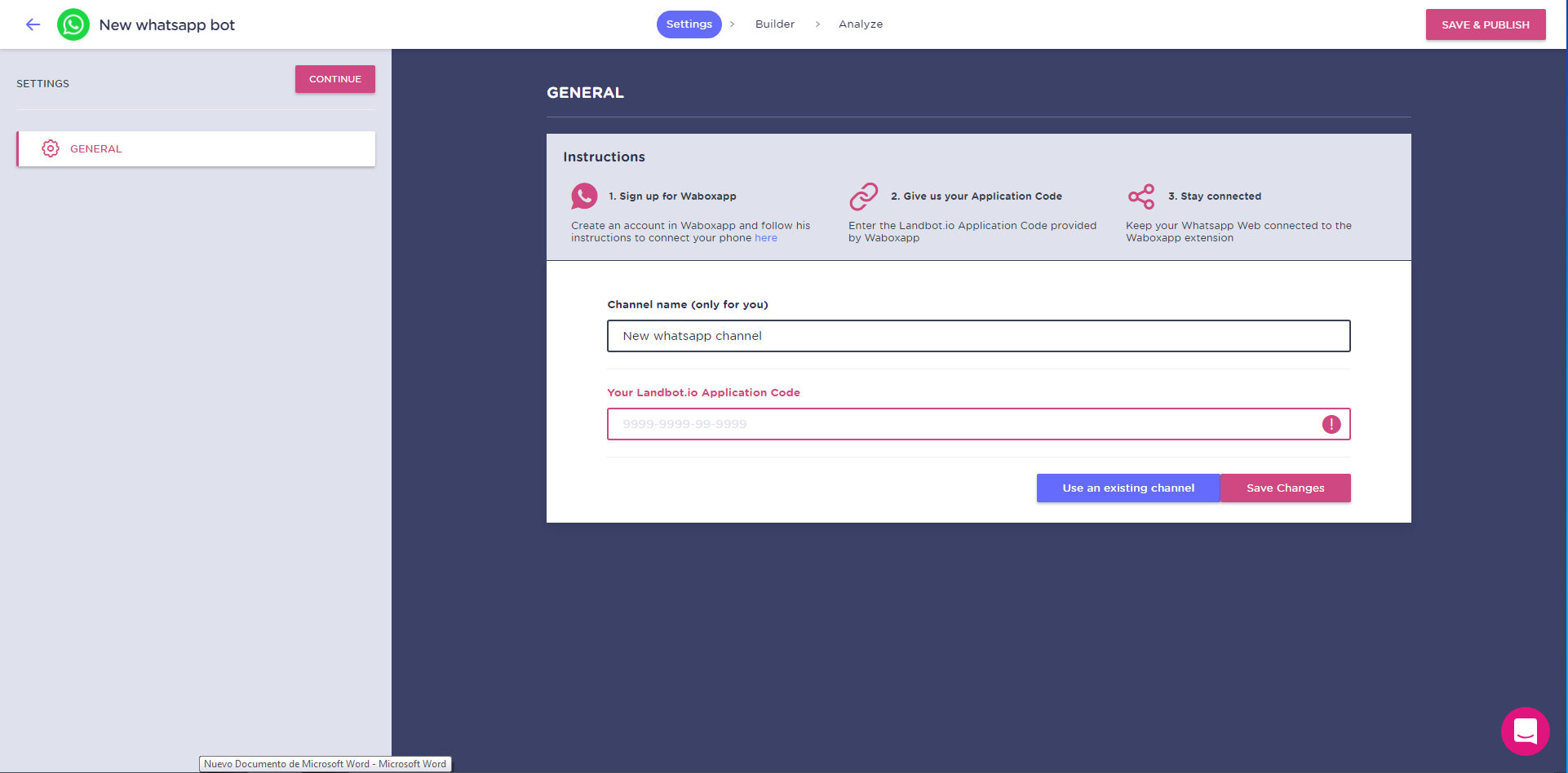 Before proceeding with the set up of the new Whatsapp bot on Landbot you will need to create an account on Waboxapp (extra fee applies). This is, in fact, our partner company who provide the integration.
Create an account in Waboxapp and follow the instructions to connect your phone here

Install Waboxapp's Chrome extension:

Then validate the extension by pasting the API Token provided with your account:

Open WhatsApp Web and scan the QR code on the same window the extension is installed and go back to Waboxapp. Refresh the page and you'll see the new phone number:

Click on Landbot's screenshot and a pop will appear. Now click Enable and copy the Landbot.io Application Code provided (don't click Save yet):

Go back to Landbot Dasboard and click on new WhatsApp Chatbot and enter your Landbot.io Application Code from Waboxapp:

Click Save Changes!
Go back to Waboxapp and click Save in the notification with the Landbot.io application code:

You're good to go! Make sure the integration appears as connected in your Waboxapp account:

You'll see your phone number on Landbot's Settings once you receive your first message through WhatsApp. Make a test sending a message to the number you have integrated. 😉
The entire integration process is also resumed in our WhatsApp Integration Bot.
If you would like to discover what the WhatsApp integration looks like, give a try to Landbot WhatsApp Bot. Send us a message at: +34 633 47 57 12 (09.30 - 18.00 CET). The Bot is quite simple but it will give you the idea!
There are also some restrictions regarding the integration that are important to remember:
You need to keep your WhatsApp Web session active in a Chrome browser 24/7 to receive messages;
There are some limitations when it comes to media sending, limited to images and location and not send directly but through an URL;
You cannot use WhatsApp integration to launch massive communication campaign or proactive messages to your clientes;
You can add as many WhatsApp numbers as you want;
Each bot can be connected only to one number;
Every agent registered on the app will have full access to all the bots;
Whatsapp integration allows you to jump in the conversation whenever you want; you can directly tal to your clients from the Chat section of the app. Learn more.
No preview is available for WhatsApp bots;
The plan comes with 1 agent included;
It is not possible to duplicate bots.
Note: You need a
Business
account to integrate a
WhatsApp
channel. The plan has a cost of
300€/mo
, each extra agent come at a price of
40€/mo. We don't offer trials
for our premium plans, but a
7-day money-back guarantee:
you can upgrade, test the app for 7 days with all its features and then decide if it's worth it according to your needs! 🚀 For more information, please see
here.
The integration is provided by our partner WaboxApp; for any technical issue you will need to contact directly WaboxApp at: hello@waboxapp.com
Finally, please note that WhatsApp integration can be impacted by any issue affecting the final users' network: in case of any slowness in the Internet connection messages can be delivered with a lag of 5/6 seconds.
---
---