Landbot Affiliate Program
Landbot Affiliate Program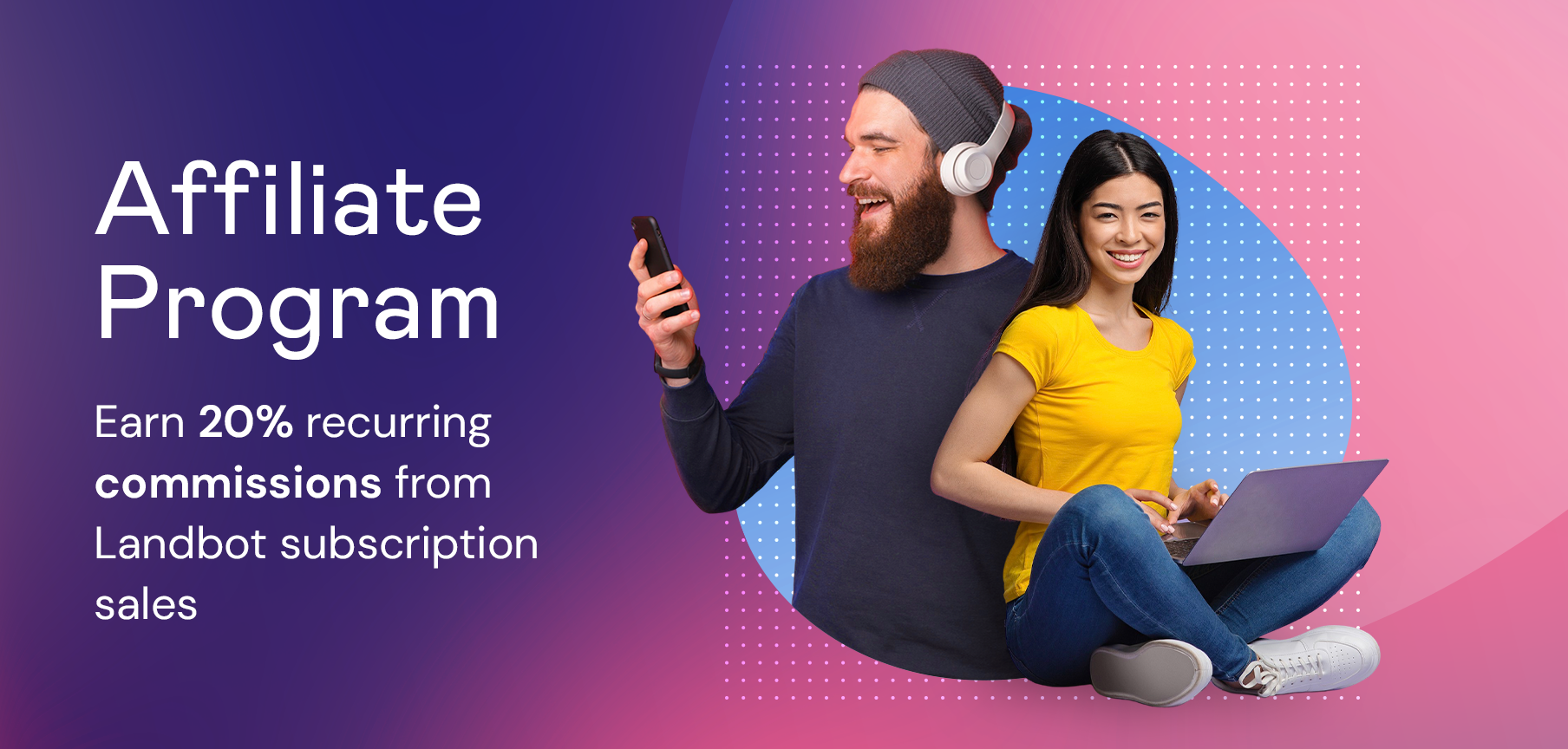 Landbot Affiliate Program lets you earn commissions (money, not just credits) by referring users to Landbot. It's a great way to generate extra income while sharing your love for Landbot 😉!
We use a platform called PartnerStack to run our affiliate program. If you can't find an answer in this FAQ, please also check out PartnerStack's help articles.
Intro
How to become an affiliate partner?
Visit Landbot Affiliate Program page
Click Join Program
Create an account (ideally with the same email address as your Landbot account)
Fill out an application form and wait for it to get approved.
Done! As soon as your application is approved, you'll be taken to your partner dashboard on PartnerStack, where you can find your unique referral link, marketing resources, track performance, and manage payouts.
To log back into your partner dashboard in the future, you can open this page from the sidebar of your Landbot app, then click on Log In
Who can join?
Everyone who loves Landbot and can refer at least one new user! You don't even need to be a Landbot customer (although it'll give you lots of advantages).
You will particularly be a good fit if you...
Love Landbot
Run an agency
Have a sizeable audience
How does the program work?
Share your link — Each partner gets a unique referral link. Share it with your network, followers, or clients.
Referral joins Landbot — When someone visits your link and becomes a paid Landbot client, it'll count as a successful referral.
Get rewarded — Get up to 20% recurring commission on every referral you bring (see more in Reward section)
Referral Tracking
How are referrals tracked?
Each partner will get a unique referral link. When people click on your link, we will use cookies to identify them for 90 days. When they sign up and pay, they'll be counted as your referrals.
How long is your cookie life?
90 days!
Where can I find my unique referral link?
In your Partner Dashboard > Links

Can I customize my referral link URL?
Yes, beside your default link, you can also create new links with custom URL by going to Partner Dashboard > Links > Create a Custom Referral Link
However, we recommend that you ALWAYS wrap your referral link in hyperlink text. Do not simply display the link URL on its own. For examples:
Can I create referral links pointing to different landing pages?
Yes, you can create up to 50 custom links by going to Partner Dashboard > Links > Create a Custom Referral Link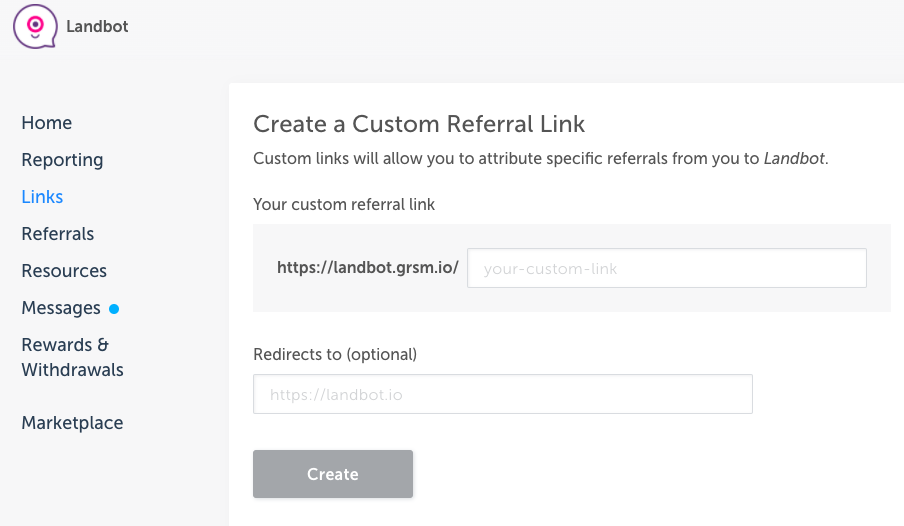 🚨 Please note that only landing pages starting with "landbot.io" or "app.landbot.io" (excluding chatbot URL) will track visitors.
How can I see my referrals?
In your Partner Dashboard > Referrals
My referrals are not getting tracked correctly
There are many reasons why referrals might not get tracked. For example:
They block cookies or tracking code
They clicked on someone else's link after clicking on yours
They have cleared browser cookies
They visit, sign up, and complete email verification on different devices or browsers.
They saw your link but never clicked it, and later visited our website via another channel
There isn't much we can do to help with the above cases, unfortunately.
However, if you believe your referral should've been tracked, please send us an email at partnerships@landbot.io with the following information:
Your email on PartnerStack

Referral's email on Landbot

Referral's signup date

Supporting info e.g. proof that this is a client account you are managing, screenshots...etc
Please note that only requests with complete information will be assisted.
I've referred other clients before, do they count
First of all, thank you so much for referring customers — we appreciate it a lot. However, we cannot retroactively credit past referrals due to both technical reasons as well as keeping the program fair for everyone.
Reward
💸 20% commissions on every sale (recurring up to 2 years)
We will also have one-off campaigns from time to time. Stay tuned!
Is there a limit to how much I can earn in total?
Nope, the more the better!
I run an agency, can I also earn commissions on clients I bring?
Absolutely!
Clients you bring to Landbot will also count as referrals as long as they sign up via your link. If you're creating a new account on a client's behalf, make sure you open the link in incognito/private mode.
Please do not create an account on a client's behalf using their email. You must visit referral link > sign up > complete email verification all on the same device & browser.

If you sign up for a client, and ask him/her to open the email verification link, the referral will not be tracked.
We recommend you to check your Partner Dashboard > Referrals to make sure the signup is tracked correctly before making a purchase or upgrading on your clients' behalf.

How can I track my earning?
2 ways:
Partner Dashboard > Rewards & Withdrawals (also include other affiliate programs you've joined on PartnerStack)
Partner Dashboard > Reporting
What does it mean when a reward has a "Pending" status?
It means that the reward has been earned but not yet paid out to you. It will be released on the 13th date of the following month (from the earning date). See more in Payout.
What does it mean when a reward has a "Declined" status?
It means the customer you referred has cancelled within our 7-day full-refund period.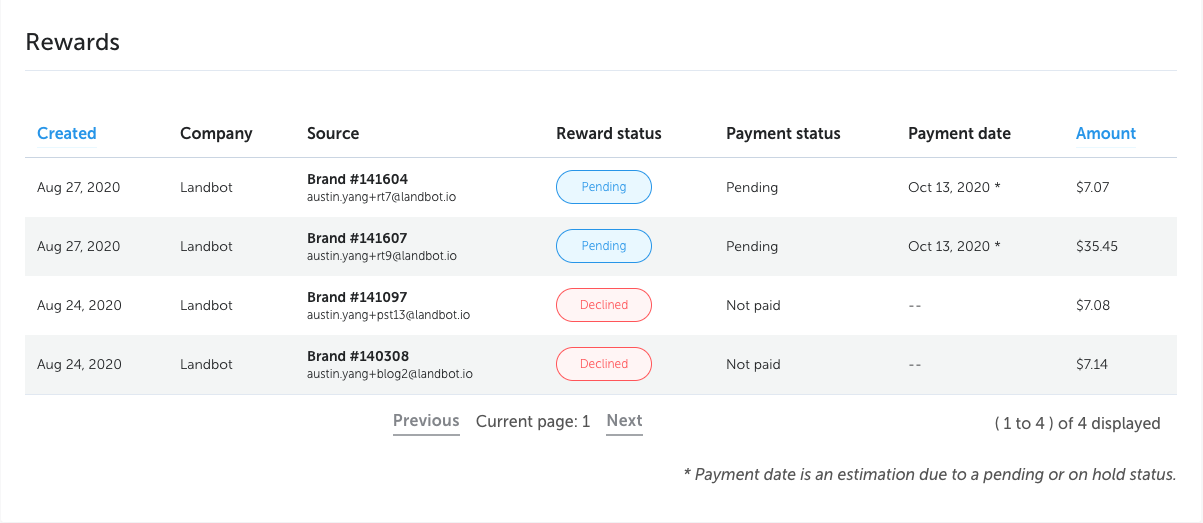 Payout
How do I get paid?
When you first join the program, add a payout provider in Partner Dashboard > Rewards & Withdrawals (you only need to do it once)
Rewards you earn in a month will become available for withdrawal on the 13th date of the following month.

Example: You earned $100 in June, it will be released on July the 13th

Once payout is released, you can withdraw the fund into your bank account at any point in time!

What payout methods are available?
Each payout method has its pros & cons, so make sure you consider what works best for your currency, country, and earning amount.
To learn more about payout providers, please check out PartnerStack's help article How do I add a Payment Provider to my account?
How do I get tax forms or invoices?
You will get them from your payout providers (Stripe or PayPal).
Read more on PartnerStack's help article: How Do I Get My Tax Forms or Invoices?
Please note that Landbot doesn't provide tax forms to our partners.
Promoting Landbot
Do you have any resources to help me promote Landbot?
Yes! We've prepared a playbook, marketing assets, content inspirations, landing pages, and promotional tactics to help you out!
You can find them under Partner Dashboard > Resources.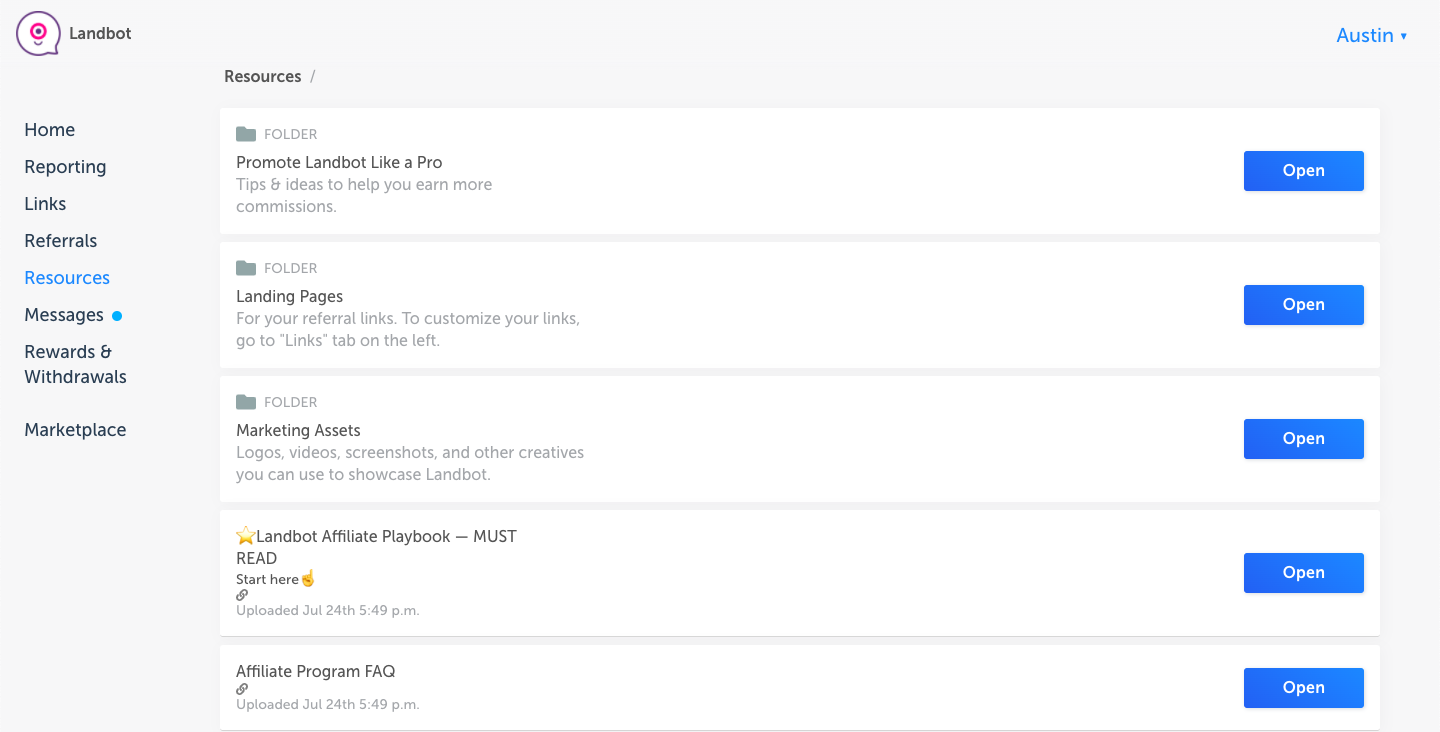 How can I promote Landbot?
The most effective way to introduce Landbot to a large audience is by creating original content, such as blog posts, videos, tutorials. You can also share Landbot in relevant online communities or offer it as a skill!
To learn more about how to promote Landbot, check out 📕 Landbot Affiliate Playbook (you can also find it in Partner Dashboard > Resources).
Are there any prohibited methods when promoting Landbot?
The full list of restrictions can be found in Affiliate Program Terms and Conditions. Please read them carefully as they are legally binding and you will need to comply with all of them.
Here are some important points:
You cannot cloak your referral link in a domain with Landbot keywords in it (e.g. Landbot.es). You also cannot use Landbot or any misspelling of our brand name as part of your domain name.
You cannot buy ads against our branded keywords or run any PPC ads without our prior written approval
You cannot pretend to be part of the official Landbot team
You cannot deceive users to click on your link
And you cannot use any other methods that might damage Landbot brand reputation
Partners who violate our
Affiliate Program Terms
will be banned and have their reward revoked — no warnings will be issued
Have other questions?
Our team is here to help! Feel free to: