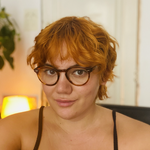 Updated by Elisa
It's possible to test your WhatsApp bot, before having your brand and number approved, with the WhatsApp testing feature!
WhatsApp Testing
The WhatsApp Testing feature allows you to experience what the official API integration feels like from the final user perspective.
The WhatsApp Testing channels work in one direction only, which means only the phone number you connect to it will be able to send and receive messages from the Testing channel.
How to add your number to the WhatsApp Testing channel
To add your number and test your bot please go to your bot builder
Click on Test
Now add the name or alias of that number, choose the country code on the drop down menu and write the phone number.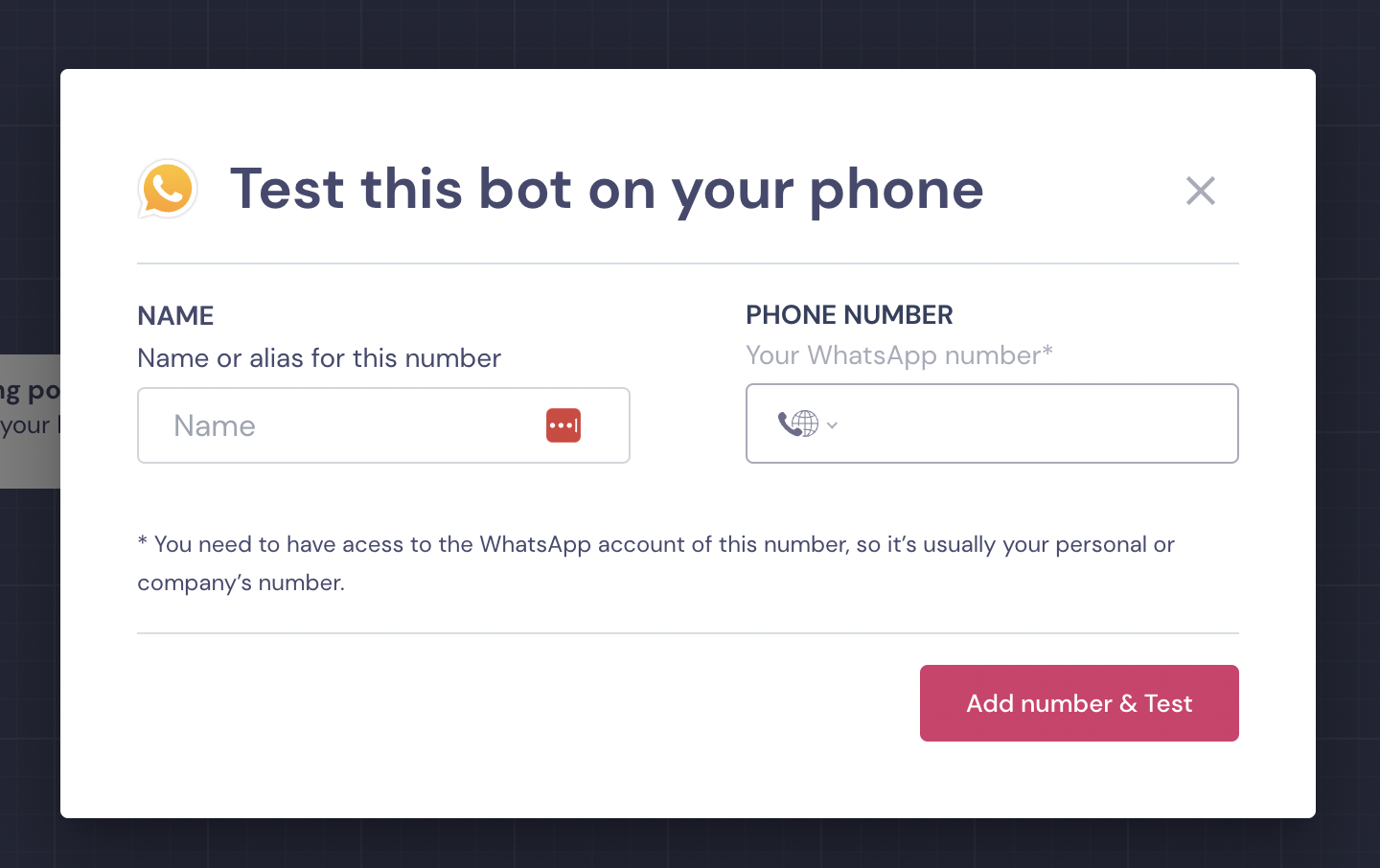 When you're done, click on Add Number & Test

Now you should have received a WhatsApp message to your phone number where you will click on ''Ok, let's test!'' to trigger the bot
And now you can test the flow of your bot!
IMPORTANT: You can only have 1 WhatsApp Testing channel per phone number.

If you already have a WhatsApp Testing channel connected to your number on a different account, you won't be able to create a second one, and you'll see a message saying that "this number already exists"!

If you want to use the same number again, please delete the existing channel.

Contact our team in case it's not possible for you to access and delete the previous WhatsApp Testing channel.
How to change the bot I want to test
Go to the builder of the new bot you want to test
Click on Test
You'll see a warning explaining that this phone number is already linked to another bot, just click on Link & Test to unlink it to the previous bot and assign it to this one

Now you will receive again a message to test this bot in your WhatsApp phone number!
The WhatsApp Testing channel
You will find the WhatsApp Testing Channel inside the WhatsApp channel itself.
Just click on the WhatsApp icon on the left sidebar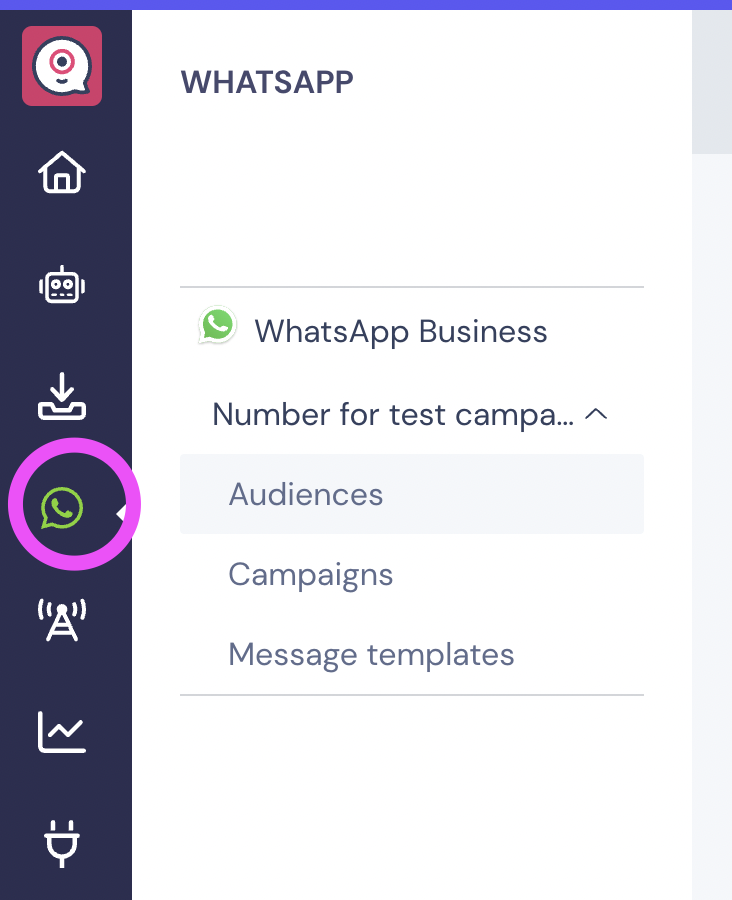 Click on the channel called Number for test campaigns with phone number +34 602 25 62 48
You'll find these 3 options on the menu: Audiences, Campaigns and Message Templates
Audiences
On the Audiences section you will find a list of all the numbers you have added to test your bots. The maximum of numbers allowed is 10 so you won't be able to add more than that.

How to import contacts to your WhatsApp Testing channel
Click on Import contacts
Add each phone number with the + symbol and country code and use a comma (,) to separe the numbers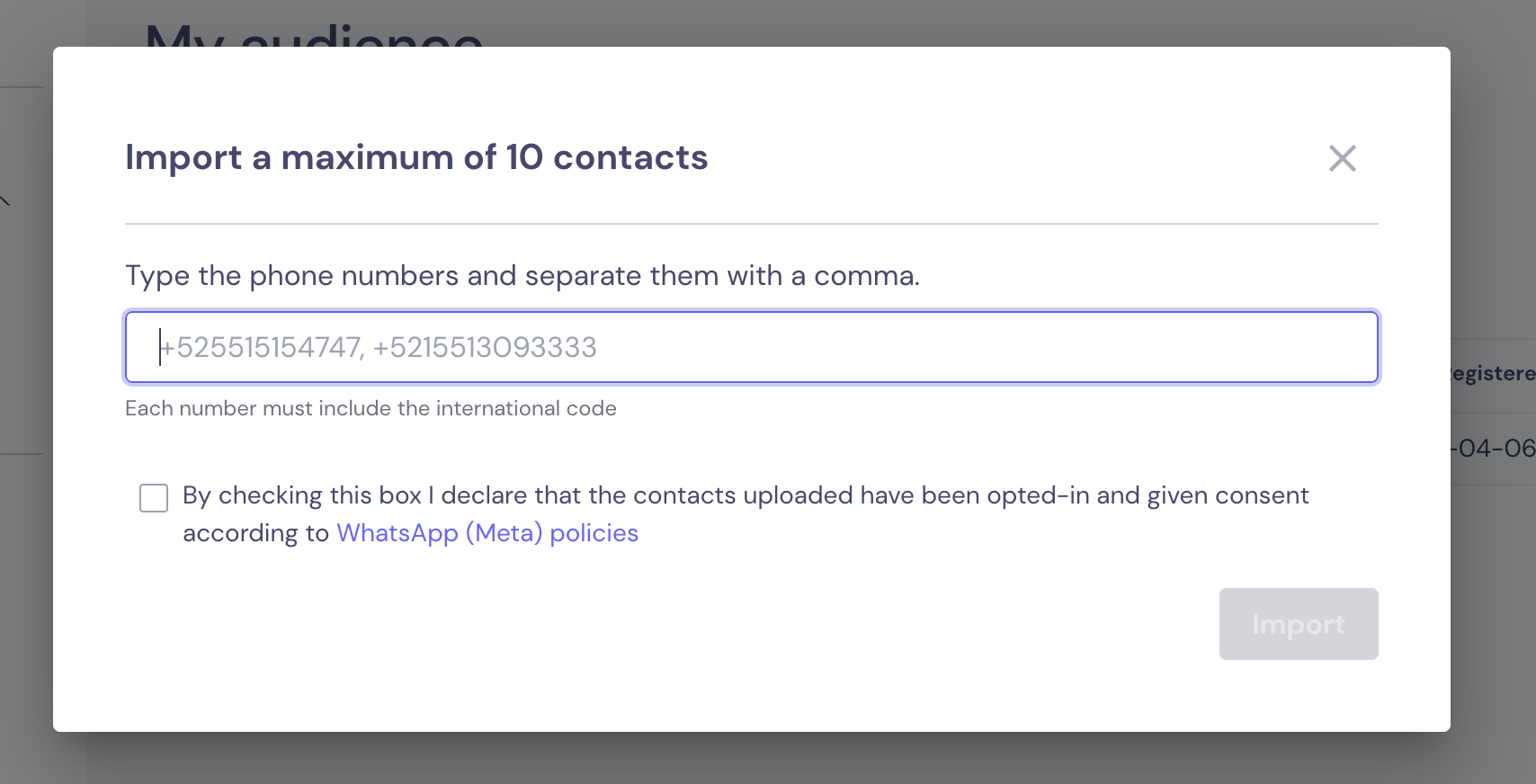 Check the box
Import
How to delete numbers from your WhatsApp Testing channel
Inside the Audience section, select the phone number by clicking on the box

Click on the trash can icon

Confirm and delete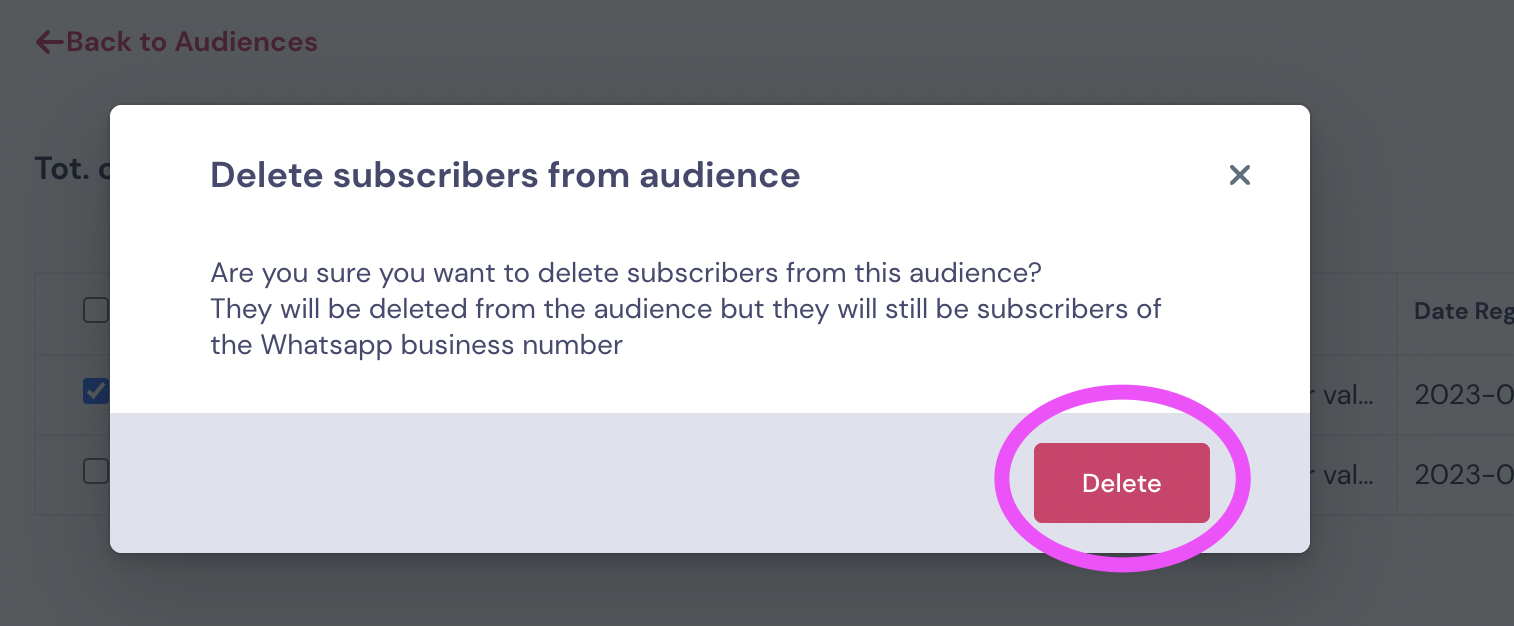 Campaigns
In this section you'll be able to send the pre-approved message templates to all the 10 numbers you have added to your testing channel to see the look and feel of them from an end-user perspective.

For more information about how to send Campaigns, please click here.
Message Templates
On the WhatsApp Business API solution, you are able to send proactive messages to your clients.
The Message Templates section in the testing environment has 3 pre-approved message templates for you to use.
You will not be able to request any templates while testing the bot, but once you have upgraded to our WhatsApp subscription you will.

To find out more about Message Templates and how they work, click here.
Next steps after Testing
If, once you've completed your testing and you'd like to try the full integration, please check how to do so in this article.