Share your Bot as a Template 🌎 (BETA)
Share your Bot as a Template 🌎 (BETA)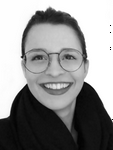 Updated by Rafaela Basso
This feature is only available for Web bots.
It is possible to share a Bot as a Template, allowing users outside your Landbot account to download the same bot flow into their own Landbot Accounts.
Create a new Bot Template
You can create a template from your bot in the Share section of your Bot Builder. To do so:
Choose the tab Share as a Template.

Click on the button Create Template.
Fill out the details about your template. This will be the information available for those who access the Link from your Bot Template.
Tip: The description must be 50-500 characters. This is your chance to tell users what your bot is about 😉
Once the Bot Template has all the information, Click on "Create". It only takes a minute to have your bot ready to be shared with the world 🚀
You can now share your template with other Landbot users via the URL provided!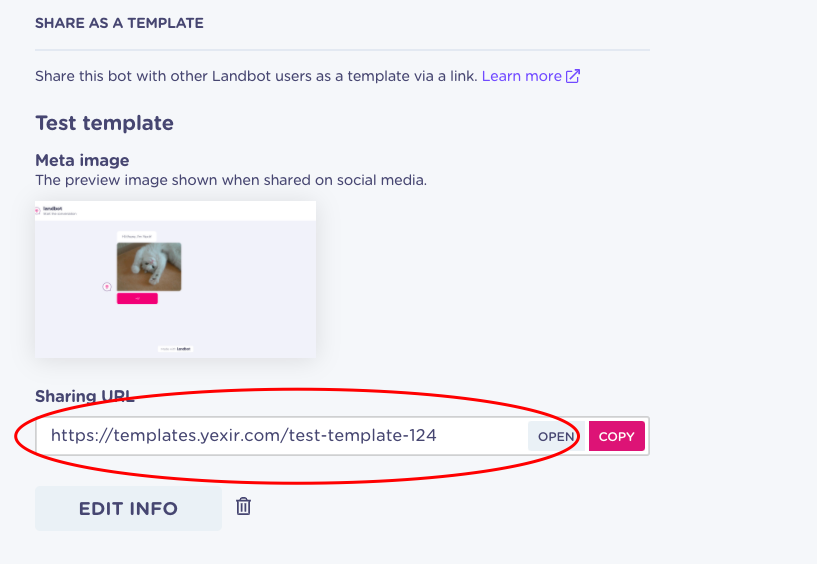 Access a Bot Template
The Bot Templates are currently part of the original bot's builder, so you can find them by accessing the Share > Share as a Template section of each bot.
Premium features on Bot Templates
You can build bots with any premium feature. If these features are not included in your plan, you will not be able to share the bot live, and this will be a Preview-Only bot.
You can still create Bot Templates from a Preview-only bot, and if the users that download your bot through the template have these features included in their plan or upgrade, they will be able to have the bot live 😎 !
Edit Information
You can't "Undo" a Bot Template after it has already been created, but you can edit its information at any time!
Click on "Edit Info" to do that.
The URL provided for each Bot Template is unique, and can't be changed or customized.

The name of the Bot Template also can't be changed.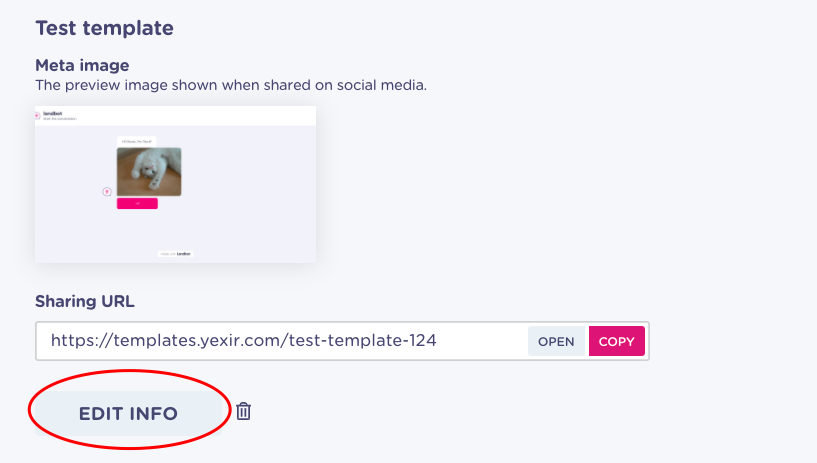 Update the Bot Template
Your Bot Template is automatically updated whenever you publish changes to the bot.
Please keep in mind that the changes will only be applied to the new Bot Templates downloaded from your link, so the bots that used your bot template as a base before the change will not be affected.
It's not possible to change the Bot Template's name or URL.
Delete a Bot Template
If you delete a Bot Template its URL will stop working. But don't worry, the bots created from your Bot Template will not be affected 😉
You can create a new bot template at any time, which will have a different URL.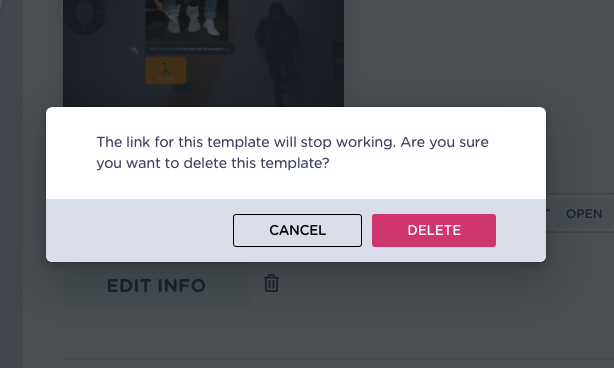 Deleting a template will disable its URL forever.
Download a Bot Template
When someone opens your Bot Template's link, they will be directed to a landing page specific to download it into their own Landbot Account.
By clicking on "Use Template", the user will be redirected to their Landbot account, where a new bot will be created from your Bot Template.
This is a copy of your bot, so all changes to the bot and chats created will be independent of your original bot.
Users must sign into their Landbot Accounts to download the Bot Template.

If they do not have a Landbot Account yet, they must signup to create a new Landbot Account before opening the bot builder.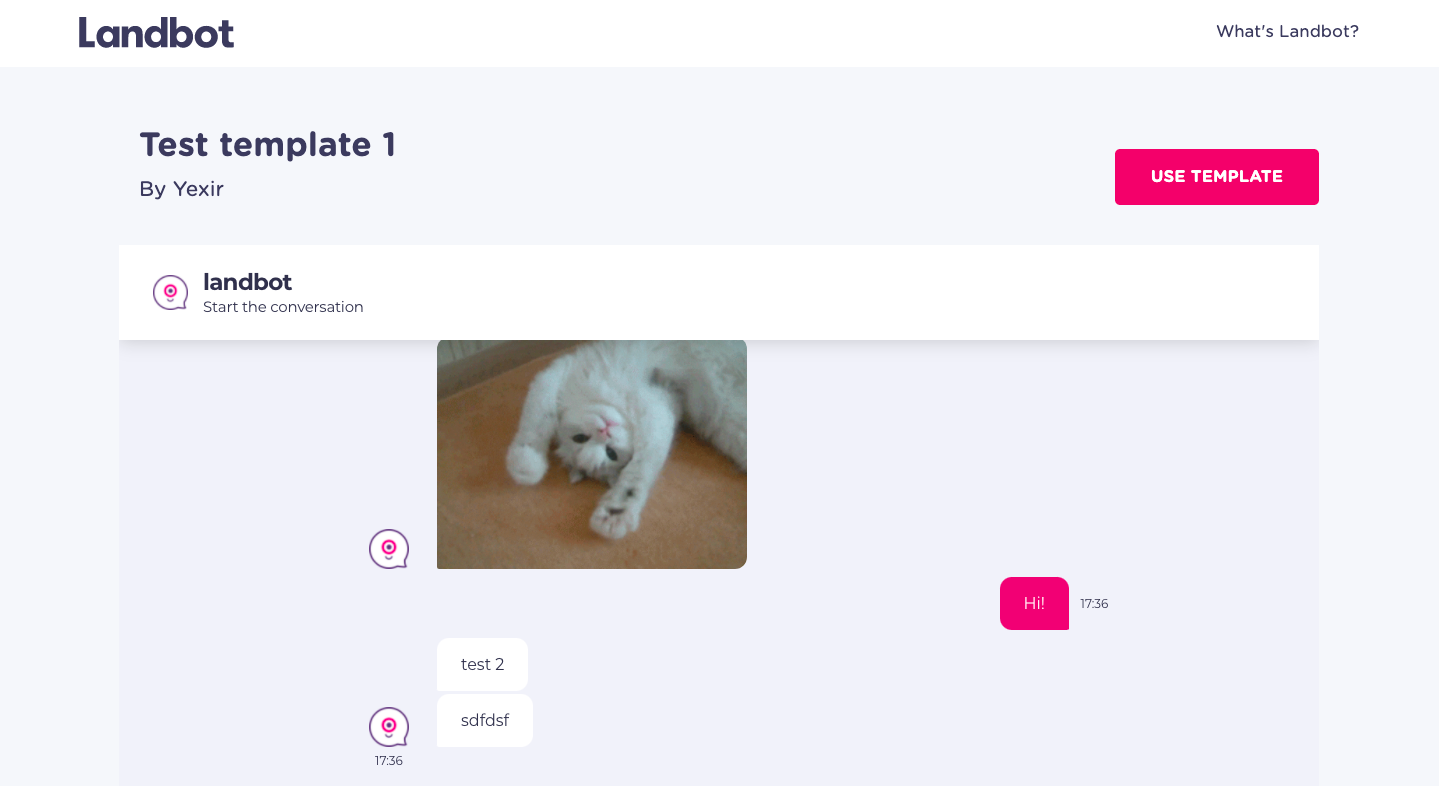 Who can discover and use my template?
Anyone with the link can view and use your bot template.
However, our Bot Templates won't show up for other users, and they won't get indexed by a search engine.
All template landing pages are set to noindex, so your templates can't be found on Google or other search engines.
Integrations and API keys in Bot Templates
For the native integrations Landbot offers, we automatically remove your API keys when others import your template.
🚨 The API Keys will not be removed from the Webhook or Code bocks, so please make sure to remove your API Keys 🚨
If you set up integrations using Webhook or Code blocks, please make sure to remove your API keys.
Landbot will not be responsible for any security breach or damages if you left any sensitive information within your
bot template.
You can guide users to set up advanced Webhook integration by using Notes block within the flow. For example:

Integrations in Preview (not compatible)
The Preview on the Bot's Landing page is currently not compatible with integrations.
The bot preview in the Templates's Landing will stop, but the integration should work correctly in the bot downloaded - as long as the user sets it up.
It is possible to work around this limitation, offering a demo of how the integration works in preview, following these steps:
Disconnect (but don't delete) integration blocks from the main flow.
Create "fake" steps in the flow to show users how integrations will work, not connecting the block to the flow.
Place the disconnected integration blocks next to the "fake" steps.
Add notes to teach users how to insert integrations:
Sell Bot Templates and earn Affiliate Commissions