Adding a WhatsApp number to your account
Adding a WhatsApp number to your account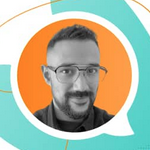 Updated by Gustavo Mejicanos
Intro
If you are ready to start working with "WhatsApp Business API" and boost your BOT's potential, here is a guideline on how to integrate a new number. Please, remember to check the "Requirements section" so you can follow the process smoothly.
Requirements before you start the process
Upgrade to a WhatsApp plan here (you may have to contact our sales team)
Have admin access to your Business Manager --> check here
Can receive an SMS or voice call on the number you want to connect with Landbot
If the phone number is active on one of the WhatsApp apps, you'll need to delete it from the app. To do so, please follow steps 3-5 of this process.
IMPORTANT: Make sure you keep the sim card active, there may be a possibility you have to use it again in the future
Integration Process
1. Navigating to the Landbot WhatsApp section
Login into your Landbot account, then click on the WhatsApp logo on the menu section.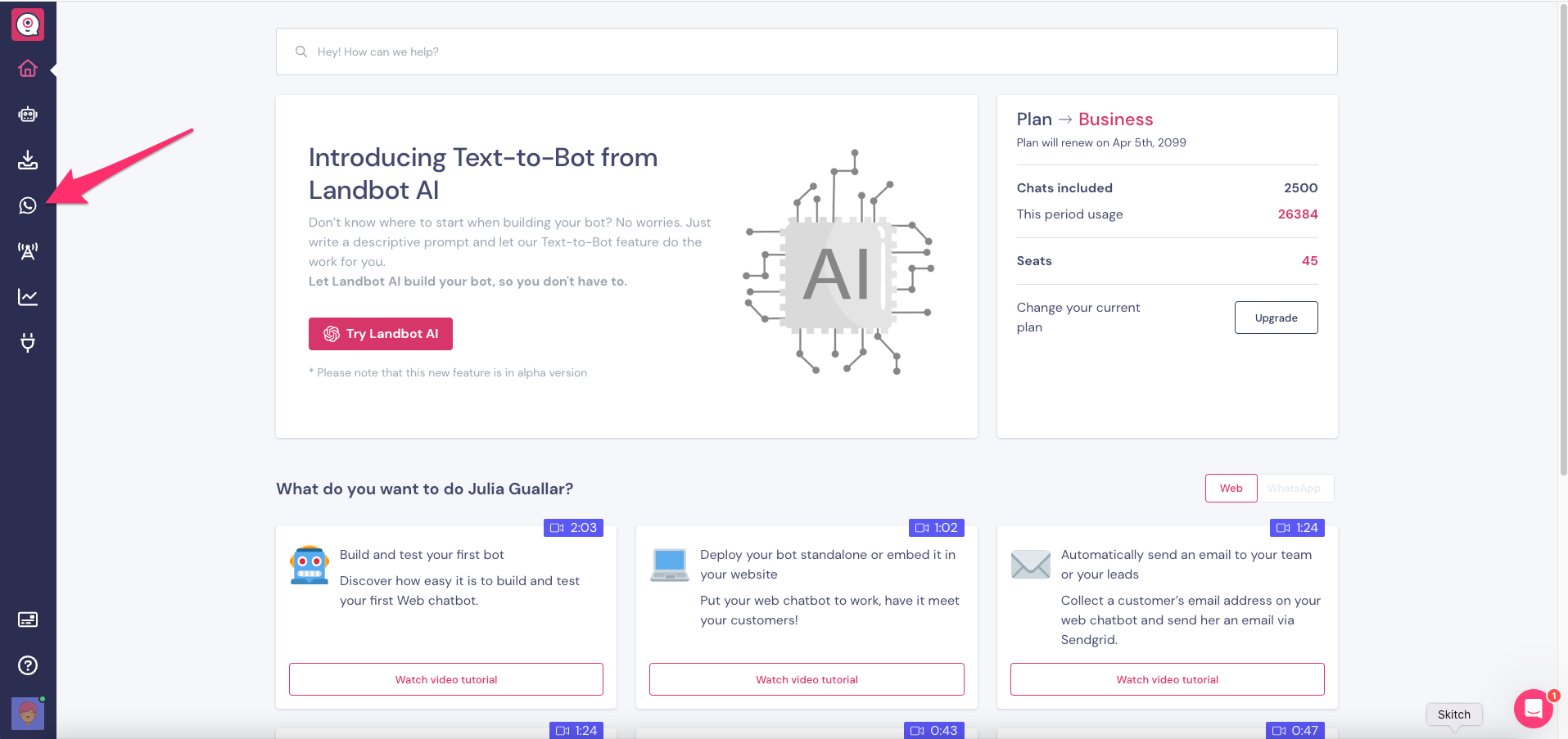 Click on "Request new number"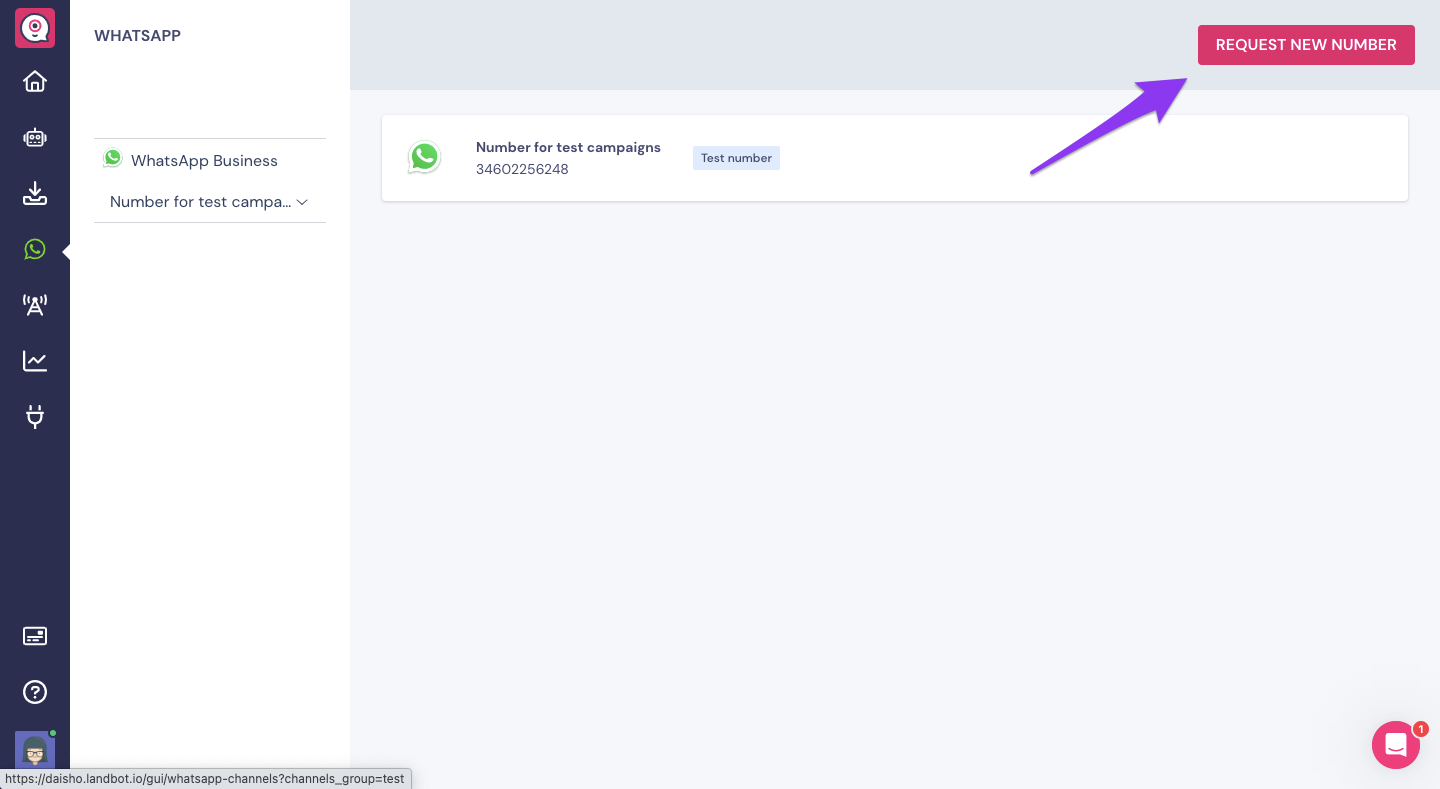 Prepare the aforementioned requirements (or check the details on the screen)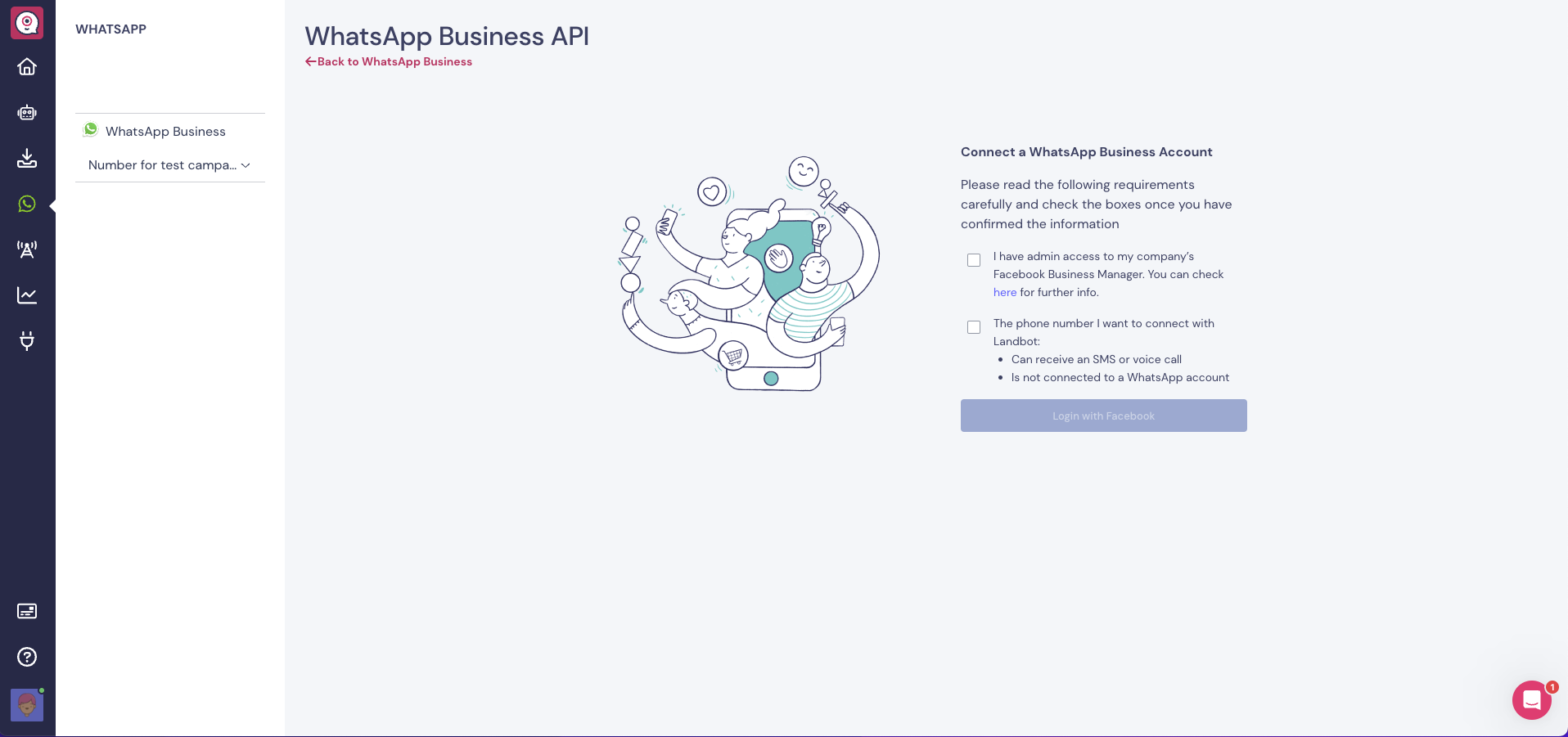 Tick the boxes once you are sure you have completed the steps and click on "Login with Facebook"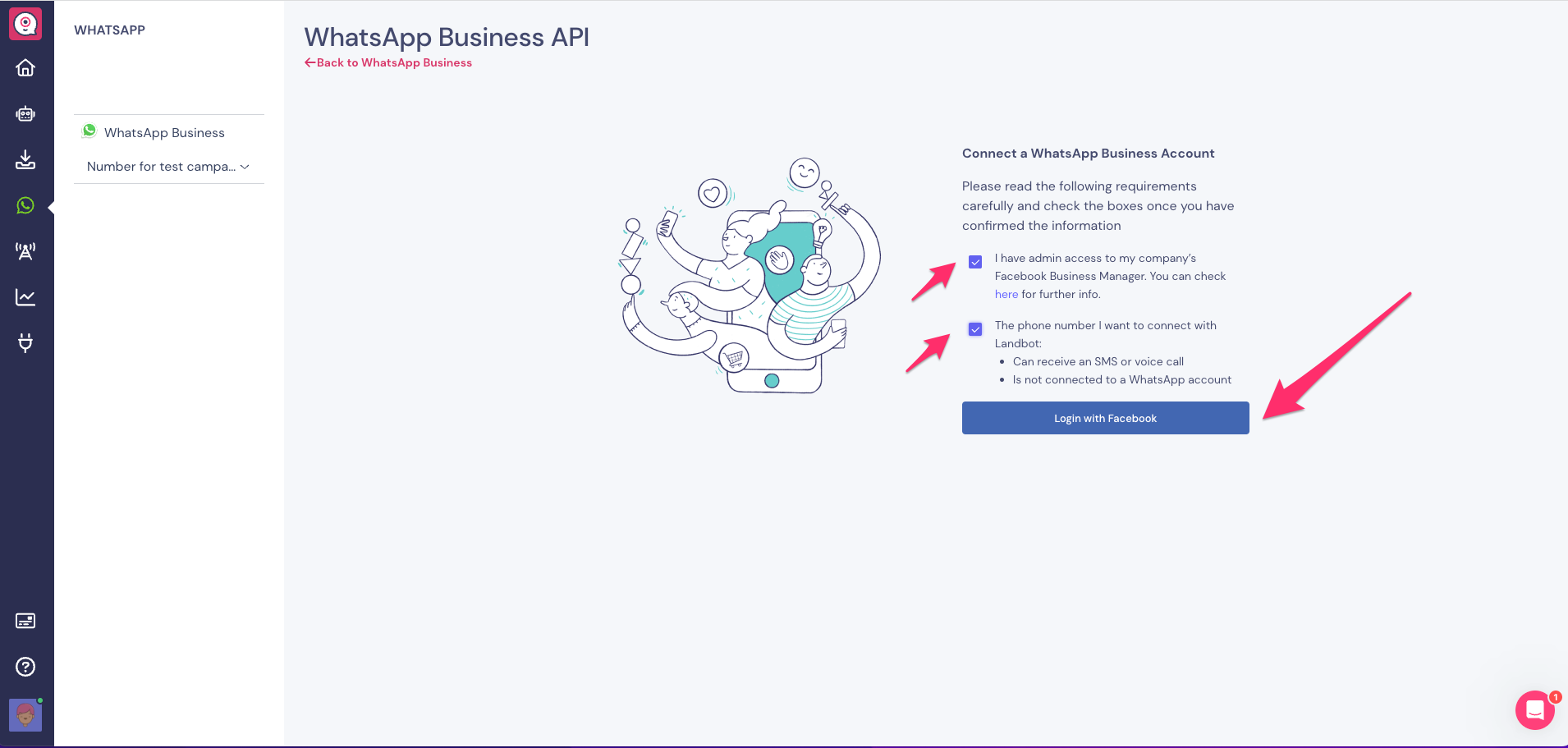 2. Login into your Facebook account, if you haven't already
Please, remember the facebook account you will log into should be the one that has Admin access to the Facebook Business Manager.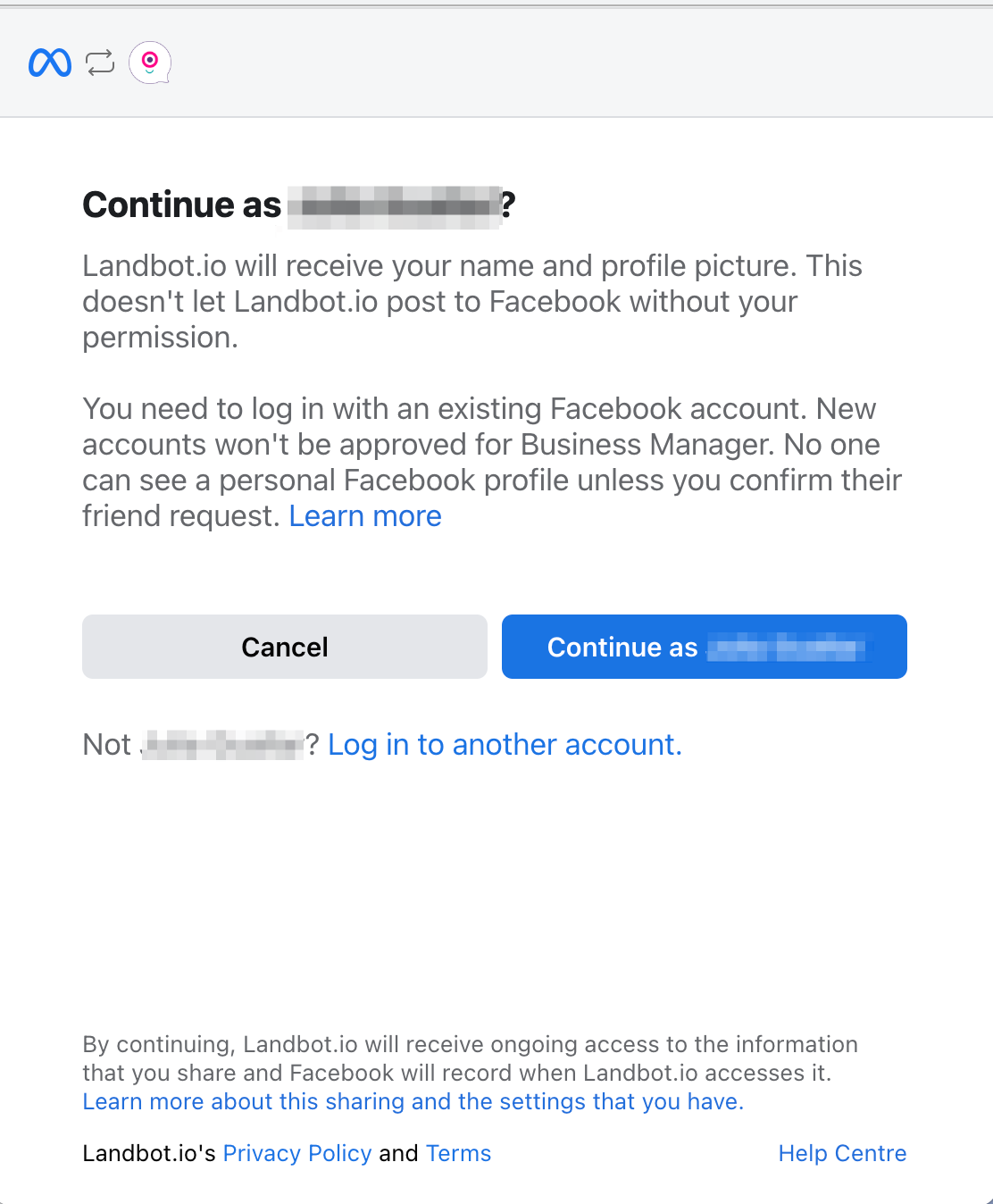 Click on "Get started" to connect your WhatsApp business account to Landbot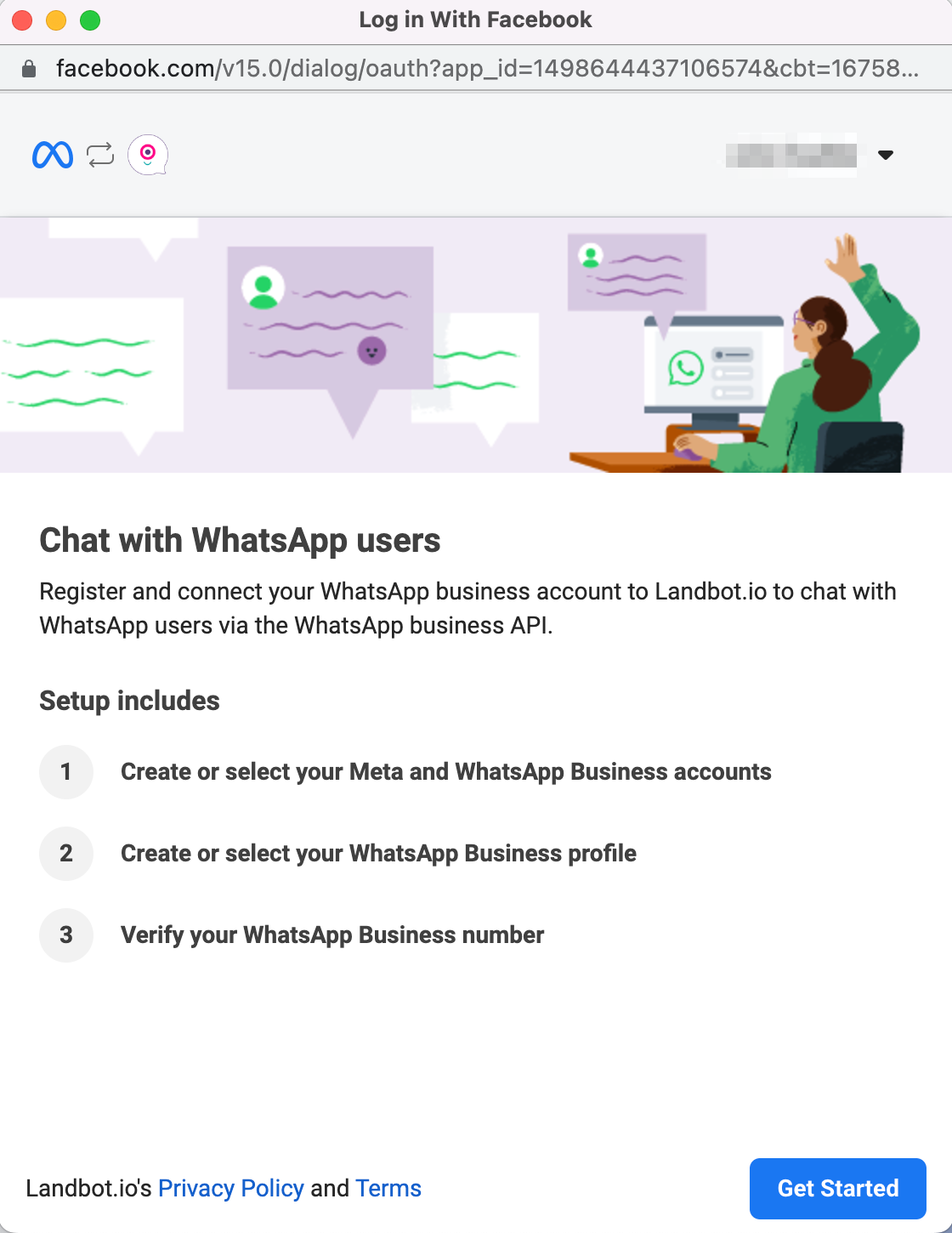 Click on "Continue" to connect your account to Landbot.io and give us the necessary permissions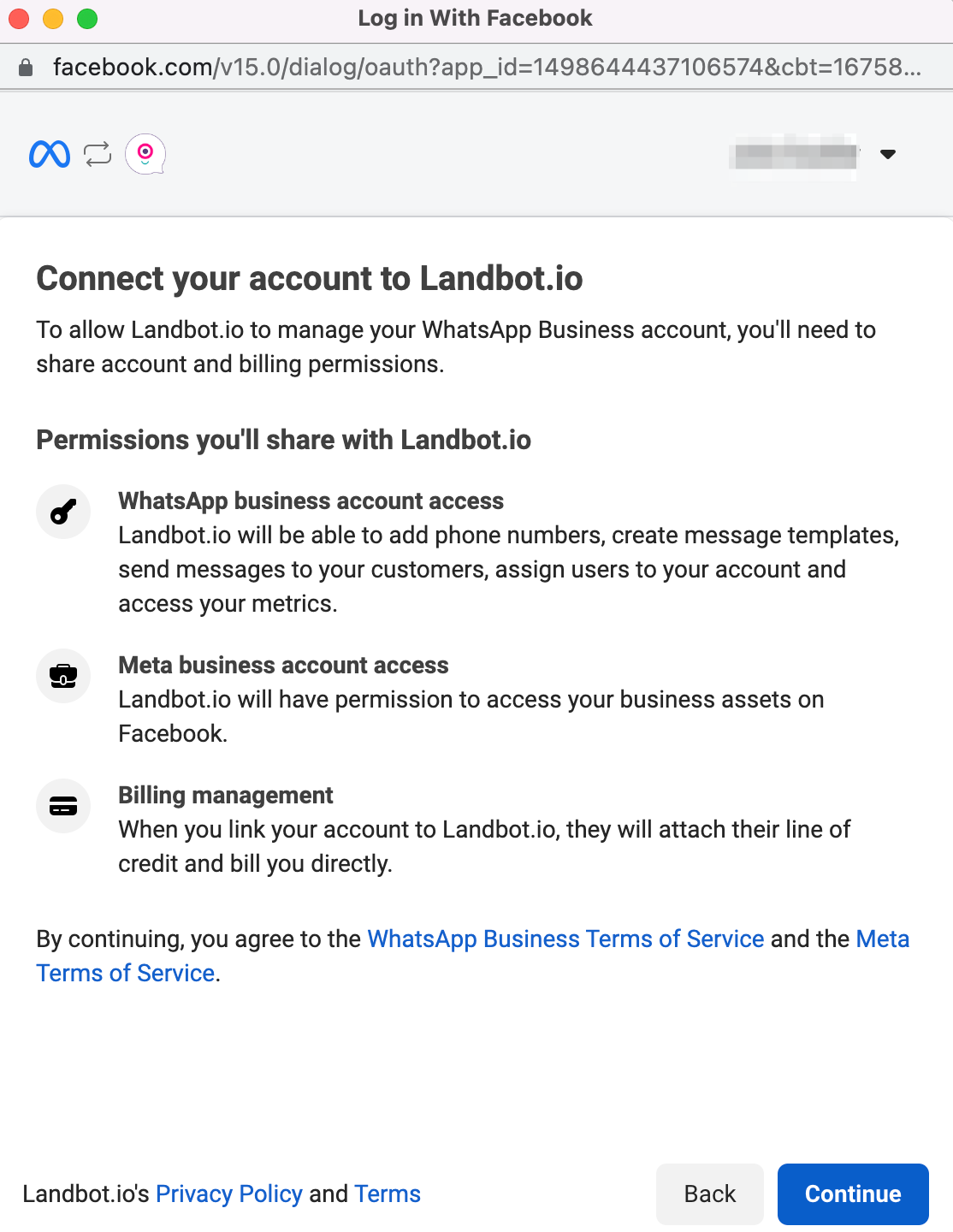 Choose or create the Meta business account you'd like to link to your WhatsApp account by clicking on the dropdown menu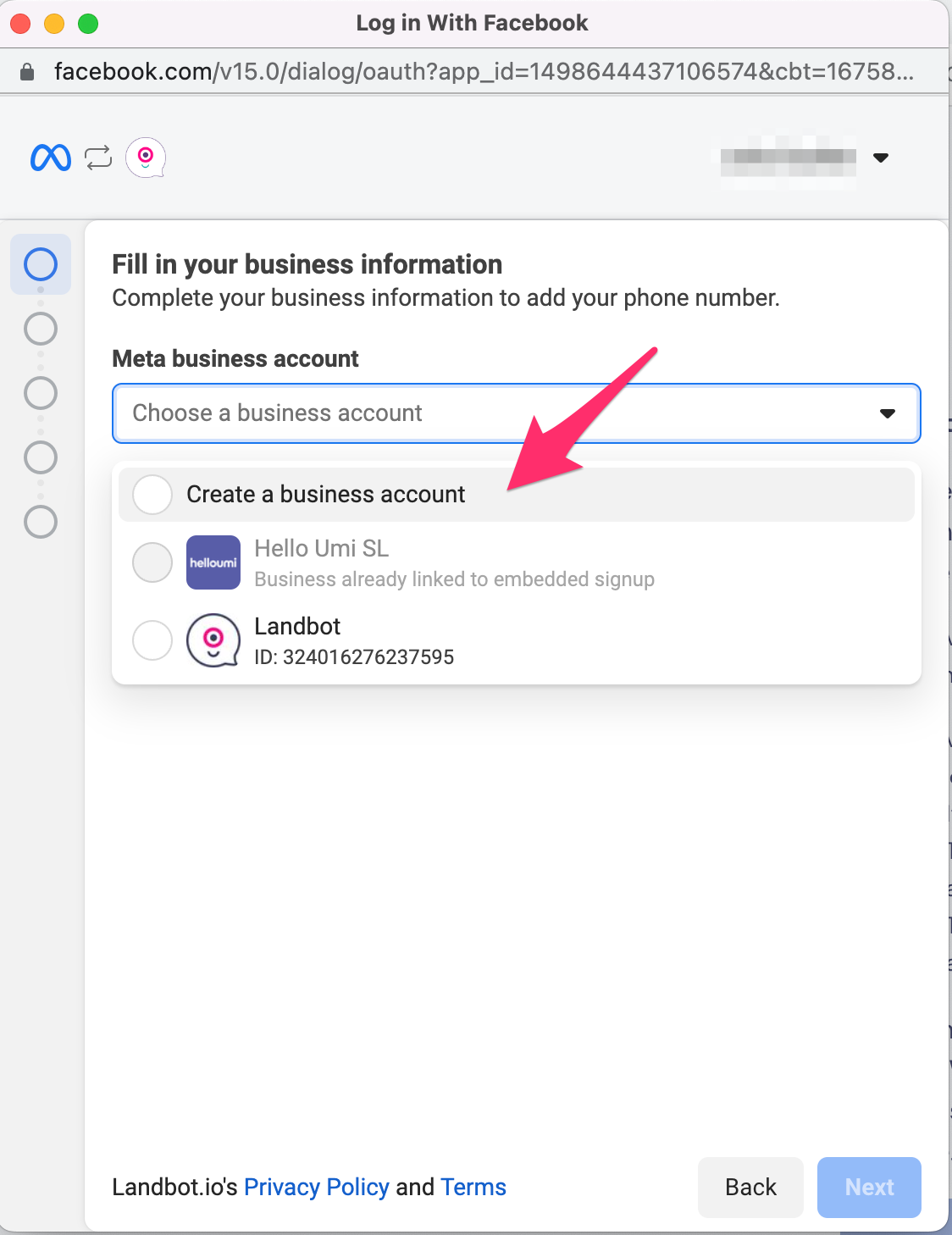 Fill the following screen with the business information

This step will only be necessary if you are creating a new Facebook Business Manager Account.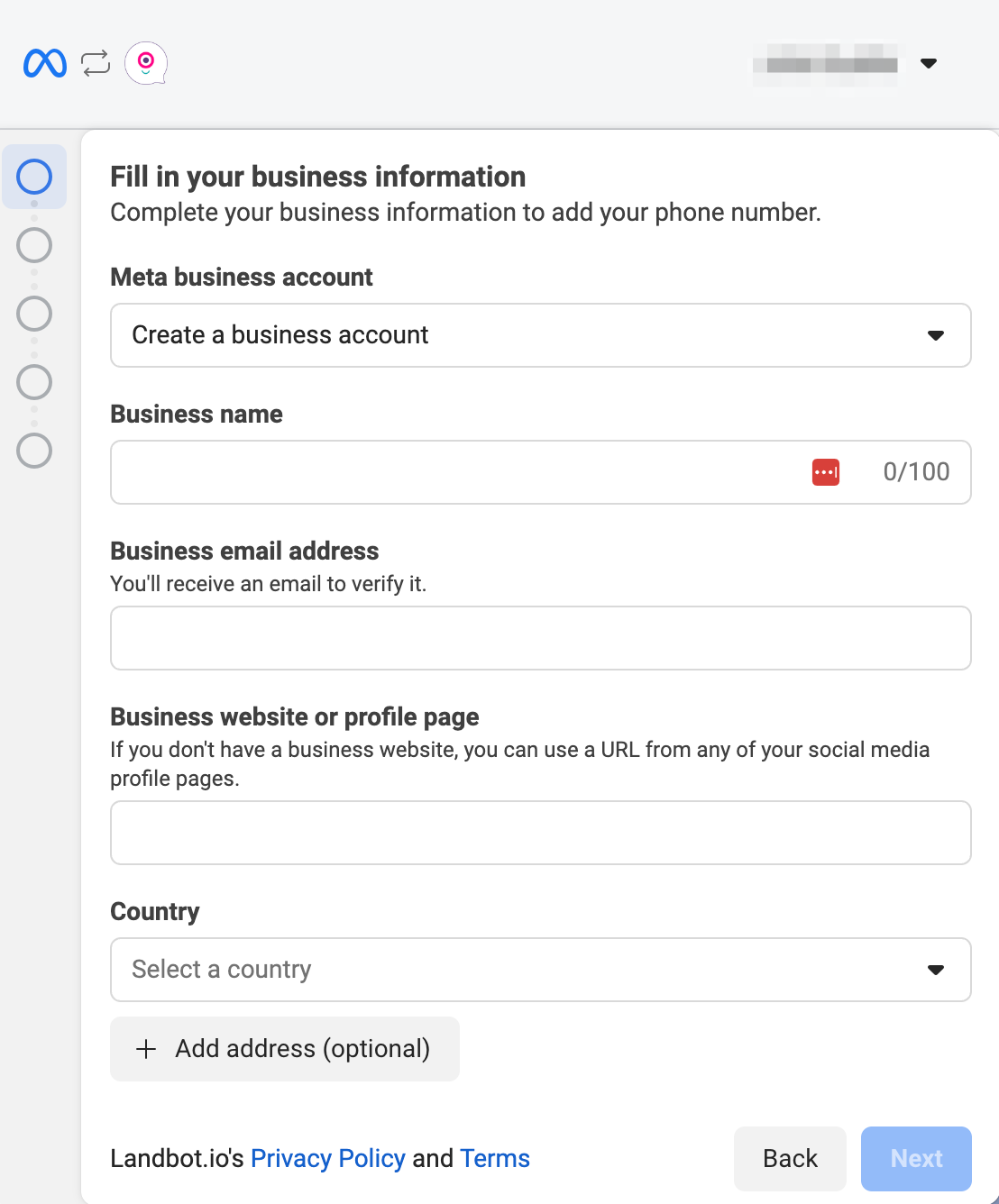 Create or select your WhatsApp Business account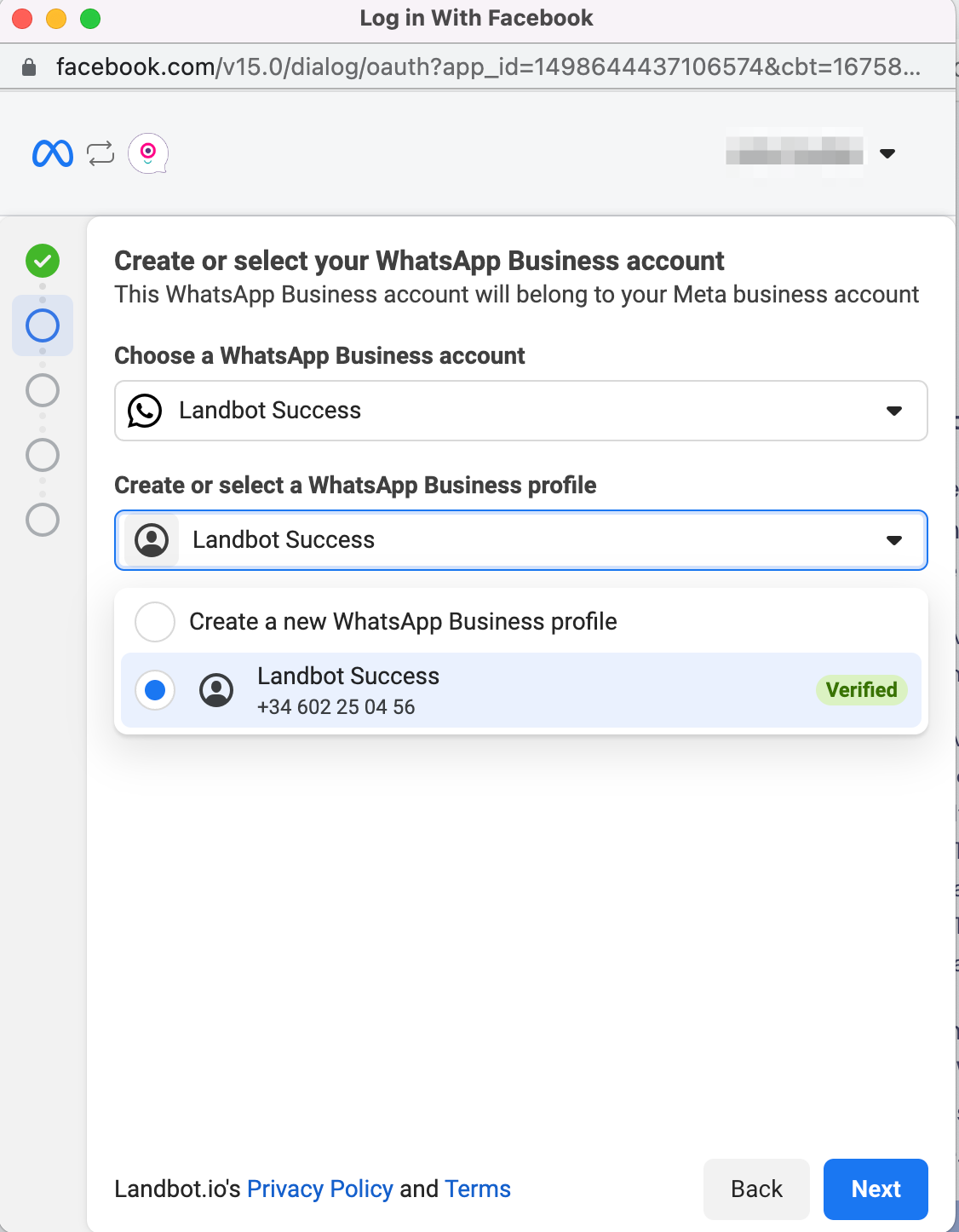 3. Create and link your Whatsapp Account
Create your WhatsApp Business profile
It's time to create your Business profile, if you don't have one yet.
We recommend to use the same "Display Name" as the branding on your website. You can check the Display name guidelines
here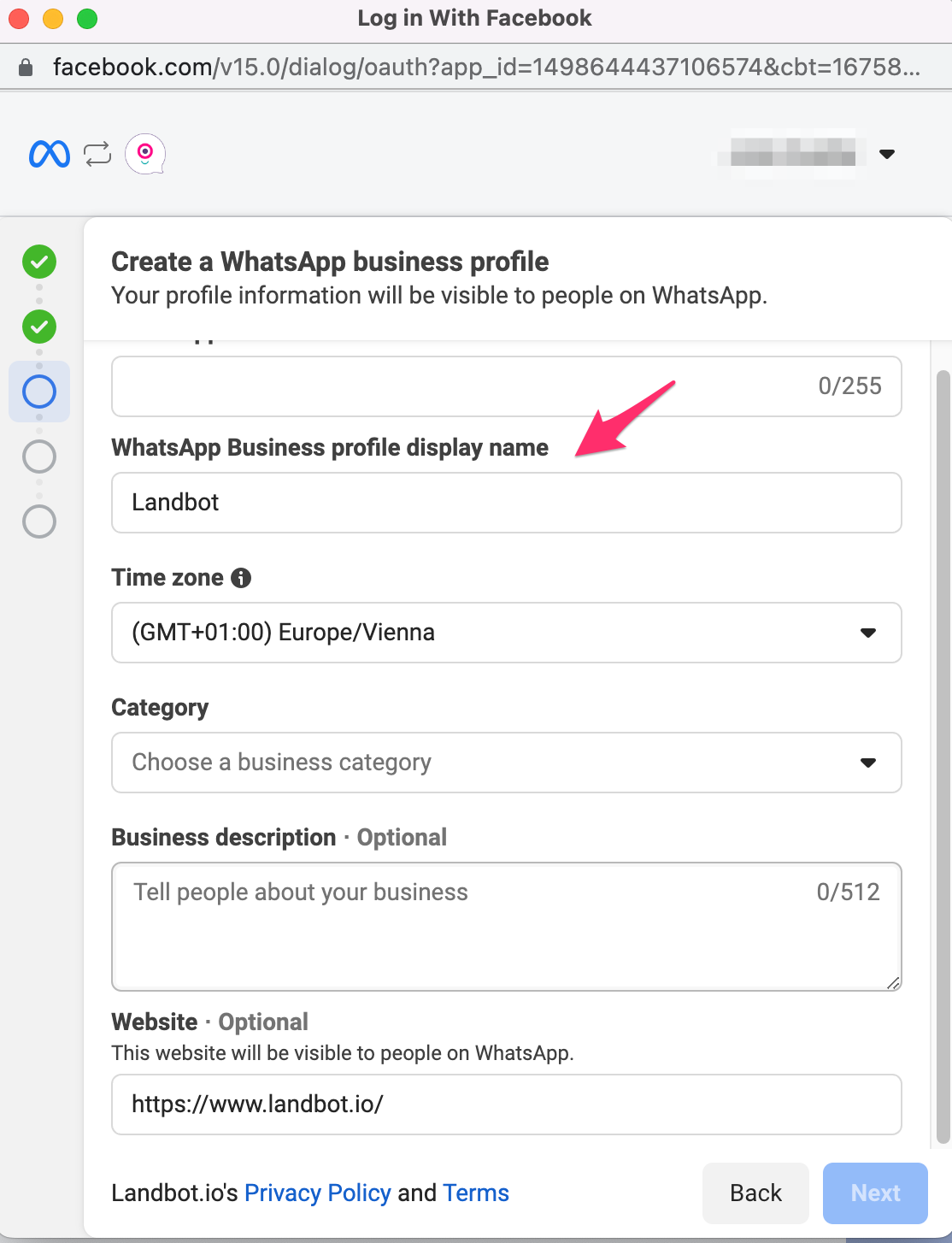 Add a phone number for WhatsApp
Add the phone number that you will be connecting with Landbot. Please keep in mind this number can't be used simultaneously in WhatsApp business or the WhatsApp consumer app. Once done, click "Next".
If the phone number is active on one of the WhatsApp apps, you'll need to delete it from the app. To do so, please follow steps 3-5 of this process.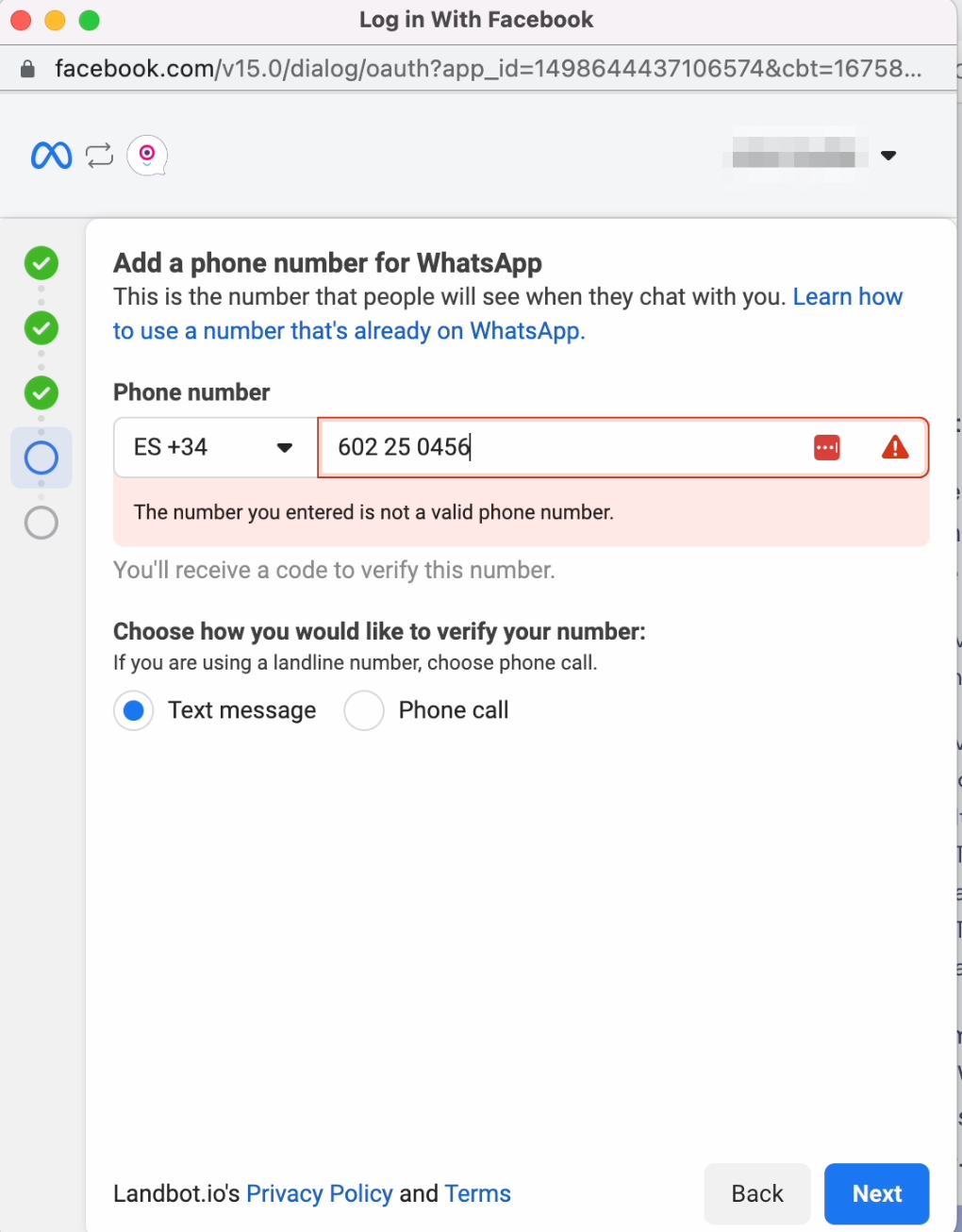 Insert verification code
You will receive a verification code via phone call or SMS. Click "Next".
Make sure your phone number is able to receive international SMS or phone calls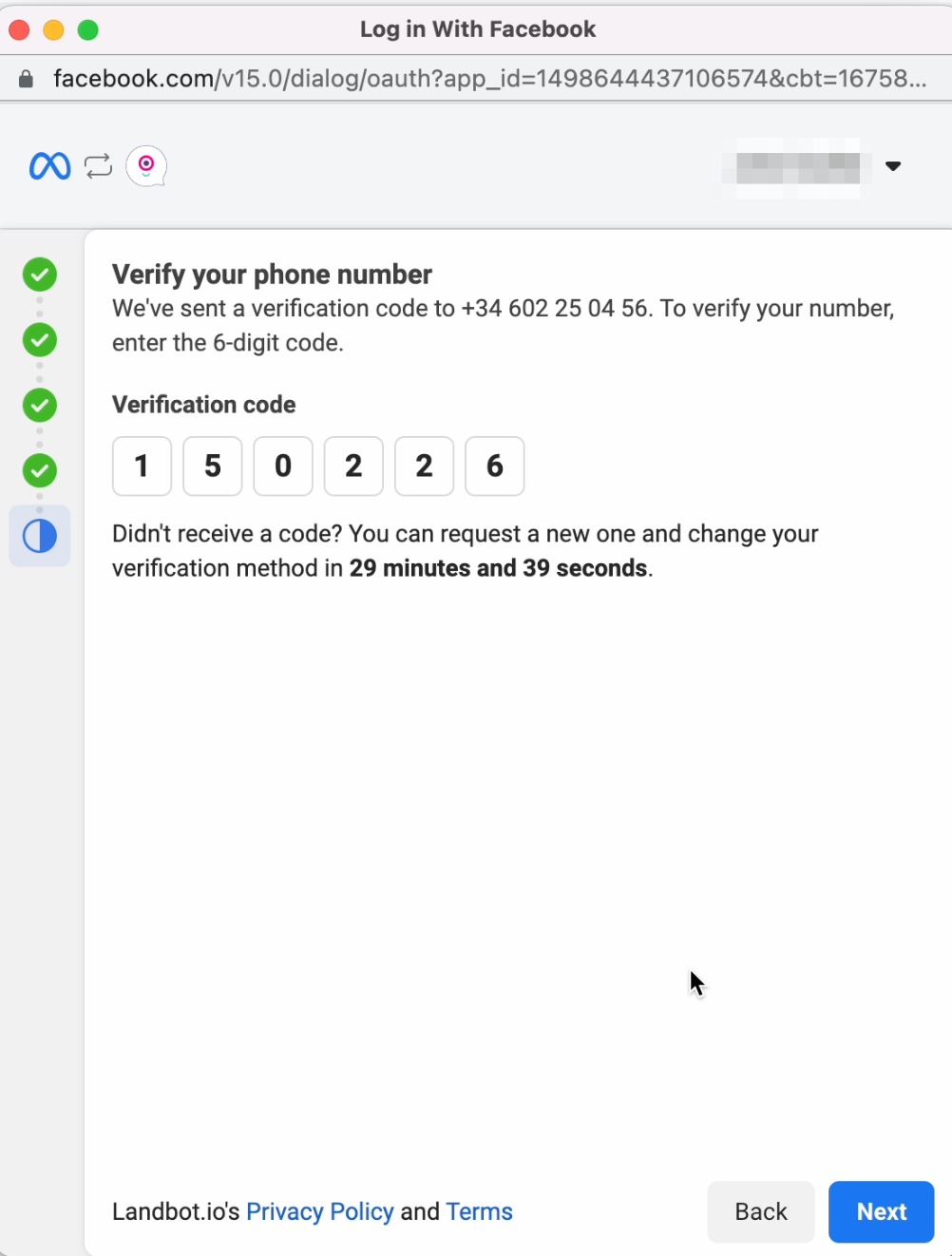 Your WhatsApp account is ready
Now that your account is ready, there is something you need to know before you start any conversation:
WhatsApp has different messaging tier limits:
Unverified business manager accounts: 250 business initiated conversations per 24 hours
Verified business manager accounts: 1000 business initiated conversations per 24 hours
You can check all the details regarding these limits here
We recommend to verify your Facebook Business Manager account as soon as possible. Learn how by checking
this documentation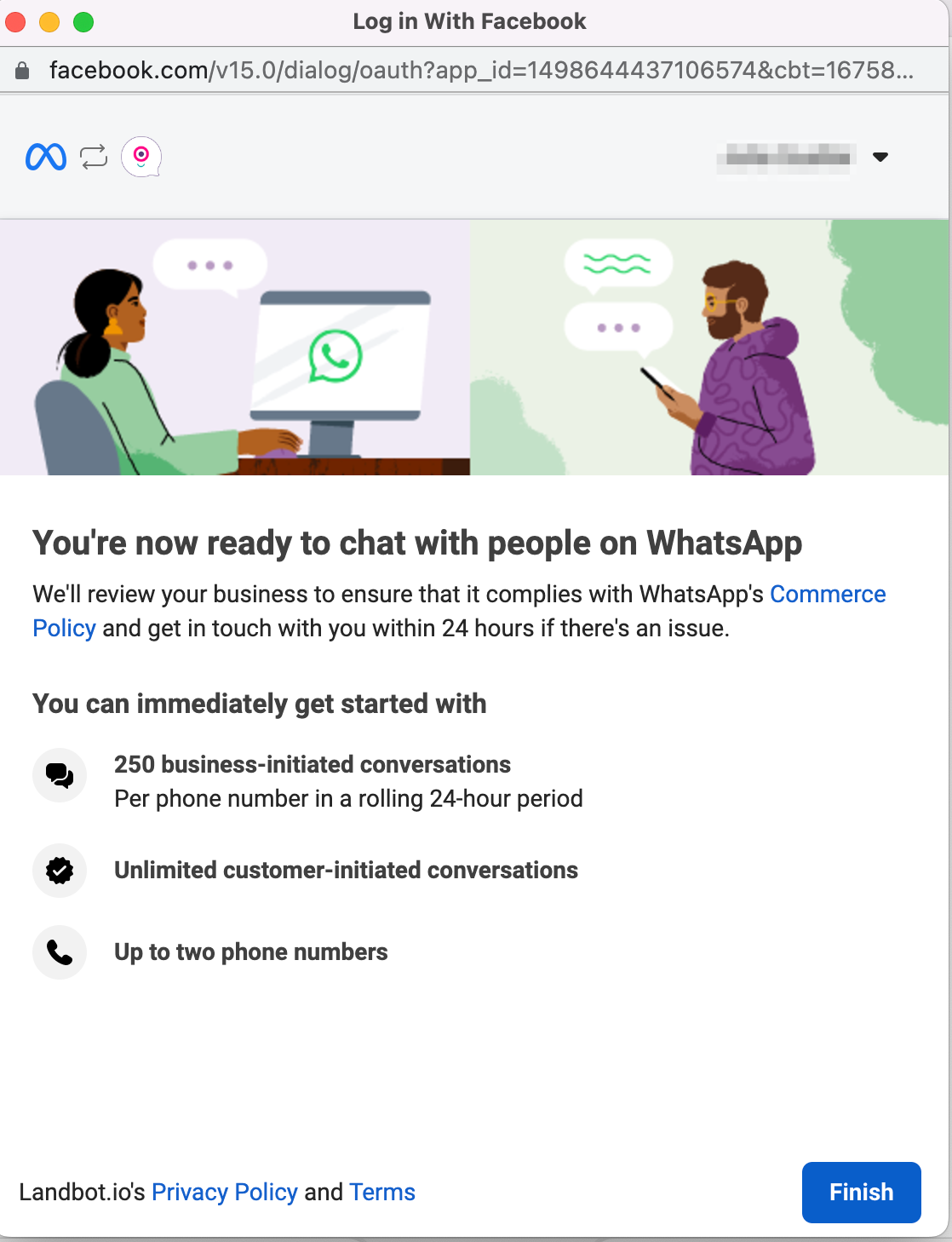 4. Complete the integration
The last step: Complete the integration
Tick the box and click on "Complete Integration".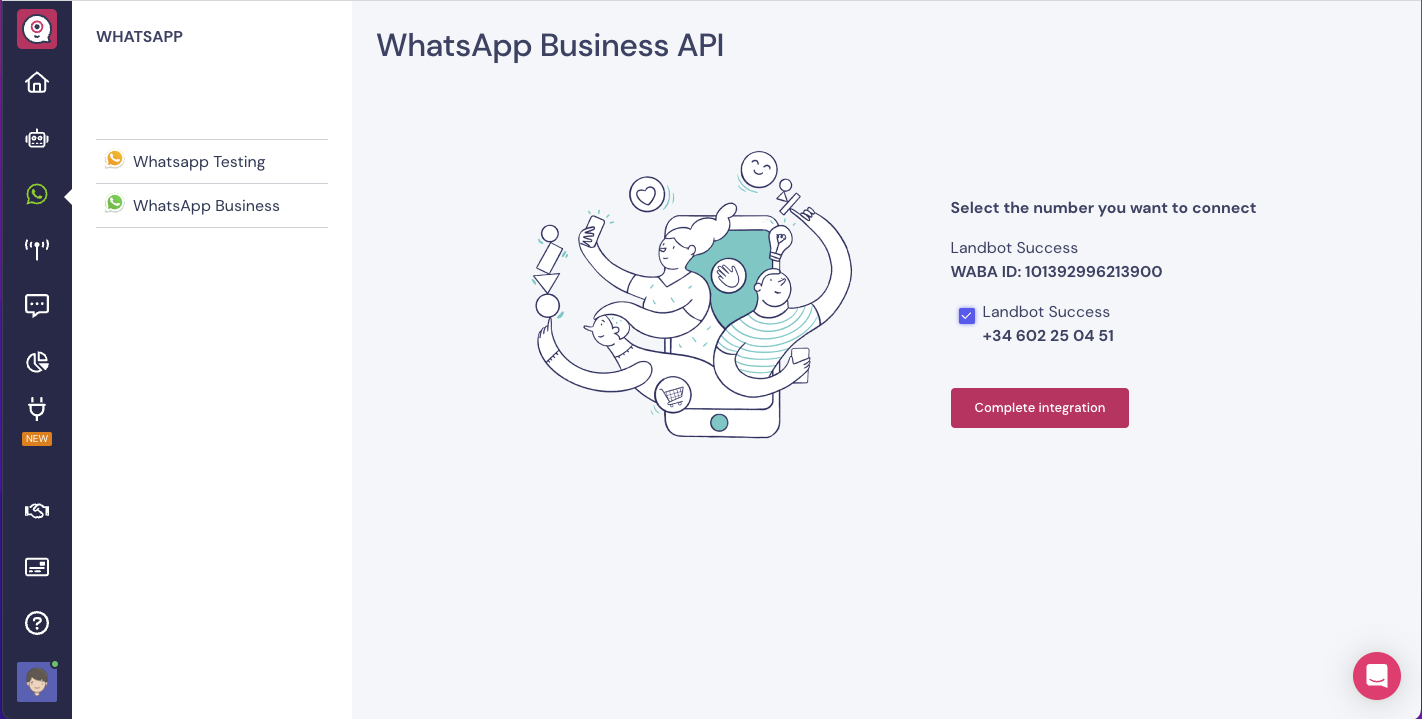 5. Set-up your WhatsApp channel
Great job! Your WhatsApp number is ready!
Now that you integrated your WhatsApp number, please check the linked articles on the overview section to link a Bot and set-up your Whatsapp Business channel.