Send an Email
For Landbot (Web)
You want to get your leads in real time? Or want to send a confirmation to your customers? Now you can do both with the new and improved Send an Email block 📧
Start by scrolling down until the Integrations section and select Send an Email from the blocks list: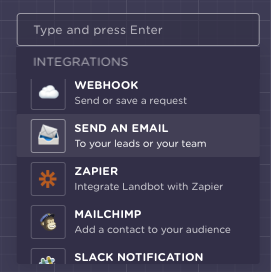 Once you click on it, the block will be created in your Builder and the configuration panel will appear:

It's divided into two tabs:
Your leads: with this option you will be able to set an email notification to your customers thanks to the @email variable, it will send a message to the addresses stored in the conversation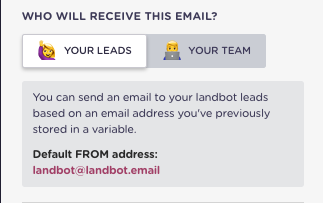 Your team: with this option you will be able to set an email notification that will send you or you team all incoming leads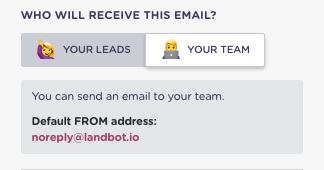 The configuration can be set just for one group, if you want to send emails to both your team and your customers, you will need to set up two blocks, one for each recipient. And each has it's one default sender, that at the moment cannot be customised.
Setup all the required fields:
Send to. Decide who you want that receives the notifications.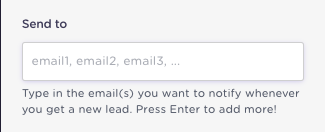 Email subject. Help your team members identify this notifications by adding a clear subject so they can handle the emails with top priority 🔝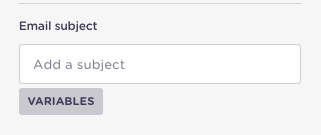 Make your subject stand out using variables!
Email message. Add a relevant message to your email. And make it look nice with the brand new text editor 😉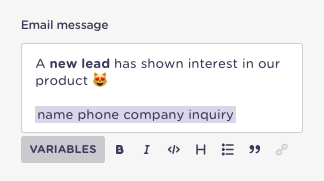 Take the most advantage of your flow and add as much valuable information as possible using all the available variables inside the flow.
Remove landbot.io branding. Activate this option if you want to receive/send a clean and simple email template

New email look without the branding:

Click Save and start sending emails to everyone!
If you detect that at first glance you are not getting any notifications, please check your Spam folder.
For WhatsApp
For a list of all the blocks and current functionalities with WhatsApp bots, please check
here
This block behaves exactly the same way as in the landbot (web) version.
For Facebook Messenger
Coming soon
---
---