Facebook Business Verification - Best Practices 🇬🇧
Facebook Business Verification - Best Practices 🇬🇧
Updated by Enrico
Prefer watching than reading? No problem, we've got you covered 👇
You can check this same guide in a different language, by clicking on one of the following links:
Spanish 🇪🇸 :  Pulse aquí para leer como verificar tu negócio en Facebook en español.
Italian 🇮🇹 : Clicca qui per leggere sulla verifica aziendale di Facebook in italiano.
Portuguese 🇵🇹 🇧🇷 : Clique aqui para ler como ter sua empresa verificada pelo Facebook em português.
Introduction
Facebook Business verification is a process that aims to verify that a Business Manager account belongs to an actual organization. This is a necessary step to validate the true identity of your business and it is a prerequisite to the setup of the WhatsApp Business API.
Use
this link
to discover how to start your Facebook verification process.
Since the
12th September 2021,
you can now use the WhatsApp Business API without completing Business Verification for your Facebook Business Manager. 
Once the integration process is complete, you will be placed in a new
Limited Access tier
, which allows you to:
- Unlimited customer-initiated conversations (24-hour messaging windows) keeping in mind the amount of chats included in your plan
- Ability to send notifications to 250 unique customers in a rolling 24-hour period (only for numbers integrated after October 1st, 2022)
- Ability to register up to two (2) phone numbers
However, you must initiate Business Verification if at any point you want to have:
- the currently available proactive
messaging limits
(Message templates)
- more than 2 phone numbers
- an
Official Business Account (Green tick)
Documentation
To verify your business, Facebook requires documentation such as a certificate of incorporation or a business license.
We strongly suggest to provide multiple documents proving the entity and address, with matching information:
Business licenses and permits from any level of government;
Certificate of formation or incorporation;
Business Tax or VAT registration certificate;
Business bank account statements;
Other accepted documents;
Moreover, we highly recommended to:
Provide documents in high resolution and up-to-date;
The legal business documents should have a matching address if not please provide additional docs that prove the address;
English documentation seems to be processed more quickly; currently, the following languages are supported for business verification: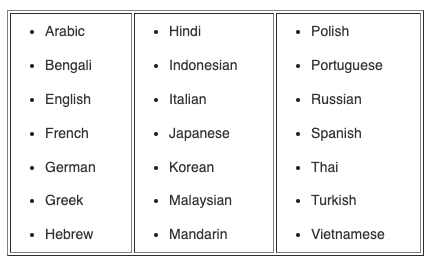 You can check out the full Facebook documentation
here
.
Best Practices
Use domain verification to verify your business;
Upload the website to FB Business Manager;
The website shall be a secure one https://
It is helpful to have the ownership of the provided domain;
Official business FB page should be linked in the FB business manager;
Website and FB business manager admin must be as the same domain (www.mypage.com  > alex@mypage.com).
Timing
As it can take more than two weeks, we recommend starting the verification before submitting your integration request with the the WhatsApp Business API.
This is the first stage of an internal process entirely managed by Facebook. As Landbot, we do not have any way to check or update you on your verification status or to speed up the process.
Troubleshooting
If you started the business verification process and submitted documentation, but are still having issues getting verified, you may need to submit additional documentation.
Please, find here further details.