Subscription Section (v3)
Want to change your plan or your billing details? Check invoices or add a new payment method? You can do this and more from the Subscription section of your Account!
To access the Subscription section, click on your avatar, in the bottom-left corner of your Dashboard, then click on Subscription.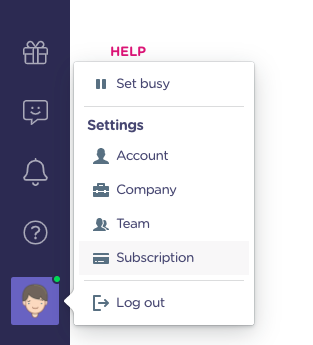 In the Subscription section you will find 3 sub-sections: (i) Plans & pricing, (ii) Subscription, and (iii) Invoices.
We'll go through all of them one by one.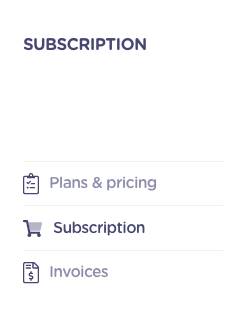 Plans & pricing
Plans comparison
In the Plans & pricing page, you're going to find the Plans comparison: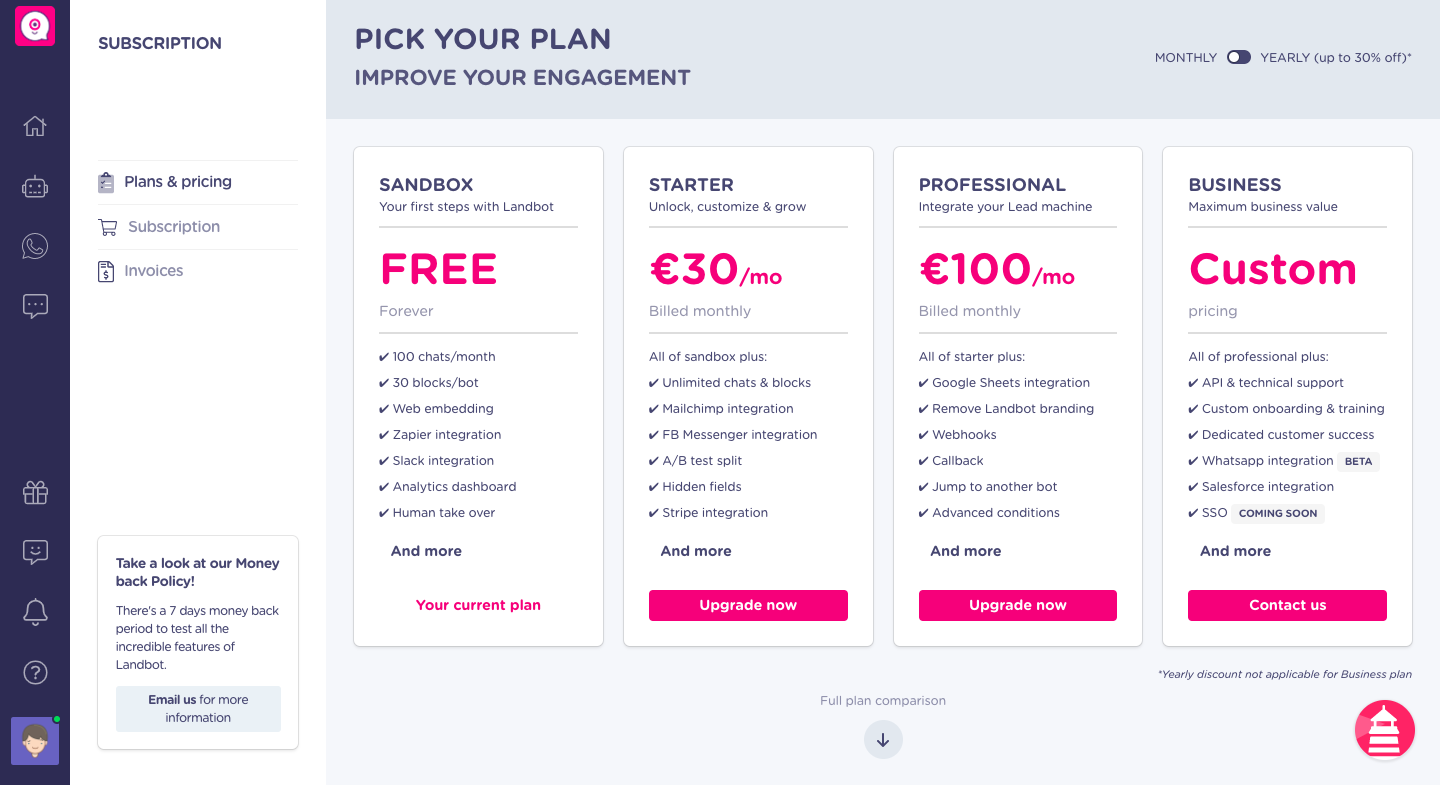 Yearly Pricing
Click on the switch to show the yearly pricing (with a discount up to 30%):

Features comparison
If you scroll down you will find a table with the full list of features and the plans where they are (or not) included.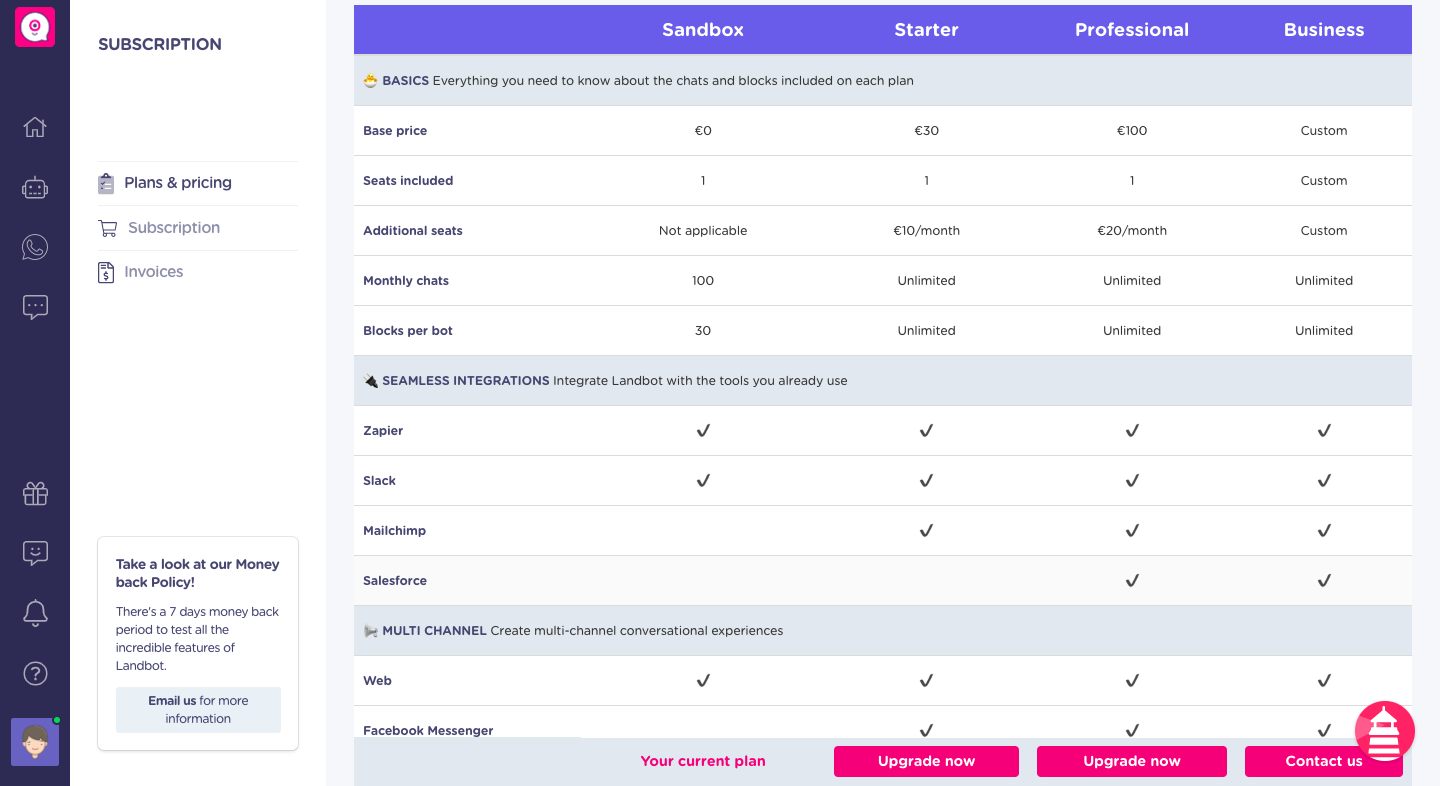 Subscription
Current subscription
Under the option "current subscription", you will be able to see your current plan, and the number of Seats (Teammates) you have added to your account.
In the example below, we are on a Business plan with 2 seats.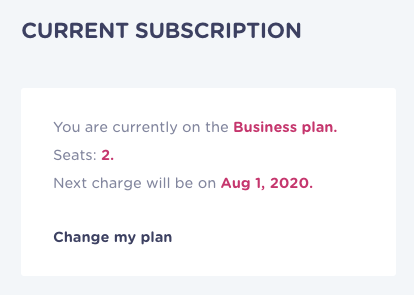 Payment method
In this section it is possible to edit the information about the Credit Cards you use to pay for your Premium plan, performing the following actions:
Add a Credit Card: You can add a credit card at any time by clicking on Add Payment Method:

Insert the card number, the expiration date and the CVC, then click on Add card: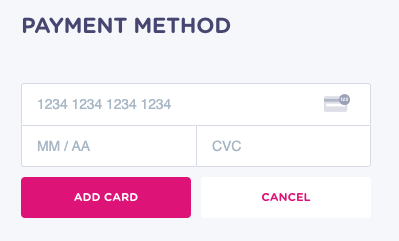 Change the Credit Card used: If you need to add another credit card, click on Add another credit card, just below your first card.
Delete a Credit Card: You can delete a payment method by clicking on the Delete button.

Note: Please keep in mind that if you are paying for a Premium plan, you must have at least one saved able credit card at all times.

To delete all payment methods, please downgrade to the Sandbox (Free) plan first, and then you will be able to delete all your payment methods.

Billing details
To edit your Billing details, click on the pen icon at the bottom of the subscription page.
Please keep in mind that these are the details that are going to show on your payment invoices.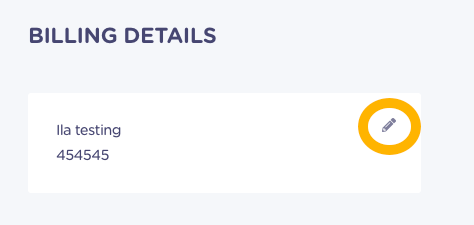 You can insert your details as a Company or as a physical person (Personal):
For Company Accounts, you need to insert your VAT number (or equivalent tax registry number from the country).
For Personal accounts, you need to insert your Personal ID Number.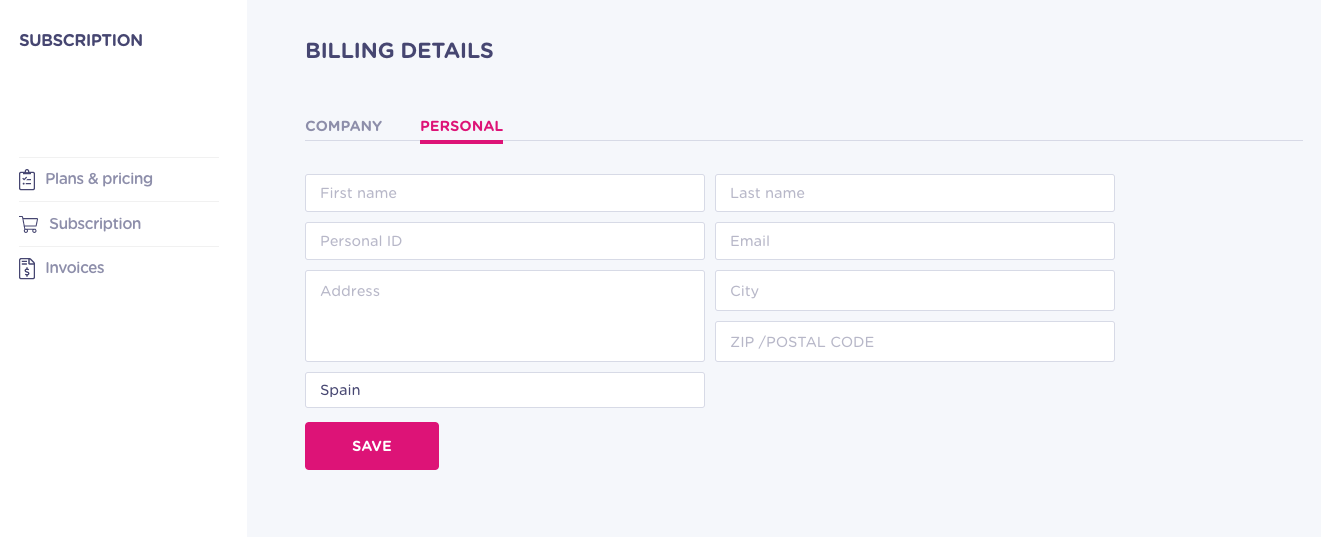 How to upgrade
If you want to change your plan to a superior one (Upgrade), you can do it by clicking on Change my plan > choose a plan from the Plans & Pricing page > Click on Upgrade now.
It is also possible to do it by clicking directly on the Upgrade Now button (as you can see in the right side of the following example).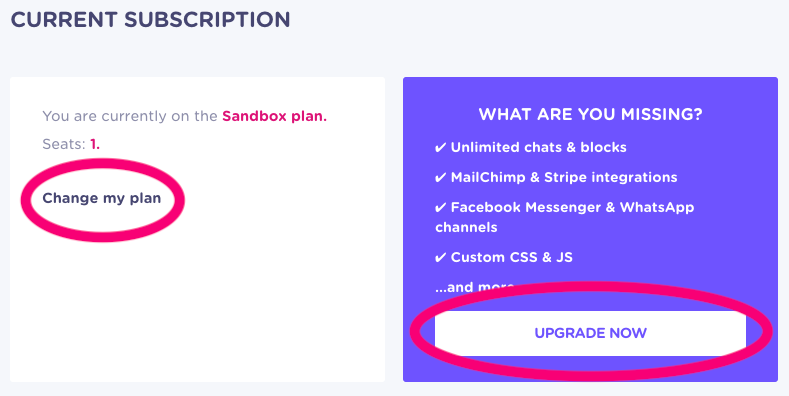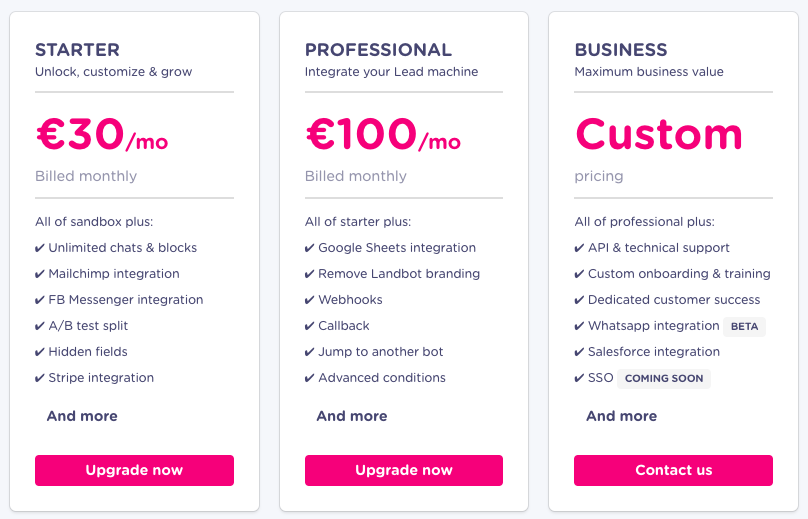 Both ways will lead you to a 3 steps Payment Process:
Step one: Billing details
Insert or revise your billing details, then click on Save & Continue.

Step two: Payment method
Insert or choose your Payment method, then click on Confirm & continue.
Step three: Confirmation
Choose the plan you want to upgrade to, and choose if you want to pay monthly or yearly (up to 30% off).
Please make sure to revise the billing breakdown, which is the summary of the transaction.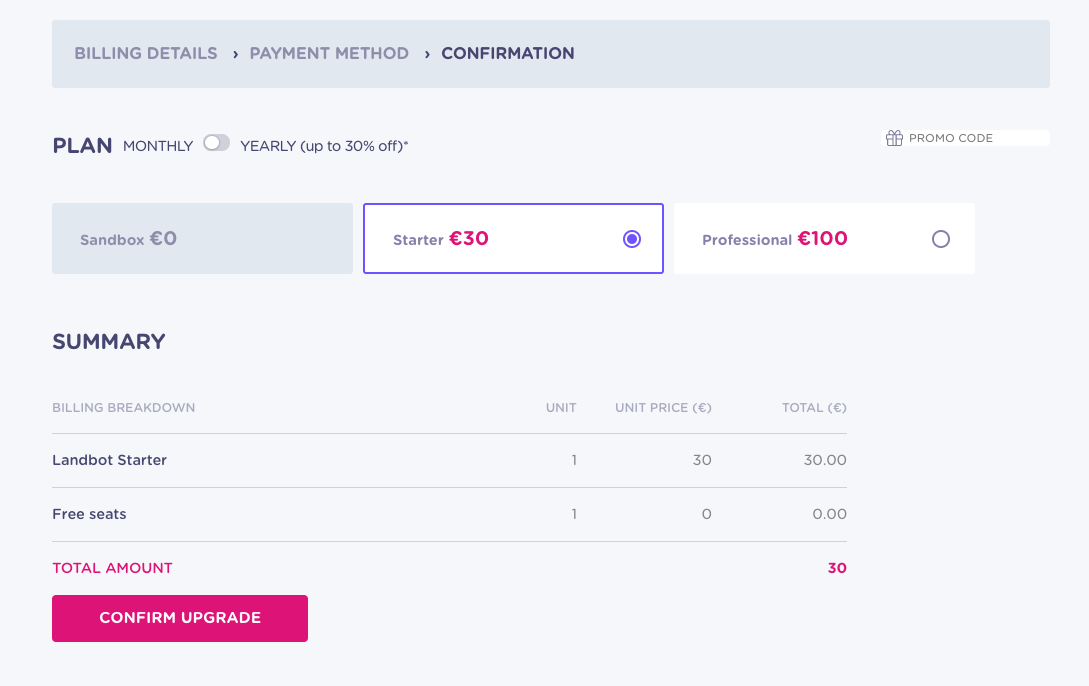 If you have a Promo Code, you can type it in the corresponding field (at the top-right corner) before you click on Confirm Upgrade.

By clicking on Confirm Upgrade you are paying the new subscription, and a confirmation message will appear.
If you are upgrading from a Sandbox (Free) plan, you will see this Welcome Onboard screen, and you'll be able to book a quick onboarding call with us. You can't miss this opportunity!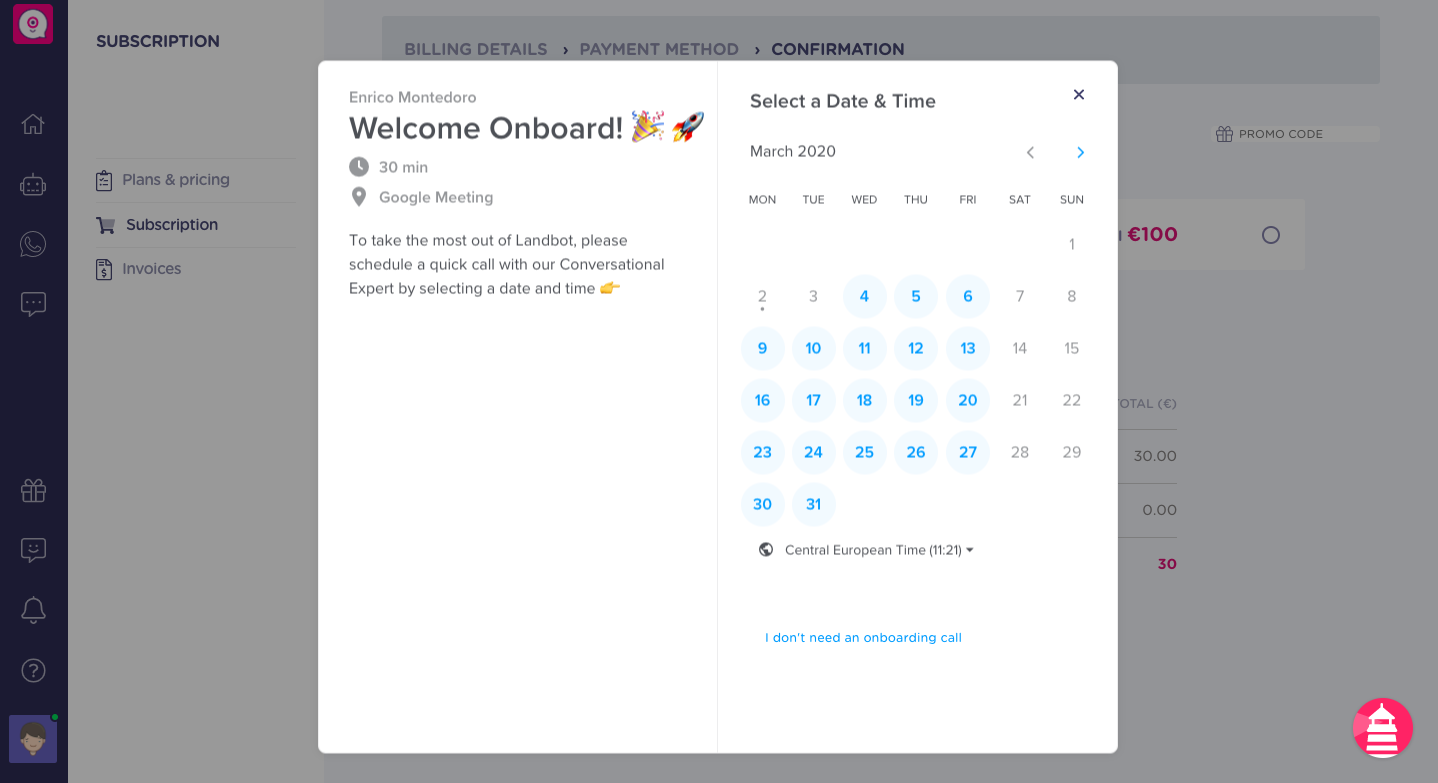 Extra: Check your new Subscription status
If you go back to the Subscription page, you'll see your current plan and the date your account will be changed to the new plan.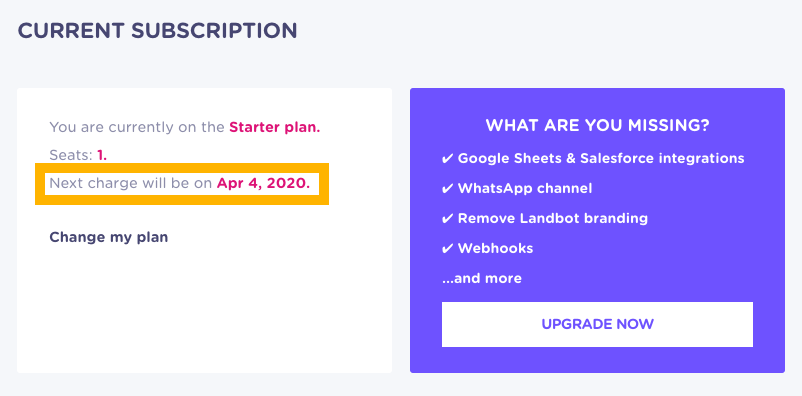 The changes will reflect also on the Plans & pricing page, where your new plan will be labeled as Your current plan.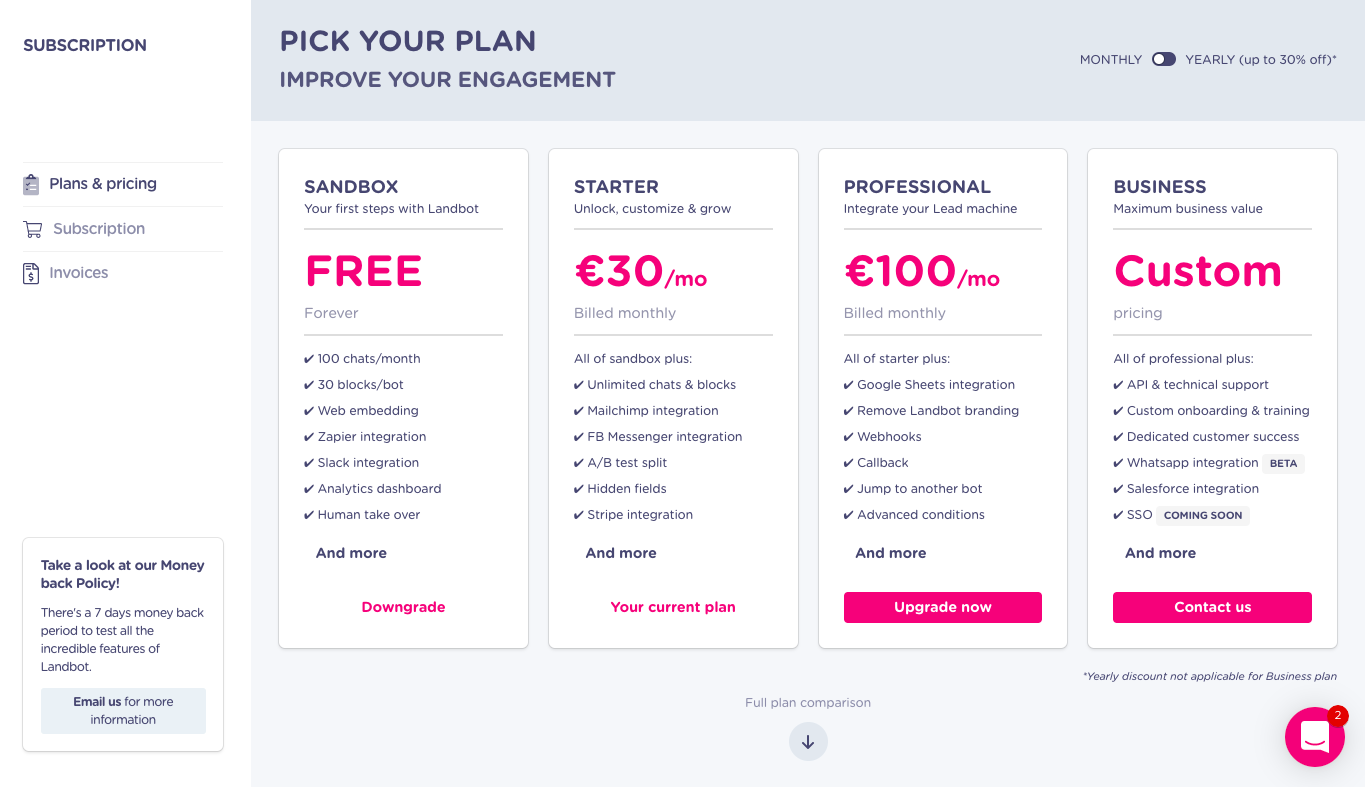 7 days money back policy
If you upgraded and decided that the new plan did not work for you, we guarantee a 7 days money-back guarantee period. This means that you can enjoy the plan you upgraded to for 7 days and then decide if it worth it according to your needs.
You can email us requesting the refund if it is your case!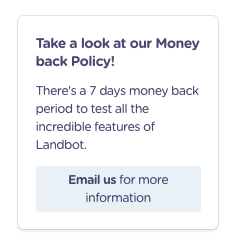 Invoices
After every payment, an invoice will generated in your Invoices section. It is possible to download the invoices as a PDF by clicking on Download.

If you need to update the information about your next invoice, you can do that at the Billing details in the Subscription section. Click here to see how to do it.
How to downgrade
If you want to downgrade to a plan with less features, or to the Sandbox (Free) plan, you can do it by clicking on Downgrade, under the chosen plan, in the Plans & Pricing questions.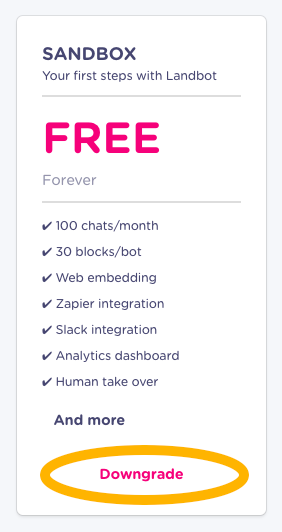 If you choose the free plan, you'll be redirected to a bot which will ask you the reason for your Downgrade (cancellation of subscription). This information is of great value for us, since it'll surely help us improve!
Note: Please keep in mind you must complete the bot to cancel your subscription. It won't take long (about 15 seconds) and you are free to answer anything!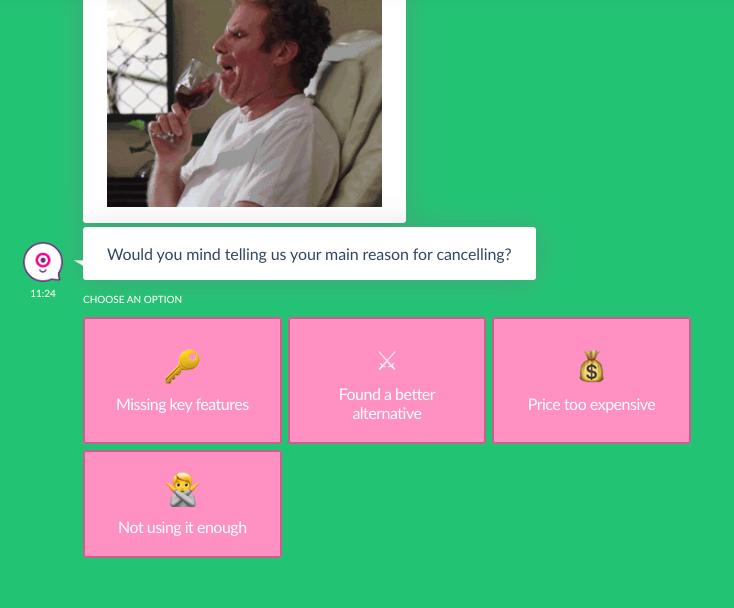 After you complete the bot, you'll be redirected to your subscription page, which will show the new state of your subscription. In the case of the screenshot below, the plan stays the same till the date of the April the 4th.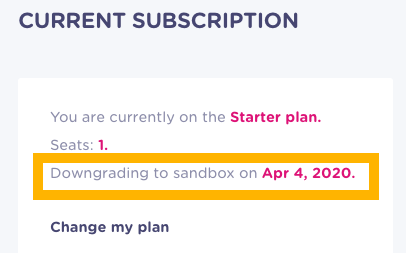 Payment FAQs
Do you have any doubts about payment that were not solved in this article? Please check our Payment FAQ 😉
---
---