How to Get Subscribers for your WhatsApp Business 🚀
Intro
In order to reach out to your users, they need to become subscribers first! 🤚
This is the place where we provide you with the tools you need to get them onboard. 🚀
Get subscribers is a sub-section of WhatsApp Business, and will only be active if you have a business plan and an approved business phone number!
Read this article to know more about how to request a WhatsApp business number.
Once you have an active WhatsApp Business channel, you'll be able to enter the Get Subscribers section.
If you don't have any Snippets, what you'll see will be an explanation about how to get subscribers in WhatsApp.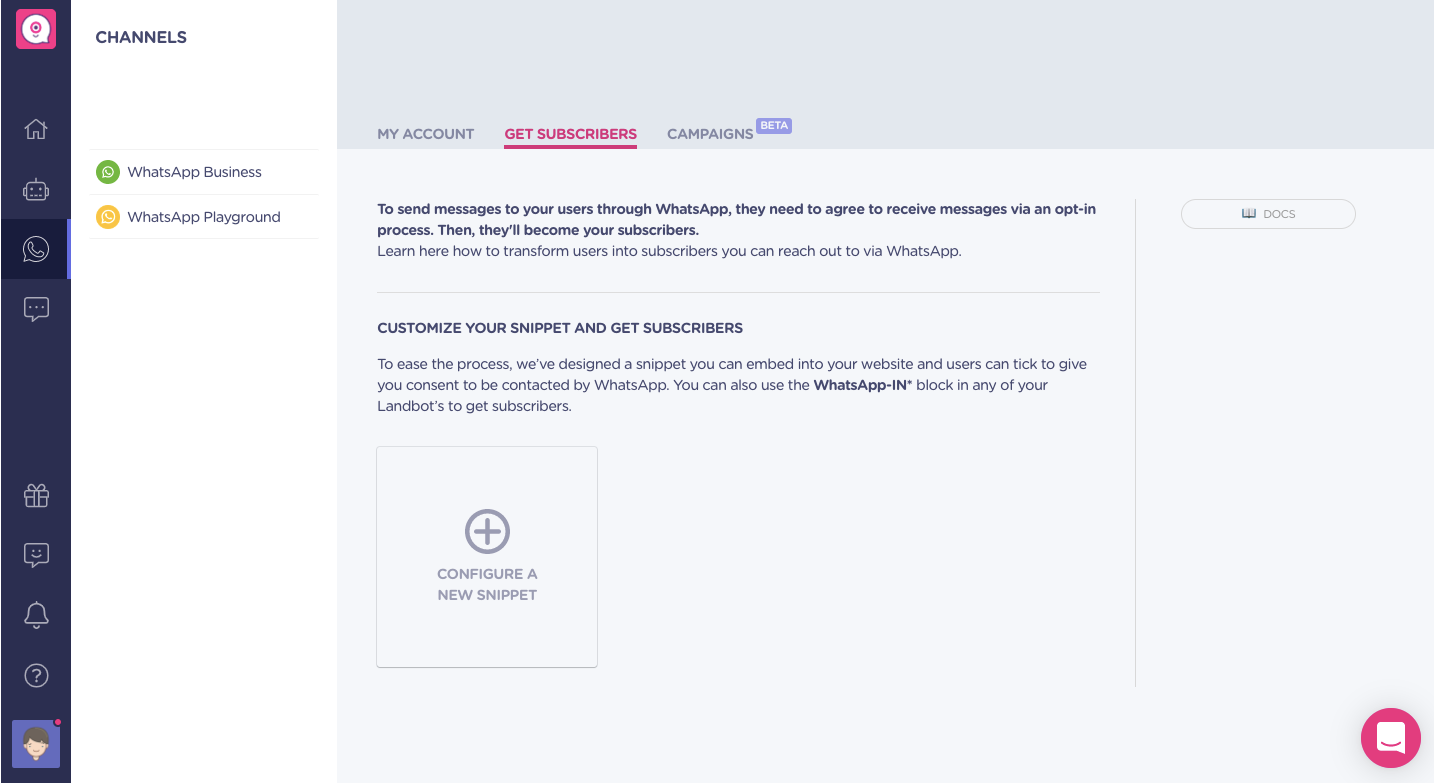 By clicking on "Configure a new snippet" you can create and customize a Snippet to integrate into your website.
If you already created some Snippets, the page will look like this: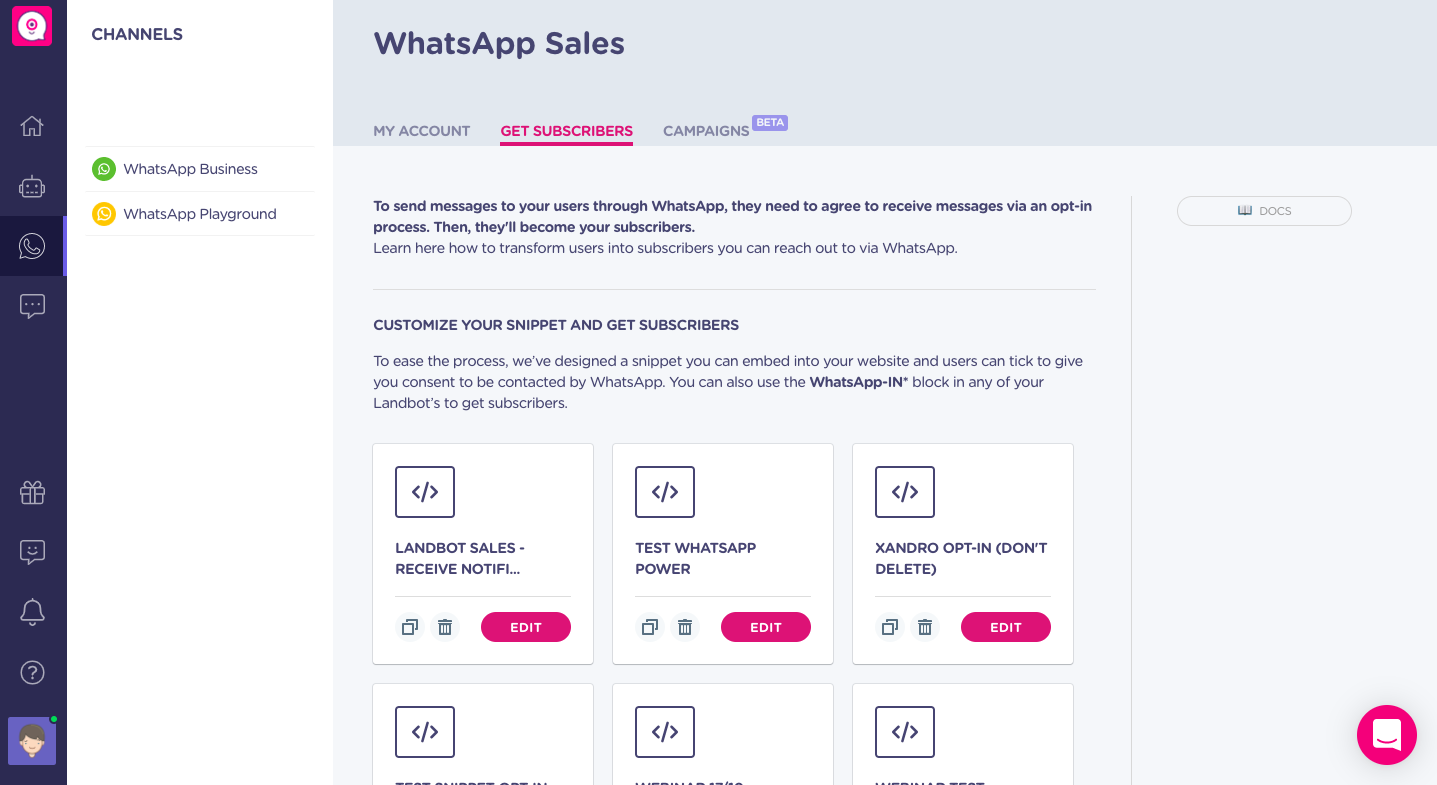 What is a Snippet?
As in other channels, like Facebook Messenger, users need to first give you their consent to be reached via WhatsApp. One important thing to note is that it needs to happen in a third-party channel, and not in WhatsApp itself. ☝️
When the user gives consent we call it the Opt-in process. Click on this link to learn more about it!
How? Well, we provide you with a snippet you can easily embed into your website for your visitors to tick and become subscribers.
⚠️ The snippet has to be contextual and explicit about its purpose as WhatsApp Terms of Use indicates ⚠️
"In order to send a WhatsApp message to a person, you must receive opt-in permission in-line and contextually during the relevant user flows. For example, to receive a receipt via WhatsApp, a person must opt in during a purchase flow. Opt-in obtained without context and in any manner not related to an action the user is already taking, does not comply with this policy." 
You can customize its code from the Customize the snippet message section within Get Subscribers:
Once you're done with customization, add it to your website so visitors can tick it when performing other actions like buying something or subscribing to your newsletter.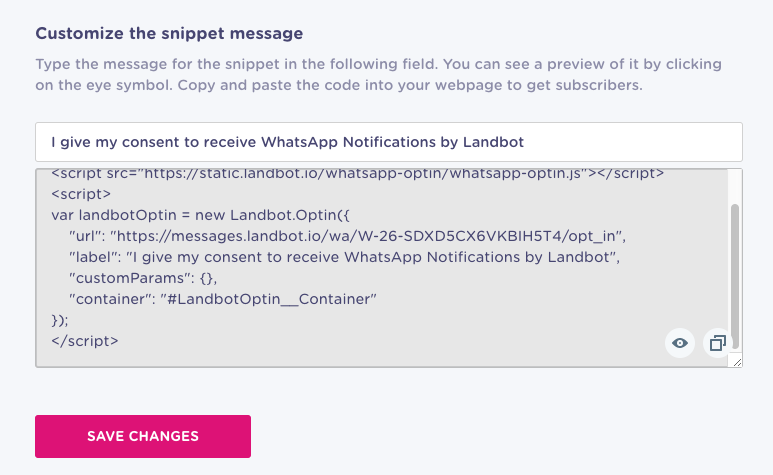 If you click on the eye icon in the right corner, you will see the preview of the snippet. By default it looks like this: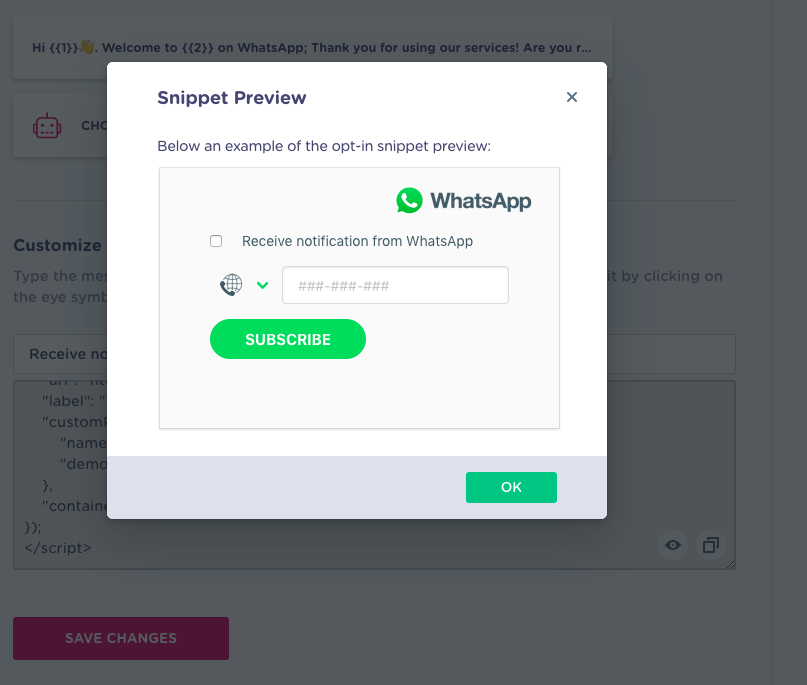 Create a new snippet
First, click on Configure a new Snippet: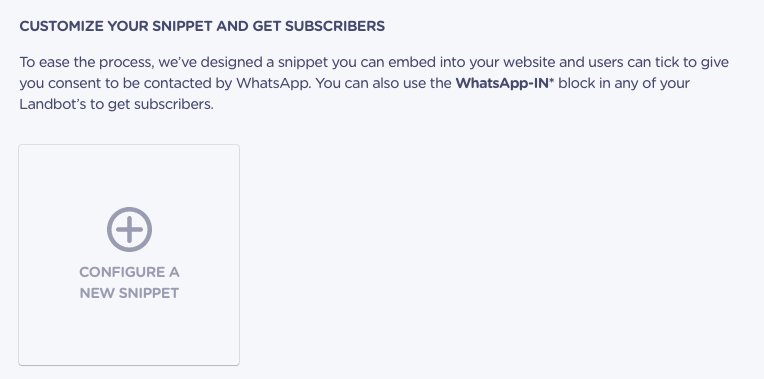 You will land to the Snippet creation page: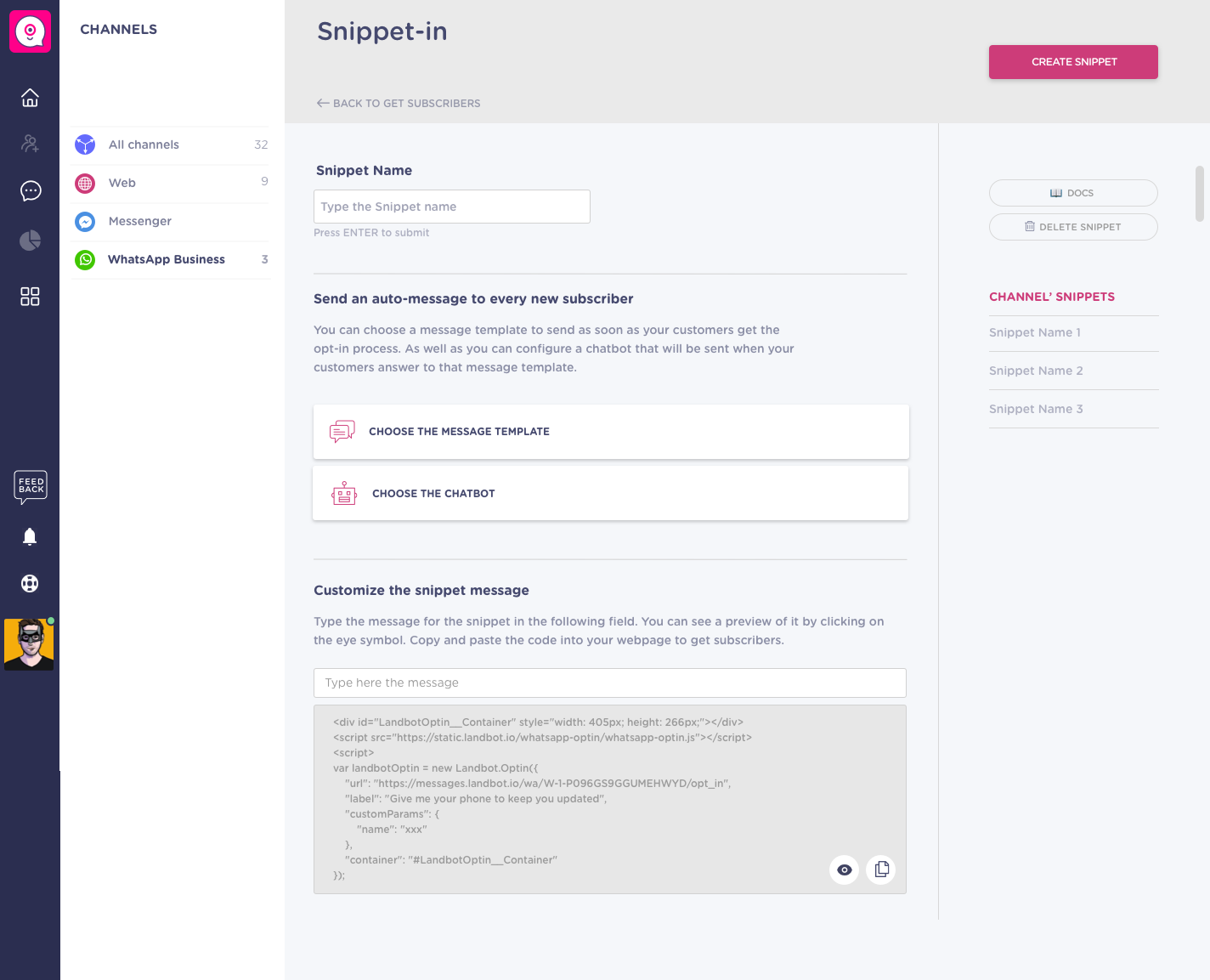 Here you need to choose:
The snippet name
The snippet message
The next steps are not mandatory, but we recommend you to choose also:
The message Template, a proactive message that the user is going to receive on WhatsApp
The bot linked to this template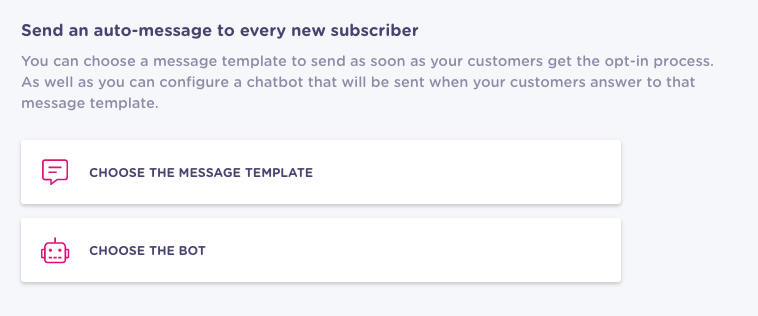 Wondering what a message template is? It's a message that you can proactively send to your subscribed users.
Click here to learn more about HSM templates and how to use them!
If you click on Choose message template you'll see the template messages available for you to choose one: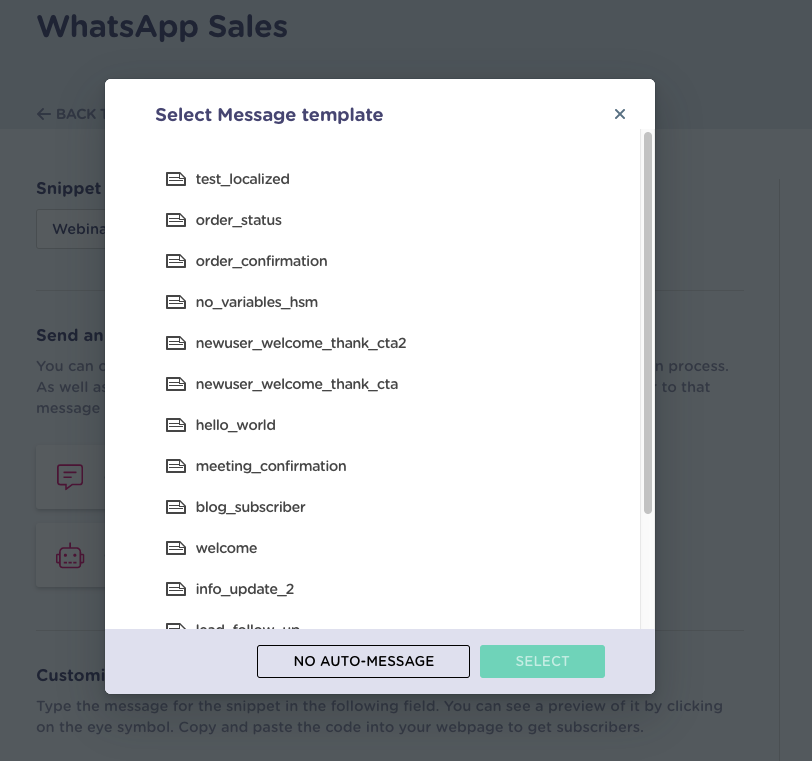 When you choose a message, all you need to do is assign a value to the variables that appear on it.
The variables are going to be displayed as numbers surrounded by double brackets: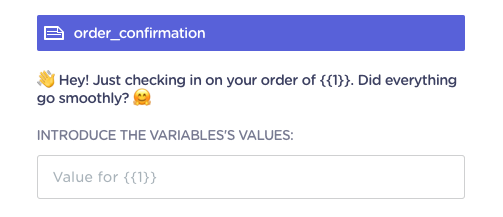 When you click on Choose the bot, this is what you'll see: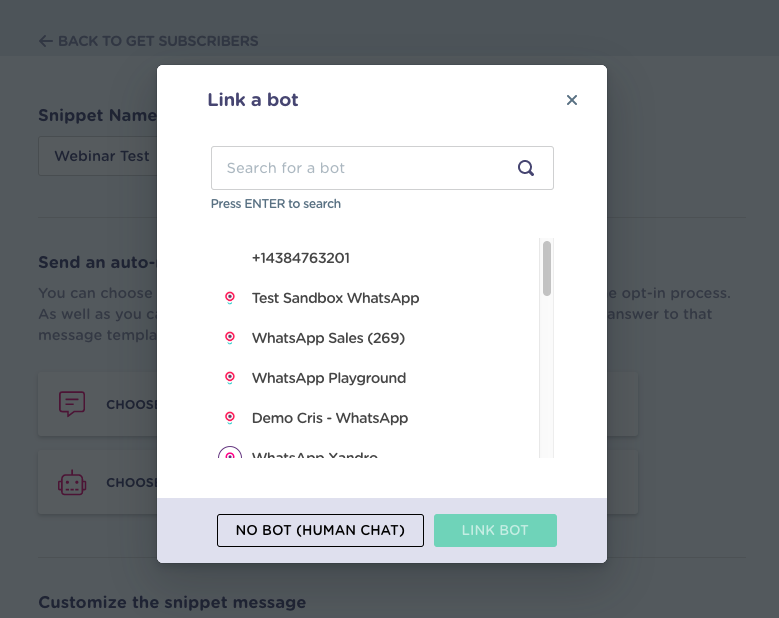 You can choose a bot from your list or decide to not link a bot to this Template and just have Human Chat.
If you choose a bot, after receiving the template message the users will chat with the Bot. 🤖
If you don't link a bot, nothing will happen, unless there is a human that can take part in the conversation from Landbot's Chat section. 👩‍💻
Quick guide
To sum it all up, here's a quick guide on how to get subscribers: 💪
Customize the snippet with the message you want, and preview it using the Preview button.
Once happy with it, copy it and paste it into your website.
Now, choose if you want to send an auto-message to your users once they subscribe.
If you do, choose between your templates and customize the variable's names.
Choose if you want to link a bot to this template.
Click Save to save all the changes and start getting subscribers!
---
---