Facebook Messenger Channels
Create a new Facebook Messenger Channel
To create a new Facebook Messenger Channel, click on the Channels icon on the left bar of your Dashboard, then click on Messenger.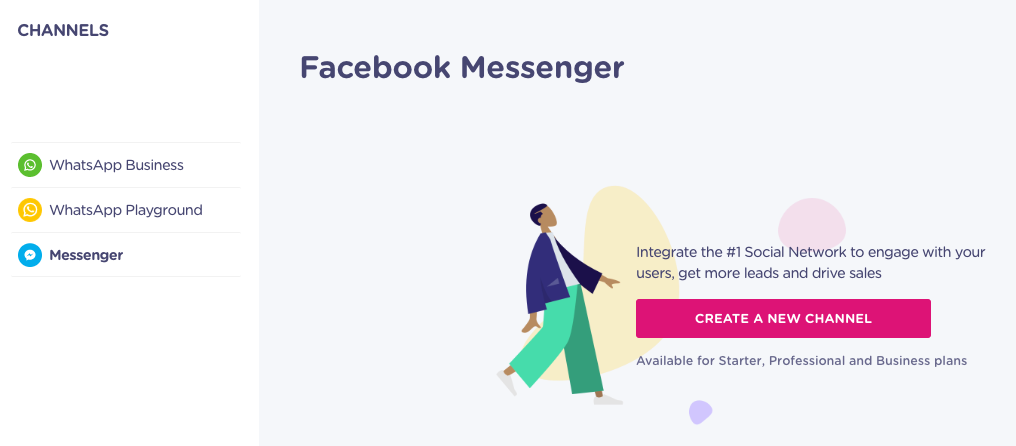 Click on the Create a new Channel button.
Then, click on the Log In button and you'll be redirected to Facebook.

Log-in into your Facebook account with your email and password.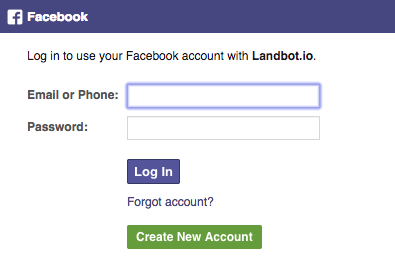 Once you're logged-in, you'll be able to select the Facebook page you want from the dropdown menu.
Choose a Name for your facebook channel and click on Confirm.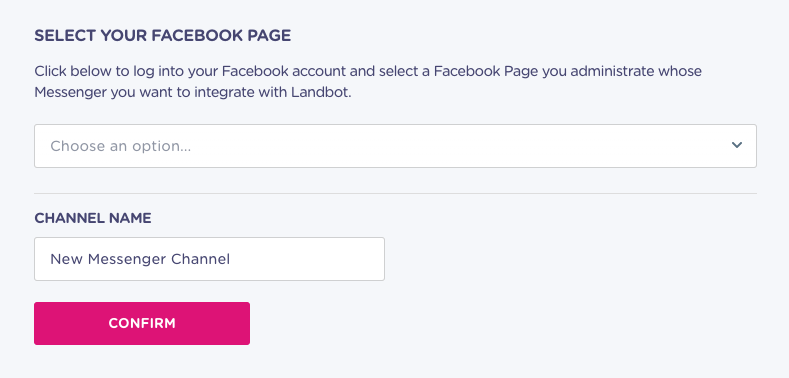 Now you'll be able to see your Facebook Messenger Channel created in your Channel section.
The info showed on the channel preview are: the creation date, the channel's name, the linked bot and the number of chats.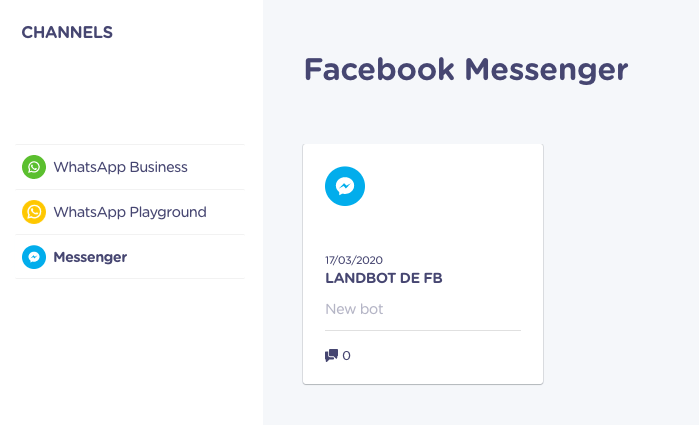 Create a new Messenger/WhatsApp bot
Click on Build a chatbot in the top-right corner of your dashboard:

Then on Start from scratch:

Then, you'll have the option to choose the channel you want to create the bot for: choose Messenger and WhatsApp.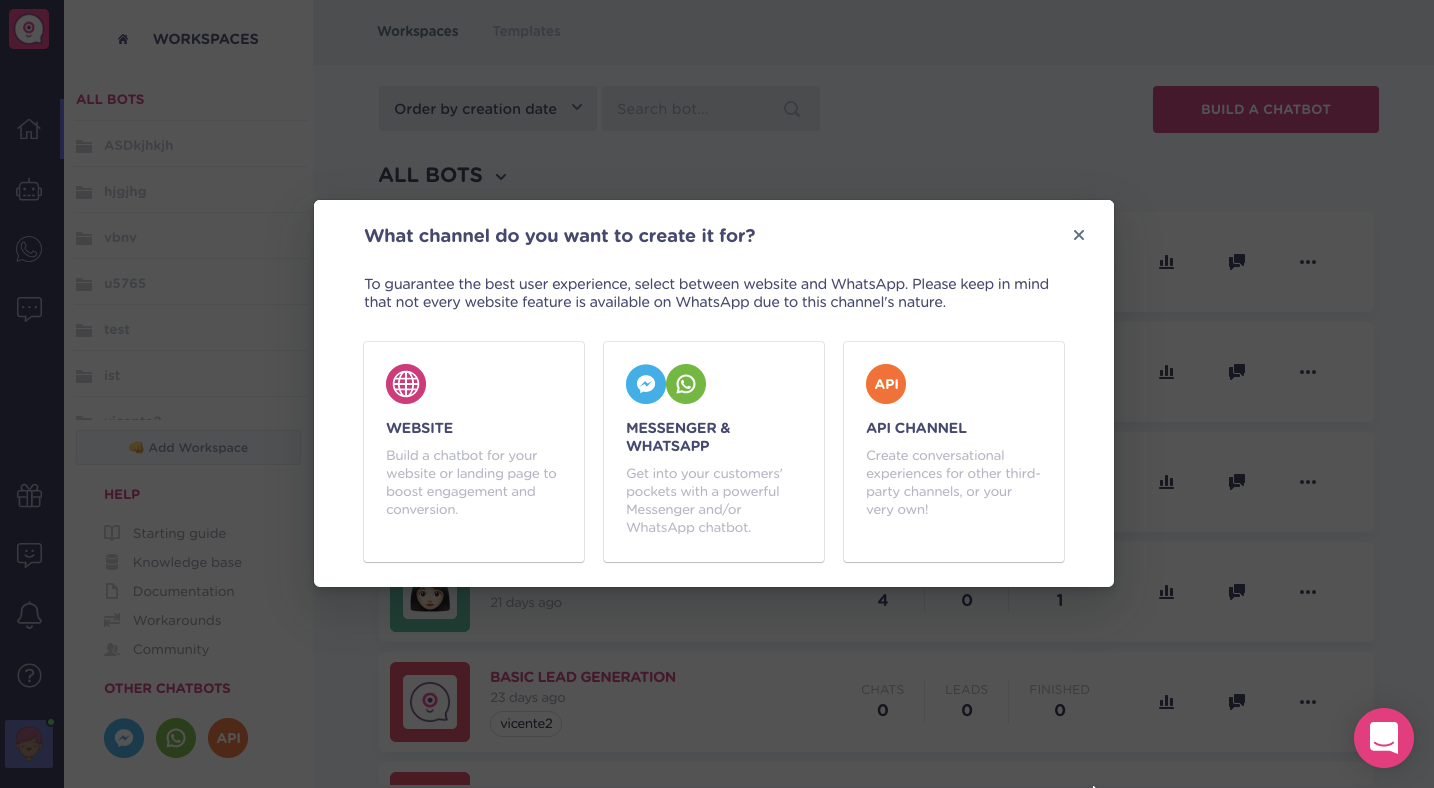 You'll be redirected to the your New bot's builder.

Notice that, at this point, your new bot will have a logo of both Messenger and WhatsApp.
That's because we didn't link the bot to a channel yet.
You can keep it like this if you are taking your time to just build the bot.
But, if you want to run some tests in Facebook, or put the bot in production on your Facebook page, you need to link it to the channel you previously created (step 1 of this article).

Let's learn how to do it in the next step!
Link your bot to a Facebook Messenger Channel (your Facebook page)
To have your bot linked with your Facebook page, go back to Channels > Messenger > your Messenger channel > Linked bot.
Then, choose the bot you want to link from the dropdown menu and click on Link Bot, then on Confirm.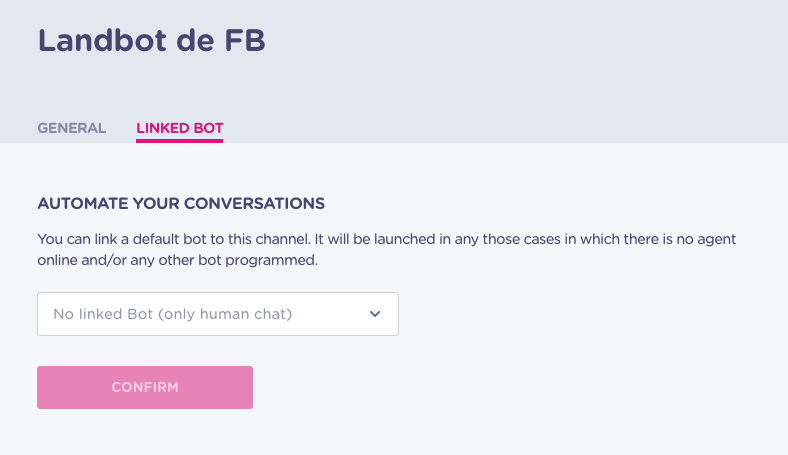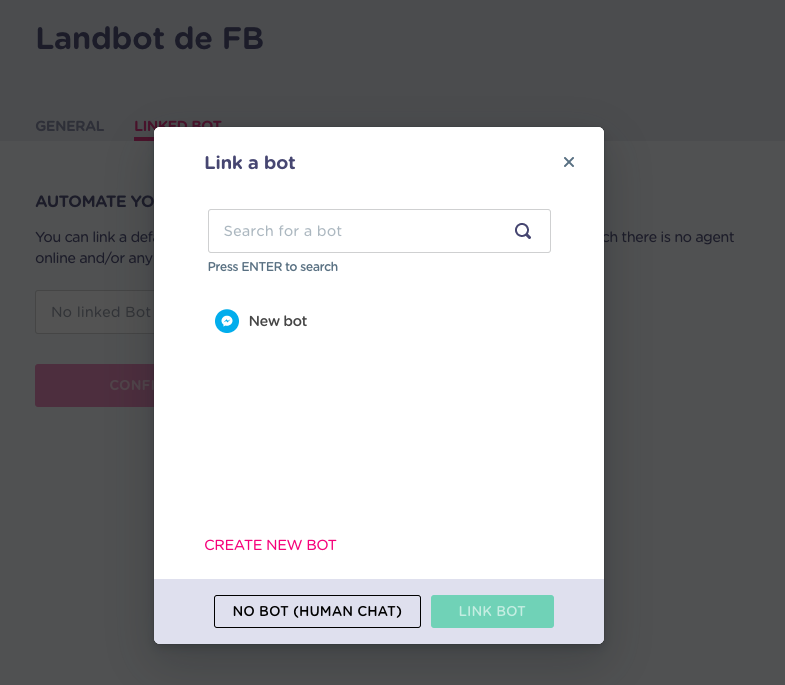 Notice that, if you go back to the dashboard, the bot's logo has changed to the Messenger logo.

⚠️ Keep in mind that, after you link a bot to a specific channel, you can't duplicate it for another channel.
So, if you want to use the same bot for your WhatsApp and Facebook, make sure you duplicate it when it's still "unliked" (WhatsApp and Facebook combined logos) ⚠️
HUMAN CHAT: It is also possible to use the Messenger channel without any bot linked to it. In this case, it will work as a Human Chat, and your agents will be able to answer the user directly from the chats section of your Landbot account.
How to preview a Messenger bot
Please read this article to learn how to preview a Messenger bot!
Can I link the same facebook page to multiple bots?
❌ No. You can have just a bot active on your facebook page at the same time.
✅ Of course, you can change the bot at any time from the Linked Bot section, as we've seen before.
Can I create multiple channels with the same Facebook page?
❌ No, you can't create multiple Messenger channels with the same Facebook page. If you try to do this, you'll get this error: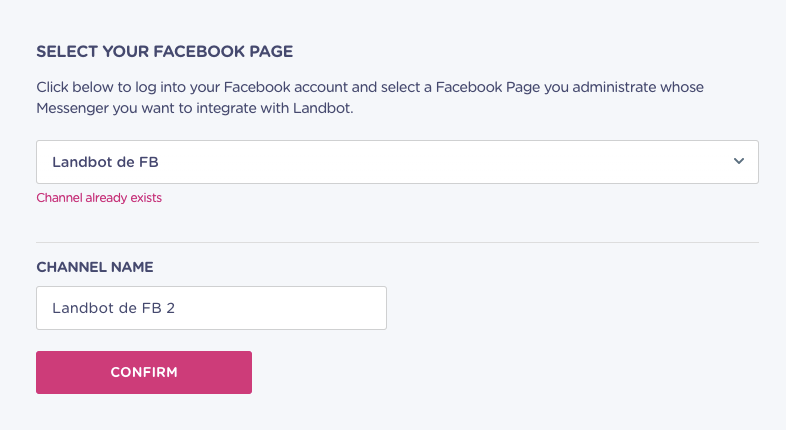 ✅ What you can do is have multiple channels, each from different Facebook pages (from the same Facebook account).
---
---